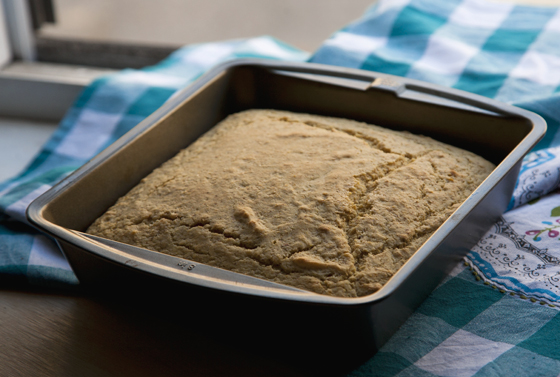 Ever since I was little, I've had an affinity for cornbread. There's something so comforting about a thick piece of cornbread served with a hearty bowl of veggie chili, or simply all by itself as a snack. But I'm not talking about the dry, gritty cornbread variety. You know the kind that's often sold at the grocery store that's probably been sitting out for too long? Yeah, I'll pass on that. I like mine to be light and almost cake-like, with a hint of sweetness and a little buttery spread and maple syrup. Or, depending on my mood, a lot of buttery spread and maple syrup.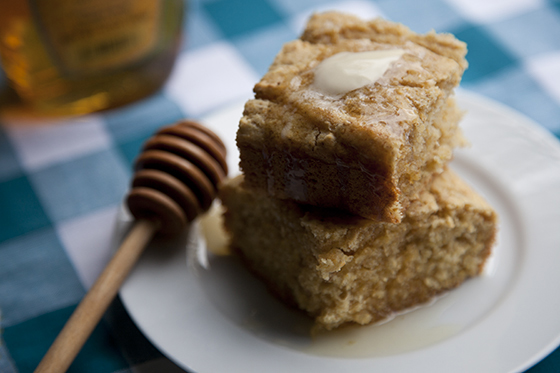 This vegan cornbread recipe is super simple (you probably have all of the ingredients on hand) and it has a great cake-like texture. It takes less than 30 minutes to come together and could easily be used as a base for fun add-ins, like fresh corn, jalapeño peppers, or maybe even pumpkin!

Simple Vegan Cornbread
Simple and vegan, with a dense, cake-like texture. This cornbread takes less than 30 minutes to come together and could easily be adapted to include fun add-ins!
Ingredients
2 flax eggs (2 tablespoons ground flax, 6 tablespoons warm water)
1 cup whole wheat pastry flour (all-purpose flour would also work)
1 cup finely ground cornmeal
1 tablespoon baking powder
¾ teaspoon fine sea salt
¼ cup pure maple syrup (or a maple/agave blend)
1 cup unsweetened almond milk
¼ cup melted coconut oil, plus extra for greasing the pan
Instructions
Preheat the oven to 425 degrees F. Lightly grease an 8-inch-square baking dish with coconut oil.
Combine the ground flax seeds and water to make 'flax eggs'. Stir and set aside for a couple of minutes to thicken.
In a large mixing bowl, combine the whole wheat pastry flour, cornmeal, baking powder, and salt.
Add the 'flax eggs', maple syrup, and almond milk to the dry ingredients. Stir until smooth, being careful not to over-mix.
Slowly pour in the melted coconut oil while you mix to keep it from solidifying.
Transfer the batter to your prepared baking pan and bake for 20 minutes, or until a toothpick inserted in the middle comes out clean.
Allow to cool slightly before cutting into pieces. Serve warm.
P.S. You might also enjoy this
vegan and gluten-free skillet cornbread recipe
.