This week has simultaneously been a whirlwind and felt like the longest week ever. I think part of the reason it felt so long was because I thought Wednesday was Thursday, and so waking up early today felt like a cruel prank. Also cruel? Boston reached a lovely high of 40 degrees yesterday, complete with icy rain and a dusting of SNOW last night. What the?!
I have what Aaron so delicately refers to as a "bullsh*t tolerance", and once I meet that daily limit, nothing else will get done on my to-do list. Unless my to-do is "paint my nails", which I do actually write down from time-to-time. It's nice to have something other than "clean bathrooms" on the agenda.
So between the chaos that is my job and the completely miserable weather, I hit my limit yesterday around 3pm. I didn't even want to "paint my nails", as is evidenced by the fact that only half my fingers still have polish on them. But what I did want to do is bake a batch of vegan donuts, while also not cleaning the bathrooms.
I shared a few homemade vegan donuts with my family a couple of months ago, and even though they constantly tell me to stop unloading my baked goods on them, they ask if I've made more donuts about once a week.
This time, I decided to play around with the recipe just a little and work in some seasonal flavors. I had a can of pumpkin staring me down from the pantry, much like how Honey stares down people on our walks. Adding the pumpkin turned out to be a very, very good idea.
Pumpkin Spice Donuts
10 ingredient vegan pumpkin spice donuts. Only 5 minutes to prep and 10 minutes to bake! Feel free to make them in a muffin tin if you don't own a donut pan.
Ingredients
2 C. All Purpose Flour
1 Tbs. Baking Powder
1 Tbs. Pumpkin Pie Spice
¼ Tsp. Salt
⅔ C. Pumpkin Puree
¾ C. Almond Milk
¼ C. Granulated Sugar
¼ C. Brown Sugar
2 Tbs. Earth Balance (or other vegan buttery spread)
1 Tsp. Pure Vanilla
Powdered Sugar for dusting (optional)
Instructions
Pre-heat oven to 350 degrees.
Lightly grease a donut pan.
In a large bowl, combine flour, baking powder, pumpkin pie spice, and salt.
In a small bowl, combine pumpkin, almond milk, white and brown sugars, melted Earth Balance, and vanilla.
Add wet to dry and mix until just combined. Be careful not to over-mix.
Spoon or pipe batter into greased donut pan.
Bake for 10-12 minutes, until donuts are golden brown and firm to the touch.
Dust with powdered sugar if you like!
Notes
I used a donut pan from Crate & Barrel, and this recipe made about 12 small donuts. However, donut pans can vary a lot in size, so donut yield will likely vary. You may need to adjust your baking time accordingly.

No donut pan? No problem! You can use the batter to make delicious pumpkin spice muffins.

If you want, you can also add a little pumpkin pie spice to your powdered sugar for dusting. I'd recommend a ratio of ½ C. powdered sugar and ½ Tsp. pumpkin pie spice.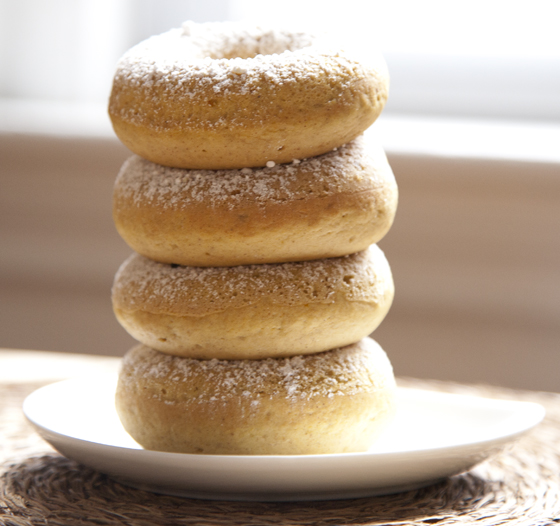 Happy Friday!