It's been about a month since I've had any kind of chocolate chips, chocolate bars, or chocolate candy in my house.
It's not that I'm sick of chocolate (impossible) or that I think there's anything wrong with a little here and there. It's more that I found myself having a bite after lunch, as an afternoon pick-me-up, just a few chocolate chips for dessert…it was becoming a never-ending cycle.
So, I just stopped buying it. And you know what? Most of the time I don't even miss it. It's forced me to get creative and expand my sweets repertoire. Rich, chocolate avocado pudding, variations of banana soft-serve, mojitos… Okay, that last one probably isn't the type of thing you should be enjoying throughout the day, but it's become my new favorite after-dinner treat. Extra lime juice (and rum), please.
Then there are those times when you just really need that damn piece of chocolate.
This happened to me last week, and while I tried to satisfy the craving with a smoothie, bites of almond butter, and dried fruit (I don't know why I thought that would work??), the only thing I was successful in doing was pissing off my craving and making it that much stronger.
I caved and made chocolate. But not your typical grocery store chocolate. I made super dark, ready-in-under-10-minutes, 3-ingredient orange chocolate – unsweetened cocoa powder, coconut oil, and some of the new NuNaturals liquid orange stevia.
3-Ingredient Orange Dark Chocolate (Vegan)
Serves:
approximately 10 pieces
Ingredients
¾ C. Unsweetened Cocoa Powder
¼ C. plus 1 Tbs. Coconut Oil, Melted
NuNaturals Orange Stevia to Taste (I used about 30 drops)
Orange Zest for Garnish (optional)
Instructions
Lightly grease a mini muffin pan and set aside.
In a medium bowl, whisk together the cocoa powder, melted coconut oil, and stevia.
Using a tablespoon, portion the mixture into the mini muffin tins.
Place the muffin pan in the freezer for 2 minutes, then remove and sprinkle on the orange zest (if using). The orange zest will sink to the bottom unless the chocolate is partially frozen.
Return the pan to the freezer and freeze the chocolate for 2-3 more minutes, or until it's completely solid.
Go.to.town.
Notes
Not a fan of orange? Use plain stevia or whatever sweetener you like. To simplify the process even more, skip the mini muffin pan and line a baking sheet or plate with wax paper, pour the chocolate, and freeze. Store any leftover chocolate in the fridge or freezer.
I'm a big fan of the NuNaturals plain liquid stevia (it's the only brand I've found that doesn't have that gross, bitter aftertaste), so I was really excited when NuNaturals contacted me to see if I wanted to try their new orange and lemon flavors. Just like their plain and vanilla stevias, these are seriously good. I've been adding a few drops to my water or some seltzer, in addition to my chocolate. It's like Vitamin Water Zero, but way more cost effective.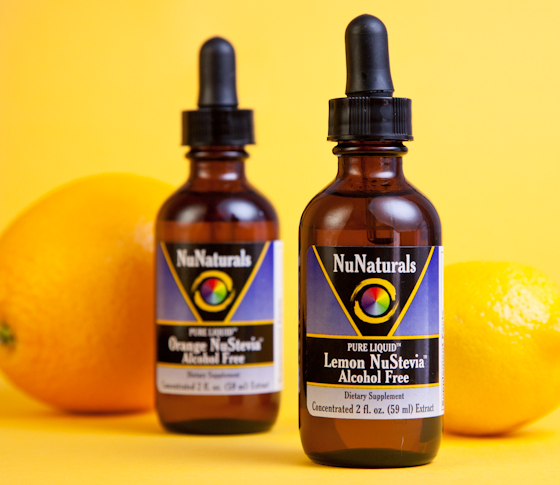 Would you like to try the new orange and lemon stevia?
NuNaturals has offered to give away one bottle of each flavor to FOUR readers!
3 ways to enter:
Leave a comment on this post – tell me anything you like! Favorite way to use citrus? Creative ways for satisfying a chocolate craving?
"Like" the NuNaturals Facebook page
Tweet: "I entered the @picklesnhoney @NuNaturals giveaway! bit.ly/KCL3Ja"
Just make sure to leave a comment for each entry.
Please Note: Products cannot be shipped to PO boxes. Giveaway will end on Friday, 5/11 at 12pm EST.
Also, if you'd like to place a NuNaturals order, visit their website and enter discount code BLG0612 at checkout to receive a 15% discount on your entire order, effective until 6/30/12. You can also receive free shipping in the Continental U.S. on all orders exceeding $35 after discounts.
Good luck!
…
Edited to Add: This giveaway is now closed. Congrats to Katherine, Christy, Carly, and Jane!