Hey! How was your weekend? I was fortunate enough to be able to take Thursday and Friday off from work, so I did my best to disconnect from my computer as much as possible last week and enjoy the hot summer weather. It was pretty awesome, until I caved and preemptively checked my work email last night. Always a dumb idea, and yet I never seem to learn.
Anyway, I was putting together a list of my favorite San Francisco places for Amberly of The Good Life the other day, and one of the first things that came to mind was ice cream from Humphry Slocombe in the Mission. Now, this was pre-vegan for me, although I think they usually offer a couple of non-dairy sorbets in their rotation. It's a small little shop with hardly any seating (or parking nearby, for that matter) and a line that stretches down the street, but with some of the most inventive flavors of ice cream, made from local and organic ingredients. Jesus Juice (seriously), Peanut Butter Curry, Pink Grapefruit Tarragon, Strawberry Candied Jalapeno, the list goes on.
In the thirty minutes I waited in that line, I'm fairly certain I cursed the neighborhood, the city, California in general with all of its hype and sky-high prices, and thought there was no way this ice cream could be worth all of the fuss. I mean, after you drive thirty minutes across town, spend twenty minutes looking for parking, and then wait another half an hour in line to pay something like $6 for two small scoops of ice cream, you're almost certainly setting yourself up to be disappointed.
When it was finally my turn to order, I grumpily chose the flavor Humphry Slocombe is perhaps best known for – Secret Breakfast – a bourbon ice cream with corn flakes mixed in, heavy on the booze.
Holy. Shit. I try to keep the cursing to a minimum here, but this ice cream was that good. Perhaps life-changing good? I don't know…I really love my ice cream, and having worked as a "professional" ice cream scooper for four years, I feel pretty confident in my judging abilities.
So, when Attune Foods sent me a sample of their Erewhon corn flakes that very same day (thanks, Annelies!), I took it as a sign from some greater power and I knew I had to create my own spin on the famous Secret Breakfast flavor. Minus the eggs and dairy, of course.
Coconut Milk Secret Breakfast Ice Cream
A vegan take on the famous Humphry Slocombe Secret Breakfast ice cream in San Francisco. A coconut milk base spiked with a hefty dose of bourbon and crunchy corn flakes. Equally indulgent & satisfying.
Author:
Amanda Maguire | Inspired by Humphry Slocombe Secret Breakfast Ice Cream
Ingredients
1 15 oz. Can of Full Fat Coconut Milk
2-4 Tbs. Bourbon (taste as you go!)
3 Tbs. Coconut Sugar
2 Tsp. Vanilla Extract
¼ Tsp. Sea Salt
½ C. Corn Flakes, lightly crushed to break up any large pieces
Instructions
Mix all of the ingredients, except the corn flakes, in a medium bowl.
Place the bowl in the fridge and allow to chill for a couple of hours.
Once chilled, pour the coconut milk mixture into into an ice cream maker* (see note at the end of the post for an alternative) for about 25-30 minutes, or until the texture resembles soft-serve.
Add in the corn flakes and mix for another 30 seconds or so until they're evenly incorporated into the ice cream.
Enjoy immediately, or place the ice cream in a freezer-safe container and allow to firm up in the freezer for several hours or overnight.
Notes
I went a little crazy with the bourbon and ended up adding about 5 Tbs. total, which I later found to be too strong. I recommend starting with 2 Tbs. and tasting as you add more so you don't make the same mistake! I love the slightly molasses flavor of the coconut sugar in this, but brown sugar, maple syrup, or agave would also be great. You could try replacing the full fat coconut milk with light coconut milk, but I personally think full fat is the way to go here. It balances the alcohol and creates a super creamy ice cream. After all, the original Secret Breakfast flavor is anything but low-fat.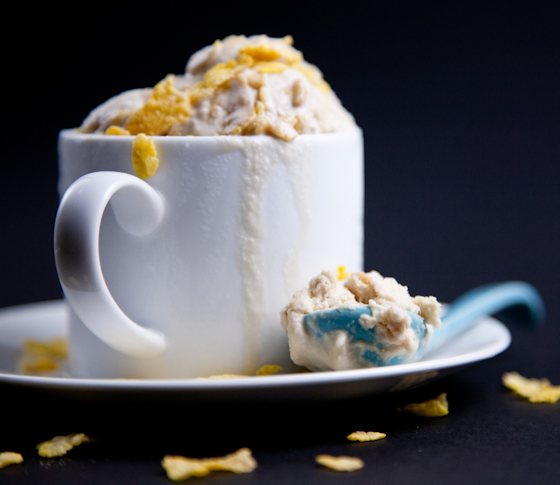 I used an ice cream maker to make mine, but I know this can be prohibitive for a lot of people. Katie of Katie Did recently wrote a post on how to make ice cream using ice cube trays and a blender. The texture looks phenomenal, and it couldn't be any easier. I recommend giving that method a try if you don't have an ice cream maker.
…
So…what's one of your most memorable foodie finds? Any hidden gems or places that are worth the hype?