First thing's first: how the hell is it already the end of August? I feel like I was just gearing up for summer, getting excited about indulging my watermelon and cherry obsessions, and planning trips to the beach to soak in the sun. Apparently I've been eating (and drinking) watermelon almost every day for three months…
Just as I was feeling a little sad that summer's nearly over, I received August's vegan food swap package from Janessa over at Epicurious Vegan! Janessa's passion for the vegan lifestyle and her hometown of Portland, Oregon really shines through in her writing, and she also happens to be the founder and director of Vida Vegan Con, which is essentially a vegan lovefest of informational classes, food, and community that takes place each year in Portland. Of all of the blogging conferences out there, this is one that's at the top of my list.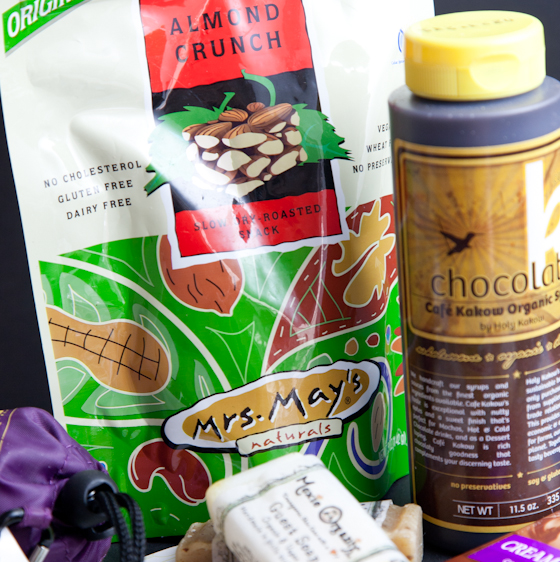 Janessa practically read my mind in putting together a package with a focus on chocolate. I've tried the Endangered Species mint chocolate before (it's good!), but the Sweet Chocolate Dream bar and Cafe Kakow Organic Chocolate Syrup were new to me. The bar is similar to a milk chocolate and the syrup is a little more intense, which I love.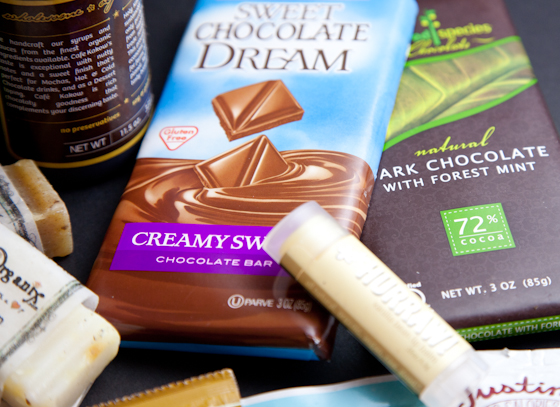 Janessa also included an awesome assortment of nut butters, including the famous Justin's chocolate hazelnut butter. I dug into that one immediately, and promptly decided that I can never have a full-size jar of that in the house. It's way too good to stop at just a spoonful.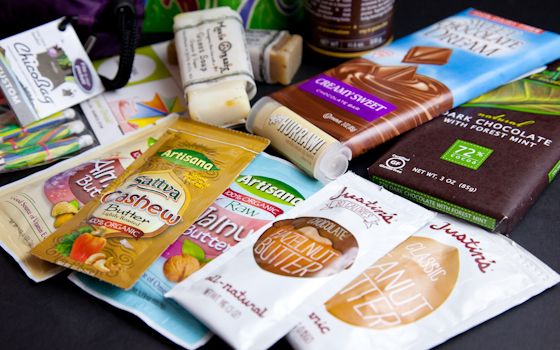 I also really appreciated the non-food items Janessa sent me. After all, I can only pack in so much chocolate and nut butter at a time and still fit into my elastic waist yoga clothes. The soaps are from a company called Moxie Organix in Washington state and come in fun scents like green tea lime basil and summer orange, but what really stole the show was the Hurraw vanilla bean lip balm. It's super moisturizing, smells like dessert, and is further fueling my lip gloss addiction. Aaron said it reminds him of high school, when I owned like fifty of those lip smackers lip balms and made it a point to rotate through all of them. Lemonade, Dr. Pepper, vanilla frosting – Hurraw is like the grown-up version of those with flavors that include coffee bean, earl grey, and root beer(!!!). I secretly hope my Whole Foods sells them so I can start building a collection, just like in high school. Some things never change…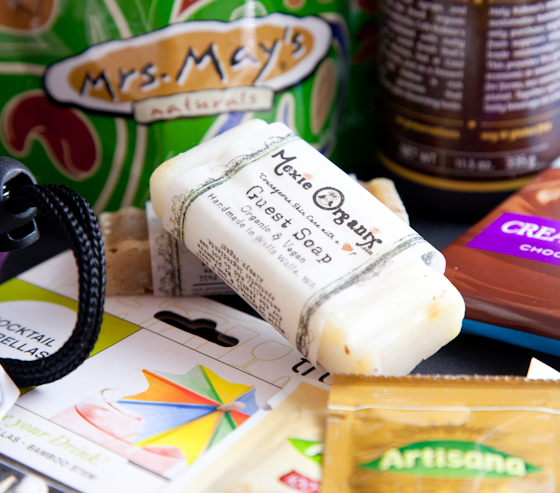 If you're interested in taking part in the swap next month, sign up at The Verdant Life!