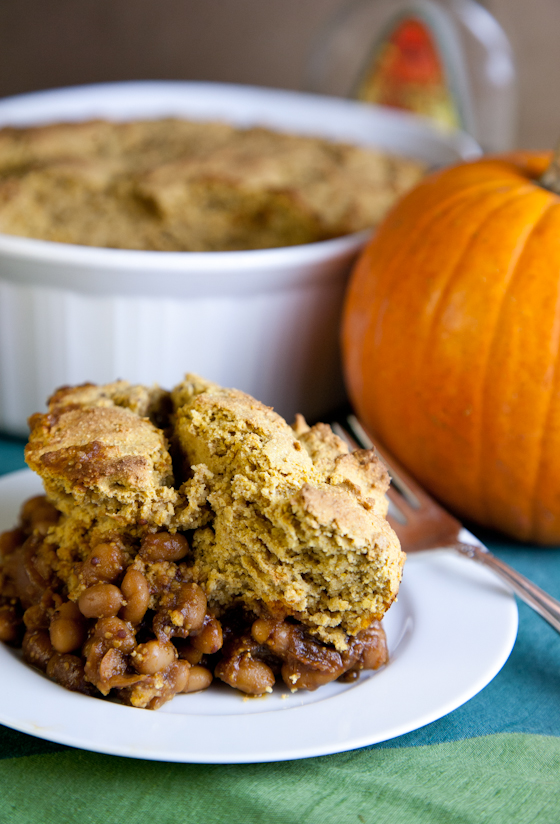 Casseroles are one of those dishes that I frequently seem to overlook. The fact that I immediately think of recipes like heavy green bean casserole or the often-iffy corn pudding certainly doesn't help, but a lot of the time, I find myself getting into food ruts with things like hummus and salads. They're easy and require very little planning.
However, when life gets really busy, casseroles definitely have the edge. Sure, it takes a little time to assemble and bake them, but in my mind, casseroles = leftovers. And if you cook in bulk like I tend to do on Sundays, this means satisfying, grab-and-go lunches for the entire week. As an added bonus, it also means minimal dish-washing, which is always a nice perk.
When I started thinking about what kind of casserole to make, my mind immediately went to a cornbread baked bean casserole. It was the perfect excuse to bake that pumpkin maple cornbread I've been dreaming up for months.
This casserole is vegan comfort food at its finest. I hope you enjoy it as much as we did!
Pumpkin Cornbread Baked Bean Casserole
Easy homemade baked beans with a pumpkin maple cornbread topping. This vegan casserole is gluten-free and so easy, plus it makes great leftovers for the rest of the week!
Author:
Copyright © 2017 Amanda Maguire for Pickles & Honey
Recipe type:
Main, Casserole
Cuisine:
Vegan, Gluten-Free
Ingredients
For the Baked Beans:
1 Large Onion (Red or Sweet)
¾ Tablespoon Extra Virgin Olive Oil
4½ Cups Cooked Navy Beans (about 3 cans, drained and rinsed)
½ Cup + 1 Tablespoon BBQ Sauce
¼ Cup Blackstrap Molasses
⅓ Cup Apple Cider Vinegar
¼ Cup Pure Maple Syrup
3 Tablespoons Whole Grain Dijon Mustard
3 Tablespoons Tomato Paste
2 Teaspoons Liquid Smoke (optional)
Coconut Oil for greasing the casserole dish
For the Cornbread:
3 flax eggs (3 Tablespoons Ground flax, ½ Cup + 1 Tablespoon Warm Water)
¾ Cup Gluten-Free All-Purpose Flour
¾ Cup Garbanzo Bean Flour
1½ Cups Finely Ground Cornmeal
1½ Tablespoons Baking Powder
1 Tablespoon Pumpkin Pie Spice
1½ Teaspoons Cinnamon
1¼ Teaspoons Xanthan Gum
1¼ Teaspoons Fine Sea Salt
1½ Cups Non-Dairy Milk (I used Unsweetened Almond Milk)
⅓ Cup Pure Maple Syrup
¾ Cup Canned Pumpkin
Instructions
Prepare the baked beans by heating the olive oil in a large pot on the stovetop over medium heat. While the oil is heating, chop the onion. Add the onion to the pot and cook until soft (about 5 minutes). Add the navy beans, BBQ sauce, molasses, apple cider vinegar, maple syrup, mustard, tomato paste, and liquid smoke (if using). Stir everything to combine and bring the ingredients to a low simmer, uncovered, for 20 minutes.
Lightly grease the casserole dish with coconut oil, and then transfer the baked beans to the dish. Set the beans aside while you prepare the cornbread mixture, and pre-heat the oven to 400 degrees F. Combine the ground flax seeds and water to make 'flax eggs'. Stir and set aside for a couple of minutes to thicken. In a large bowl, combine the gluten-free all-purpose flour, garbanzo bean flour, cornmeal, baking powder, pumpkin pie spice, cinnamon, xanthan gum, and sea salt. Add the 'flax eggs', non-dairy milk, maple syrup, and pumpkin to the dry ingredients. Stir until just combined. The batter should be thick. Spread the batter over the baked beans and bake for 25-30 minutes, or until a toothpick inserted in the cornbread comes out clean. Allow to cool slightly and serve!
Notes
For the baked beans, I used Annie's Naturals Organic Smoky Maple BBQ Sauce. I love the flavor and the fact that it uses brown rice syrup as the main sweetener rather than white or brown sugar.

The cornbread batter is thick, so I found that it was easier to spread over the baked beans using an ice cream scoop. I dropped dollops of the mixture across the beans and then used a spatula to smooth it into an even layer.

Once baked, the cornbread layer is relatively thick. I personally like a higher ratio of cornbread to baked beans, but feel free to adjust the proportions to suit your taste.

The cornbread will absorb some of the sauce from the baked beans over time. I liked this dish best immediately after I prepared it, but the leftovers were still very good. The cornbread softened a bit after re-heating; however, it still retained a great texture.