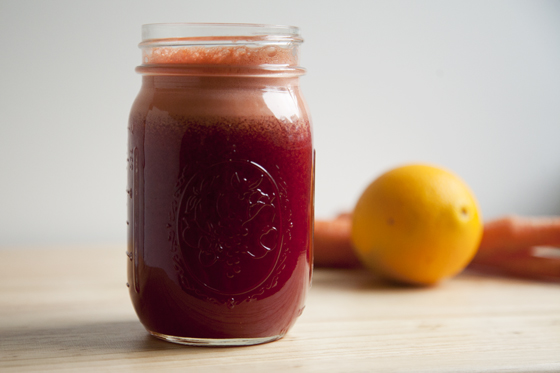 Just started reading? Check out my first 3 Day DIY Juice Cleanse post and Day 1 and Day 2 recaps.
– I felt much better when I woke up this morning. I didn't feel like I slept as well last night as I did the first night, but I also didn't have a headache. I'll take it.
– The hollow stomach sensation has lessened and I feel more like my normal self today, although I'm a little sleepy. I get a surge of energy immediately after I drink a juice, but that dissipates quickly and doesn't last more than an hour.
– I'm making sure I absolutely do not get caught up in work and miss a juice like I did yesterday. I was so sick until the last-resort-bread/ibuprofen-combo kicked in. Pounding headache, nausea, and totally unable to be productive. I think that nasty side effect reaffirms the need to do a juice cleanse on days where you can take it somewhat easy and have the time to prep juices every couple of hours. This is probably where a delivery service has a definite advantage.
– My freelance workload went from very manageable on Day 1 to super busy on Day 2 and into Day 3, and I felt emotionally overwhelmed at points. I have what I would consider an anti-procrastination type of personality and I'm not the best at spacing out my work projects. I like to get things done NOW or I'll keep going through a mental to-do list and stressing out (something I need to work on). Normally, I will push through whatever is on my plate, but doing this juice cleanse has made that difficult. Especially yesterday, I felt like I was on the verge of a meltdown at any moment, while today I'm more mentally able to cope.
– On a more positive note, I'm still not having any cravings for sugar or carbs (just typed crabs – nope, no cravings for those!). I'm actually not having any cravings at all. I get hungry around the time I'm supposed to make another juice, but other than that, I'd say I feel about the same as when I leave a yoga class – mostly mellow and calm. Well, until I check my work email.
I'll be back with some final thoughts a little later…probably after I EAT SOMETHING THAT ISN'T JUICE.
xo
Amanda