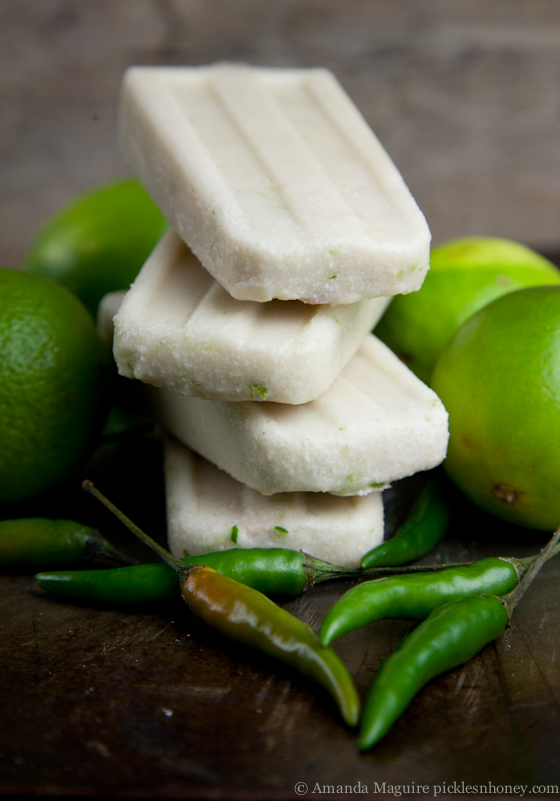 I've been wanting to make my own popsicles forever. Nearly every time I bought something on Amazon, I'd think about adding popsicle molds to my cart and then just end up staring longingly at them, ultimately convincing myself that I do not need yet another kitchen gadget. Does anyone else do this? This went on for over a year, which is about as long as it took me to work up to purchasing my Vita-Mix. I guess cost has little to do with the time it takes me to finally pull the trigger.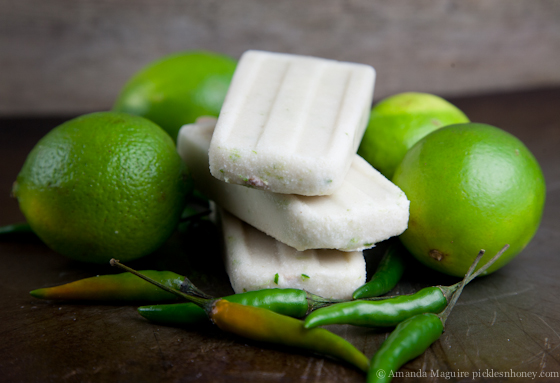 My shiny, new popsicle molds arrived last week, along with some fancy raw cacao butter and puppy chew toys. I do not have a problem purchasing specialty ingredients or anything dog-related. In fact, I have zero budgeting skills when it comes to the dogs. The amount of joy I get from watching Honey and Barley run around with a new toy far outweighs the realization that they've completely removed the stuffing and destroyed it not ten minutes later.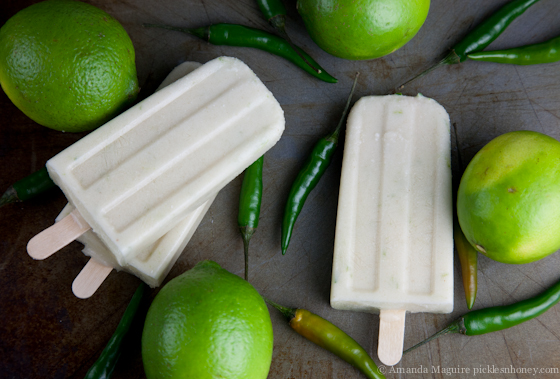 Seeing as how I waited for a good year to make my own popsicles, I had all sorts of flavor ideas running through my head. The one that intrigued me the most, however, was a play on cold and hot. Cold popsicle + hot chili pepper. I chose a homemade coconut milk of sorts as the base, thinking that would provide a creamy backdrop to help balance the pepper. I also ate a lot of coconut popsicles as a kid. You know the ones with the pieces of shredded coconut throughout? Those are so good! That's why I left the blended coconut in this recipe rather than straining it out.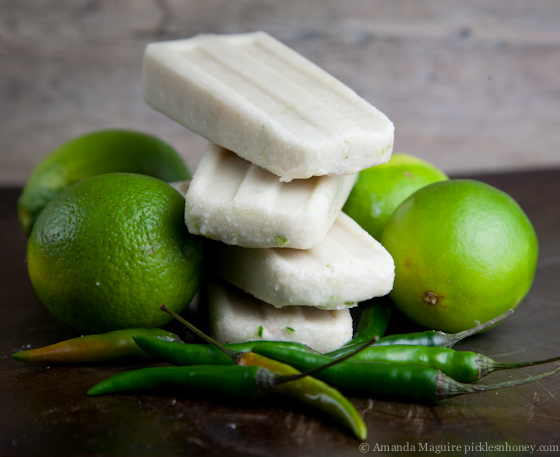 And what goes well with coconut? Everything! Lime! I was originally thinking jalapeño peppers for the heat part of these popsicles, but Thai chili peppers ended up being the perfect addition. Just be careful and taste as you go because they are really freaking HOT. And whatever you do, wash your hands (twice) after you chop them. I once itched my eye after I chopped some hot peppers and it's a lesson I will never forget.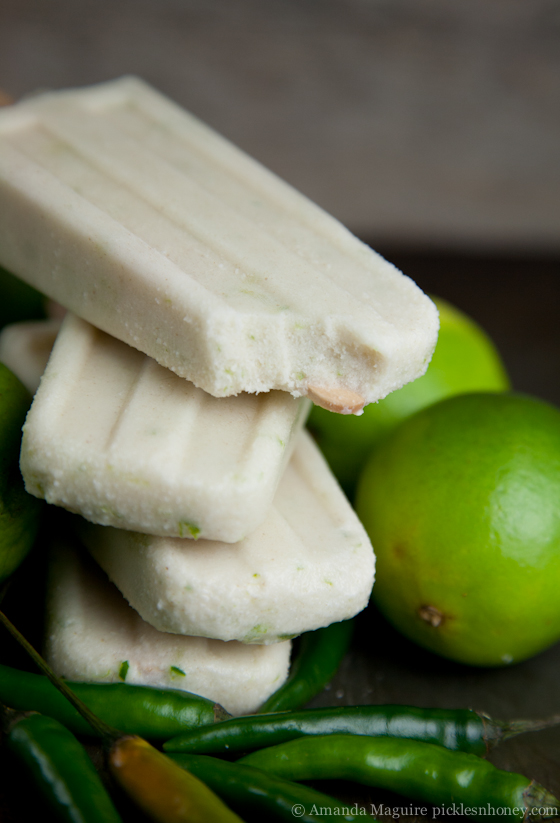 Coconut + lime + chili pepper. I think I was on to something with the whole hot/cold thing.
Coconut Lime Thai Chili Popsicles (Vegan & GF)
Creamy and tangy, cold and hot. These popsicles are a refreshing take on the popular coconut lime combination, with an interesting heat from the Thai chili peppers at the end.
Serves:
about 10 popsicles
Ingredients
1 C. Dried Unsweetened Shredded Coconut
2½ Cups Warm Water
4 Medijool Dates, pitted
¼ C. Fresh Lime Juice (about 2-3 limes)
Zest of 2 Limes
3 Seeded & Finely Minced Thai Chili Peppers (or to taste)
10 Drops Liquid Stevia (or to taste)
Pinch of Fine Sea Salt
Instructions
Add the coconut, water, and dates to a high speed blender and process on high for one minute.
Pour in the lime juice, zest, chili peppers, stevia and sea salt and blend on the lowest setting for a couple of seconds, just until all ingredients are mixed.
Taste the mixture and adjust the sweetness and heat from the chilis if necessary.
Pour into popsicle molds and freeze for a few hours, or until completely frozen.
Briefly soak the popsicle molds in very warm water to release the popsicles and enjoy!
These are going to be even better when it hits 90 degrees (!!!) in Boston this week.