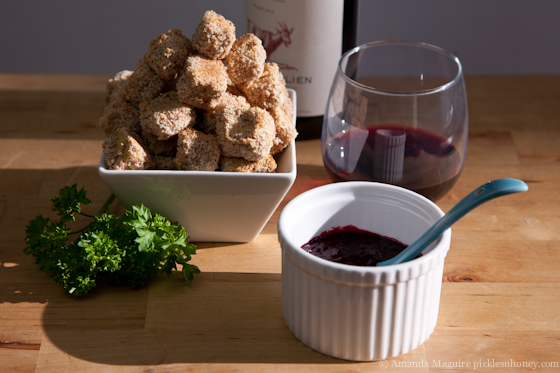 I'm not gonna lie – eating vegan and gluten-free can be a challenge. Even in a major city like Boston, the options for eating out, or even buying packaged foods at the grocery store, tend to be vegan or gluten-free. It's a rare gem that offers both.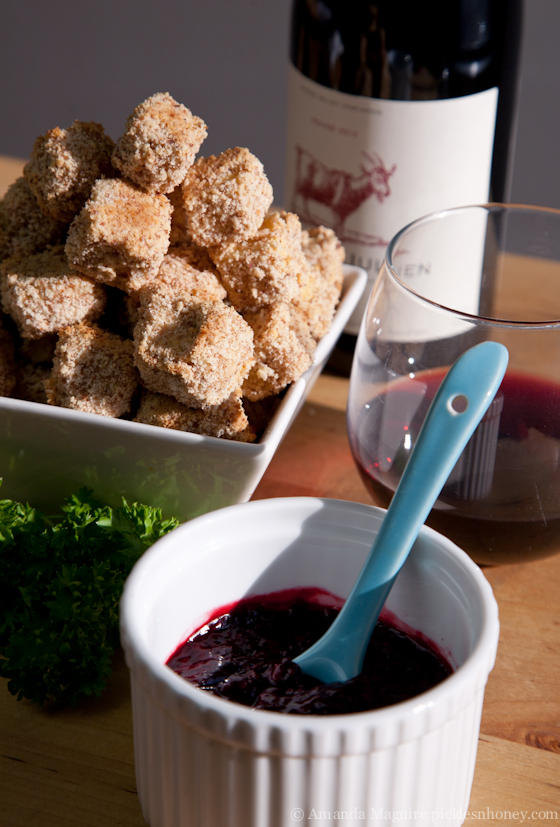 I personally had to give up gluten towards the end of last year, when I discovered it was the likely culprit for the intensely itchy skin rashes that have been flaring up for the last couple of years on my hands, neck, and around my inner arms near my elbows (and always in the exact same spots on both sides of my body). I fought it for a while, trying copious amounts of hydrocortisone cream, blaming my hand soap, body lotion, laundry detergent…something else. However, after months of trial and error, eliminating gluten, reintroducing gluten, eliminating it again (repeat times a million), I can say with 98% certainty that I have a gluten allergy. Up until last week, I actually thought it might be soy too (the horror!), and then I realized the tempeh I've been eating forever has barley in it! Doh.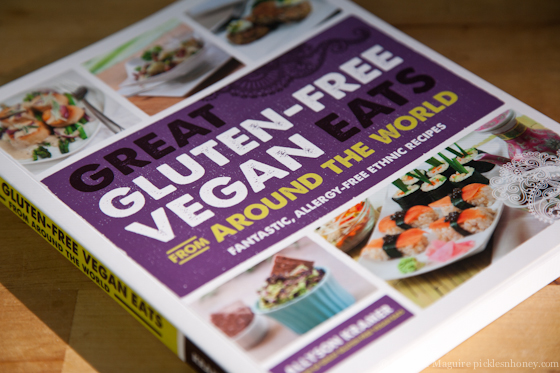 In my quest to expand my vegan and gluten-free recipe repertoire, I picked up a copy of Allyson Kramer's Great Gluten-Free Vegan Eats a few months ago. With its beautiful layout and photography, plus consistently delicious recipes, this book immediately became my go-to source for all foods vegan and gluten-free. I've been following Allyson's blog, Manifest Vegan, since shortly after I started my own and it's been a big source of inspiration for me. Needless to say, I was beyond thrilled when she recently reached out and asked me to be a part of her latest cookbook blog tour for Great Gluten-Free Vegan Eats from Around the World. Similar to Allyson's previous GGFVE book, this one is also really beautiful, and I love that it's organized by region.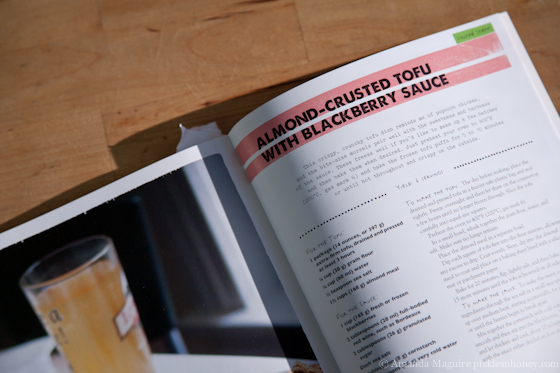 I think I've bookmarked almost as many recipes as there are pages in this book. From the Easy One-Pot (Jollof) Rice with Cinnamon and Curry from West Africa (Aaron LOVES this one) to the Colombian Empanadas to the Cocoa Almond Truffles (Brigadeiros) from Brazil – there is truly something for everyone. This cookbook makes vegan, gluten-free eating exciting!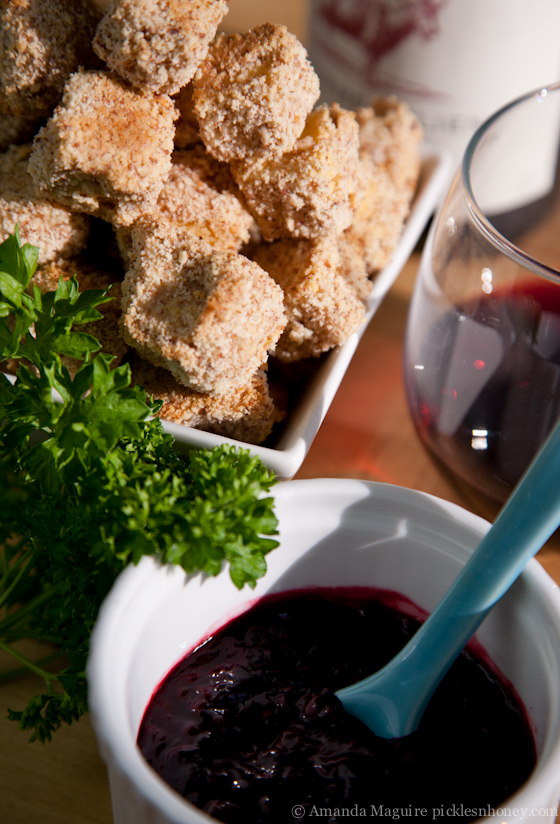 Today, I'm sharing a recipe for another favorite dish: Almond-Crusted Tofu with Blackberry Sauce. I consider it a celebration of the discovery that I don't have a soy allergy (knock on wood). Also, if you've never tried freezing your tofu before cooking it, you have to make this recipe. The texture is phenomenal!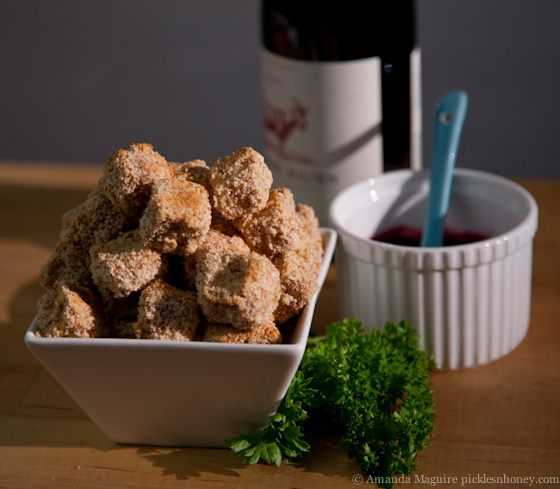 This will also make your kitchen smell really amazing.
Almond-Crusted Tofu with Blackberry Sauce
This crispy, crunchy tofu dish reminds me of popcorn chicken, and the bite-size morsels pair well with the sweetness and tartness of the sauce. These freeze well if you'd like to make up a few batches and then bake them when desired. Just preheat your oven to 400°F (200°C, gas mark 6) and bake the frozen tofu puffs for 5 to 10 minutes or until hot throughout and crispy on the outside.
Author:
Allyson Kramer | Great Gluten-Free Vegan Eats from Around the World
Cuisine:
Vegan, Gluten-Free
Ingredients
For the Tofu:
1 package (14 ounces, or 397 g) extra-firm tofu, drained and pressed at least 3 hours
¼ cup (30 g) gram flour
¼ cup (60 ml) water
½ teaspoon sea salt
1½ cups (168 g) almond meal
For the Sauce:
1 cup (145 g) fresh or frozen blackberries
2 tablespoons (28 ml) full-bodied red wine, such as Bordeaux
2 tablespoons (26 g) granulated sugar
Dash sea salt
1 tablespoon (8 g) cornstarch
2 tablespoons (28 g) very cold water
Instructions
The day before making, place the drained and pressed tofu in a freezer-safe plastic bag and seal tightly. Freeze overnight and then let thaw on the countertop a few hours until no longer frozen through. Slice the tofu carefully into equal-size squares.
Preheat the oven to 400°F (200°C, gas mark 6).
In a small bowl, whisk together the gram flour, water, and salt. Make sure no lumps remain.
Place the almond meal in a separate bowl.
Dip each square of tofu first into the flour mixture, allowing any excess to drip. Coat evenly. Next, dip into the almond meal to coat and place on a baking sheet lined with a silicon mat or parchment paper.
Bake for 20 minutes, flip, lightly salt, and then bake about 15 more minutes until the tofu is browned on all sides.
To make the sauce, combine all ingredients through the sea salt in a small saucepan and heat up over medium heat, stirring occasionally, for about 8 minutes, or until the berries begin to break apart.
Mix together the cornstarch with cold water until very smooth and then stir into the blackberries. Turn off the burner and let thicken and cool, about 10 minutes.
Serve the crispy tofu with the sauce either drizzled on it or on the side for dipping.
Recipe Shared with Permission from Fair Winds Press