To those of you who left comments and shared your personal stories on Monday's post – THANK YOU. It's so nice to hear that other people also struggle with the work/life balance and making active choices to pursue what makes us happy. I have more thoughts on this that I'll be sharing very soon, as well as a bunch of things swirling around in my head right now that I haven't quite sorted out. However, the good news is that I'm feeling motivated to make some changes! …whatever those may be.
Okay. How about something a little lighter?
Like maybe some baked donuts?
My donut pan is actually one of my most used kitchen purchases. I always seem to start out reaching for the muffin pan, then spot the mini muffin pan (I have a thing for mini versions), and then see the donut pan out of the corner of my eye. Those muffins don't stand a chance.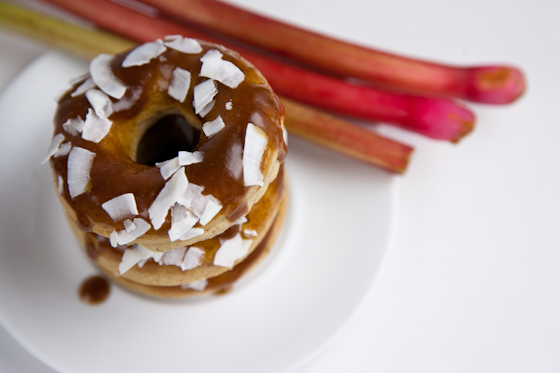 This particular recipe was inspired by the massive amounts of rhubarb in our CSA share. Seriously – like pounds and pounds of it. Apparently the farm is having a really tough season because of all of the downpours we've been getting, but you wouldn't know it based on the produce. My days now revolve around thinking of creative ways to eat five heads of kale and lettuce (this is where the blender really shines).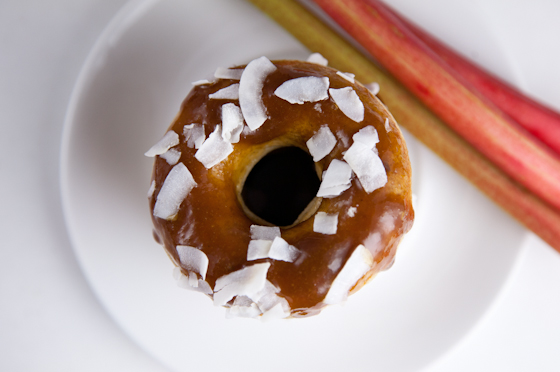 I considered chopping the rhubarb and tossing it in the donut batter, but quickly passed on that idea. The texture was a no-go for me. Instead, I opted to make a rhubarb puree – sort of like an applesauce – with a subtle maple syrup sweetness as the backdrop. It's tart on its own, but balances well with the coconut sugar in the donuts and the sweet rhubarb glaze. You could go with a plain icing as well, but as I mentioned, I had a lot of rhubarb on my hands. So, into the frosting it went, which ended up being a very good decision.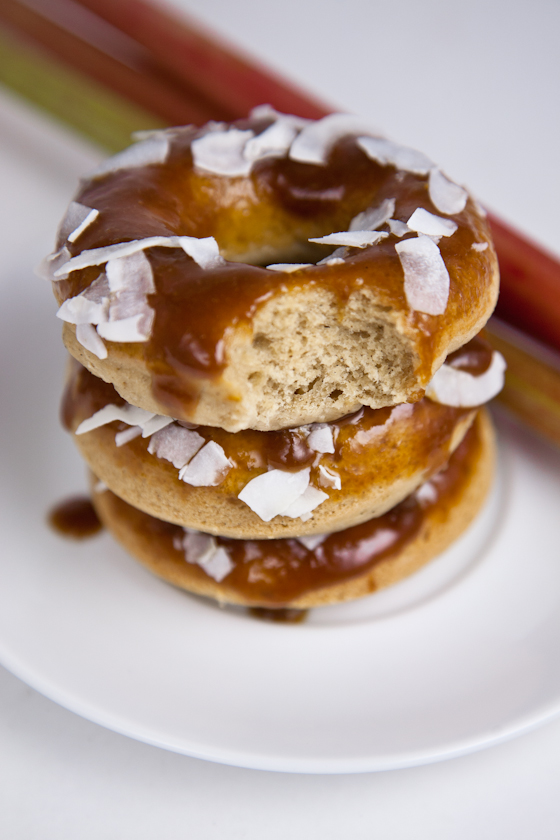 Topped with a sprinkle of unsweetened coconut flakes (or chopped almonds, maybe?) for some crunch, these donuts are perfectly summery.

Glazed Maple Rhubarb Donuts (Vegan & GF)
Ingredients
For the Maple Rhubarb Puree (makes 1 cup):
2 cups chopped rhubarb
2½ tablespoons maple syrup
½ tablespoon arrowroot starch
For the Donuts:
⅔ cup brown rice flour
⅔ cup white rice flour
⅔ cup arrowroot starch
1½ tablespoons baking powder
½ teaspoon xanthan gum
¼ teaspoon fine sea salt
⅔ cup maple rhubarb puree
¾ cup non-dairy milk (I used homemade almond milk)
⅓ cup coconut sugar
2 tablespoons coconut oil, melted
1 teaspoon vanilla extract
For the Rhubarb Glaze:
¼ cup maple rhubarb puree
⅓ cup powdered coconut sugar (simply process coconut sugar in a high speed blender for 1 minute, or until it's a super fine texture)
Optional toppings for a little crunch:
unsweetened coconut flakes
chopped nuts
Instructions
For the Maple Rhubarb Puree:
Add all ingredients to a medium saucepan and stir to combine.
Heat over low heat for 18-20 minutes, stirring often, until the rhubarb is very soft.
Transfer the mixture to a blender and process until smooth.
Chill in a container in the fridge until completely cool.
For the Donuts:
Pre-heat the oven to 350 degrees.
Lightly grease a donut pan.
In a large bowl, combine the brown rice flour, white rice flour, arrowroot starch, baking powder, xanthan gum, and sea salt.
In a small bowl, combine the rhubarb puree, non-dairy milk, coconut sugar, melted coconut oil, and vanilla. Stir constantly as you add the coconut oil to prevent it from solidifying.
Add the wet ingredients to the dry ingredients and mix until combined.
Spoon or pipe the batter into the greased donut pan.
Bake the donuts for 15 minutes, or until they are golden brown and firm to the touch.
Remove the donuts from the oven and allow them to cool.
For the Rhubarb Glaze:
While the donuts are cooling, prepare the glaze by whisking together the rhubarb puree and the powdered coconut sugar. Note: coconut sugar has a stronger, more molasses-like flavor than regular sugar. If that's not your thing, you can use regular powdered sugar instead.
Once the donuts have cooled, dip each into the rhubarb glaze, top with coconut/chopped nuts (if using), and set aside on a lined baking sheet or cooling rack to allow the glaze to set.
The donuts can be stored at room temperature for a couple of days, or in the fridge for up to a week.
Notes
I used a donut pan from Crate & Barrel, and this recipe made about 10 donuts. However, donut pans can vary a lot in size, so donut yield will likely vary. You may need to adjust your baking time accordingly. No donut pan? No problem! You can use the batter to make rhubarb glazed muffins. Just bake the muffins for an additional 3-5 minutes, until a toothpick inserted in the center comes out clean. For mini muffins, bake for just 10-12 minutes total.