Okay, so the coffee part is a bit of a stretch. I very rarely drink coffee because it tends to upset my stomach and the caffeine makes me jittery and angsty. (Sidenote: When Aaron and I were living in San Francisco, someone once lamented the East Coast lifestyle/people as "too angsty." Yes, sort of true, and I might describe San Franciscans as "too unconcerned." "Angsty" is more fun to say, though.)
I realized the other week that my much-loved Dandy Blend is made from barley and rye (sort of like how I realized my tempeh had barley several months into eating it), which may have explained my gluten rash flare-up the week I decided Dandy Blend would make a great morning ritual (Sidenote 2: Oh, the irony of naming my dog Barley). Dandy Blend claims their product is gluten-free due to how it's processed and they even have the lab work to back that up, but based on my own research in Celiac forums, it seems those lab tests can miss a lot, and other people also reported experiencing symptoms of being gluten-ed from it. Sadly, it's just not worth the gamble.
I was feeling pretty bummed and cursing my body's reaction to what seems like everything, when I discovered a truly gluten-free alternative: Ersatz Coffee. It's made from roasted rice, roasted peas, and roasted chicory, which means it's caffeine-free, gluten-free (and barley and rye-free), lactose-free, soy-free, nut-free…I think most people can drink it. I requested a sample from Ersatz because, well, I was skeptical that rice and peas would taste similar to coffee. Fortunately, I am pleased to report that it does taste good! Coffee it is not, but it makes for a nice alternative, especially when you add in a splash of non-dairy milk and a little of your favorite sweetener. I also recommend brewing it for the max time – five minutes – to get the best flavor. It's $6.41 for twelve servings (shipping is free); however, I've found that I can get away with re-using the bag once more to double the servings. I am frugal with my tea! Er, coffee?
…
Let's talk chocolate. Real chocolate, no substitutes. Have you heard of Kallari (pronounced Kahl-ya-di, by the way)? I hadn't, but they recently reached out to me to offer some samples of their 70%, 75%, and 85% chocolate bars, which they are working to make available in chocolate-chip form (yes, please). The first thing I did when I saw their email was a happy dance, then held my breath while I scoured their site for allergen information and to confirm that the chocolate is vegan. It is! And it's not "processed in a facility that also process wheat" – a phrase I have learned to resent, especially when the front of the product touts gluten-free.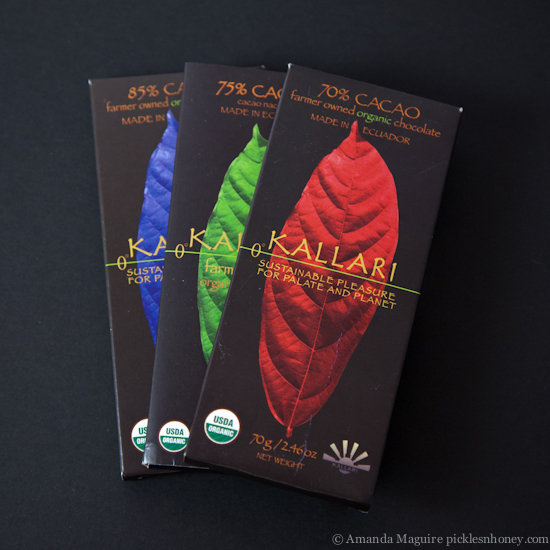 Kallari is the real deal, using organic cacao beans, cane sugar, cocoa butter, and whole vanilla beans. The texture is so smooth, and you can really taste the cocoa butter, which is something I've learned to pick up on from making my own chocolate. They're based in Ecuador, farmer-owned, and per their mission statement: "committed to community viability and economic growth, through knowledge sharing, the preservation of Kichwa cultural traditions and natural resource conservation." One hundred percent of the profits go to the Kichwa families to promote sustainable development, rainforest protection, education, and healthcare. In short, it's chocolate you can feel good about purchasing.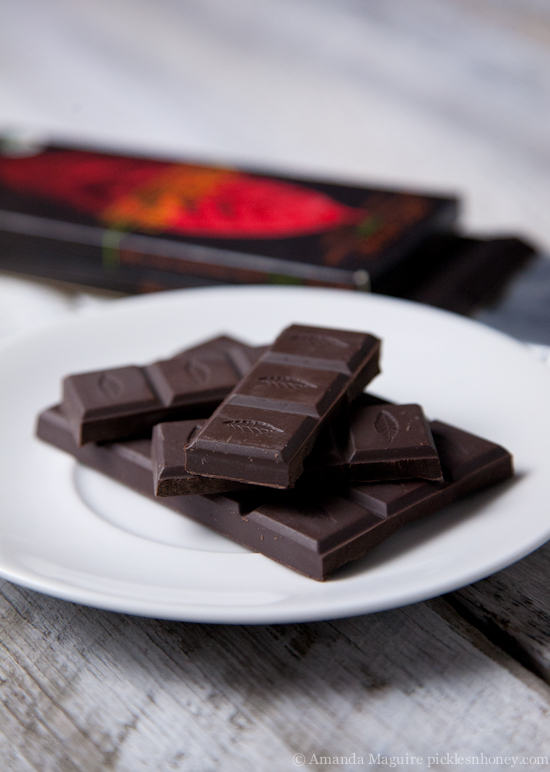 If you're interested in learning more or contributing to their Kickstarter Campaign to create chocolate chips, check out their website! They also offer chocolate and wine pairing notes, among other fun facts.
…
Have you tried Ersatz or Kallari before? If so, what did you think?
Disclosure: I received samples of Ersatz and Kallari for free, but as always, all opinions are my own.