Over the weekend, Aaron and I did something very nerdy: we went to the Boston International Antiquarian Book Fair. Not sure what that is? I didn't know what to expect either, so I checked their website beforehand and learned that it's an "annual event focused on exhibits and sales of rare, collectible, and antiquarian books, manuscripts, autographs, maps, and literary ephemera." See? Nerdy.
I love books, but this was more Aaron's thing. He got all giddy over how the books were bound, the history behind them, and the typography and I, well…I got most excited about a signed first edition copy of The Velveteen Rabbit…for $30,000. Seriously.
As we were leaving the book fair in search of dinner, I commented that I couldn't imagine spending tens of thousands of dollars on books that you can't actually hold or read or enjoy, unless you enjoy looking at them from afar behind a glass case. I do understand dropping a lot of money on art, for example, if it's a piece you're going to appreciate and feel inspired or moved by day after day. Luckily, Aaron and I are generally on the same page in that we tend to value experiences and relationships over most material purchases, so I wasn't worried about coming home from the fair with a book we couldn't read.
We ended up at the Whole Foods down the street to pick up dinner (per usual), and as we made our way to the salad and hot bars at the back of the store, I meandered over to the local produce, the fancy kombuchas and juices, the holiday candles…and Aaron had an epiphany and said, "Oh, so Whole Foods is your museum." Yes, I suppose it is. I have little tolerance for spending hours at MoMA, but drop me off at a health-minded grocery store and I can wander around all day. It's one of my sources of recipe inspiration, too.
Take todays recipe for chocolate. As I was looking at the Whole Foods' holiday display the way one might look at fine art, I found a bar of gingerbread milk chocolate. Non-vegan-ness aside, I've never been a fan of milk chocolate, and I knew what had to be done.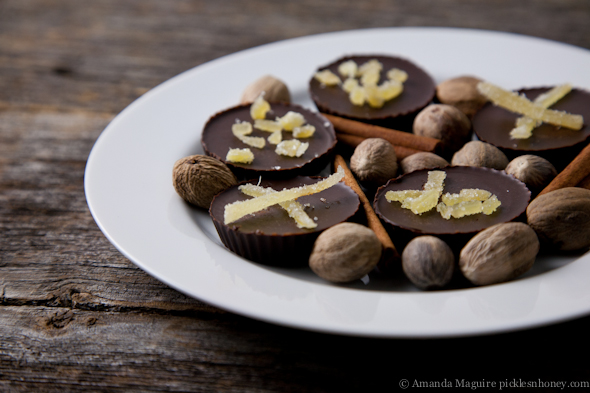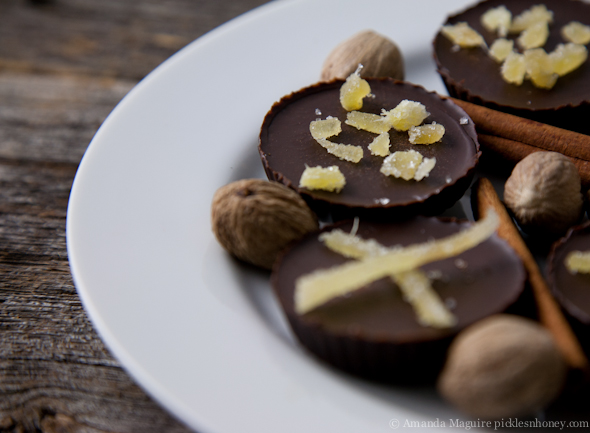 Homemade Gingerbread Dark Chocolate with Crystallized Candied Ginger. The chocolate at the store didn't have candied ginger, but I hope you'll agree, it makes sense. I love candied ginger and Aaron thinks it tastes like medicine, so…more for me!
I used my Dark Chocolate Vanilla Maple Almond Butter Cups as the starting point for this more seasonal spiced chocolate. Sidenote: If you haven't made homemade almond butter cups yet, you must.  I think that recipe is one of my best, and I'm proud to say that this one ranks right up there too. I hope you enjoy it as much as we do!
Gingerbread Dark Chocolate with Crystallized Candied Ginger
Rich dark chocolate that's spiced for the holidays and topped with crystallized candied ginger. Perhaps the most luxurious, festive chocolate to ever pass your lips. Who needs gingerbread cookies anyway?
Ingredients
140 grams raw cacao butter
¾ cup raw cacao powder, sifted
½ cup + 2 tablespoons coconut sugar, ground into powdered sugar
1 tablespoon molasses
¼ + ⅛ teaspoon ground cinnamon
¼ teaspoon ground ginger
¼ teaspoon ground nutmeg
¼ teaspoon fine sea salt
⅛ teaspoon ground clove
crystallized candied ginger for garnish
Instructions
Line a muffin tin with 12 silicone baking cups and set it aside.
Add the cacao butter to a medium saucepan and melt it over the lowest heat setting.
While the cacao butter is melting, whisk together the cacao powder, powdered coconut sugar, cinnamon, ginger, nutmeg, sea salt, and clove in a separate bowl.
Once the cacao butter has melted, whisk in the dry ingredients and molasses until well-combined, making sure the coconut sugar has had a chance to dissolve completely.
Turn off the stove and spoon approximately 1½ tablespoons of the chocolate into each muffin tin.
Place the muffin pan in the freezer for 5-7 minutes to allow the chocolate to firm up slightly.
Garnish each of the chocolates with a few pieces of sliced and/or diced candied ginger and return the pan to the freezer for 15-20 minutes, or until the chocolate is completely solid.
Pop the chocolates out of the silicone muffin liners, transfer them to a container, and store them in the fridge.
Also, reason number 54,237 why I should never own a $30,000 signed copy of The Velveteen Rabbit? In making these chocolates, I managed to get it all up and down my sleeves, my pants, and on my hands and face (quality control, obviously). Chocolate-covered-first-edition-Velveteen-Rabbit is probably one of the few times chocolate doesn't make something better. And that's why they use glass cases.
xo
Amanda