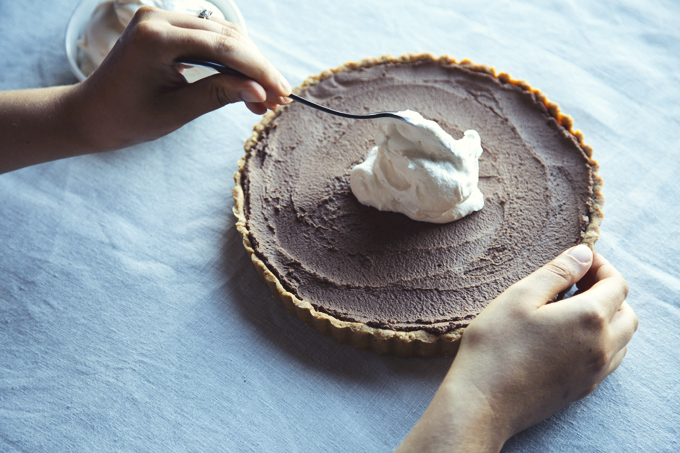 Back in February, I posted a recipe I knew might be a little controversial as far as desserts go: double dark chocolate chickpea dip. Now, before you write me off as having jumped way into the hippie-dippy deep end, you should a) go read that post and b) consider that chocolate chickpea dip is actually one of my most popular recipes to date. I regularly receive emails from people admitting that they thought I might be crazy using chickpeas in a chocolate dip, but that it's turned out to be one of their favorite healthier indulgences. It's safe to say those emails make my week.
Pretty much as soon as I posted that simple, kinda weird dip, I realized it was the perfect texture for a vegan chocolate pie filling. The chickpeas and melted cacao butter combine to have this seriously awesome effect where you end up with something that's a cross between a rich fudge and a luscious chocolate mousse. From there, though, it gets even better because the crust is made from pretzels! There's this irresistible sweet/salty thing happening with every bite, taken to the next level with an airy coconut whipped cream, extra dark chocolate shavings, and a few more crunchy pretzel pieces.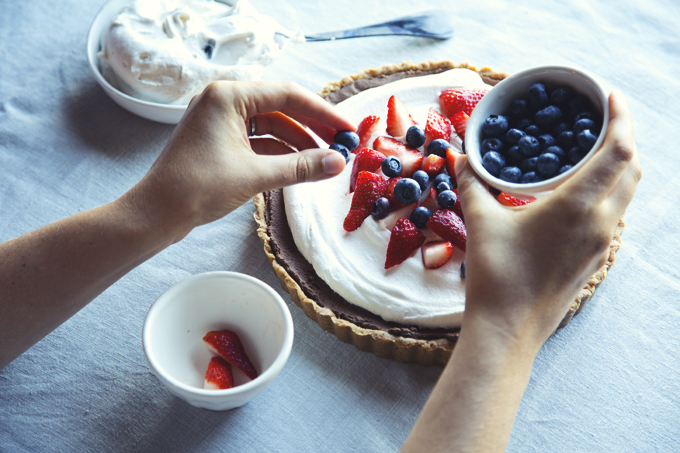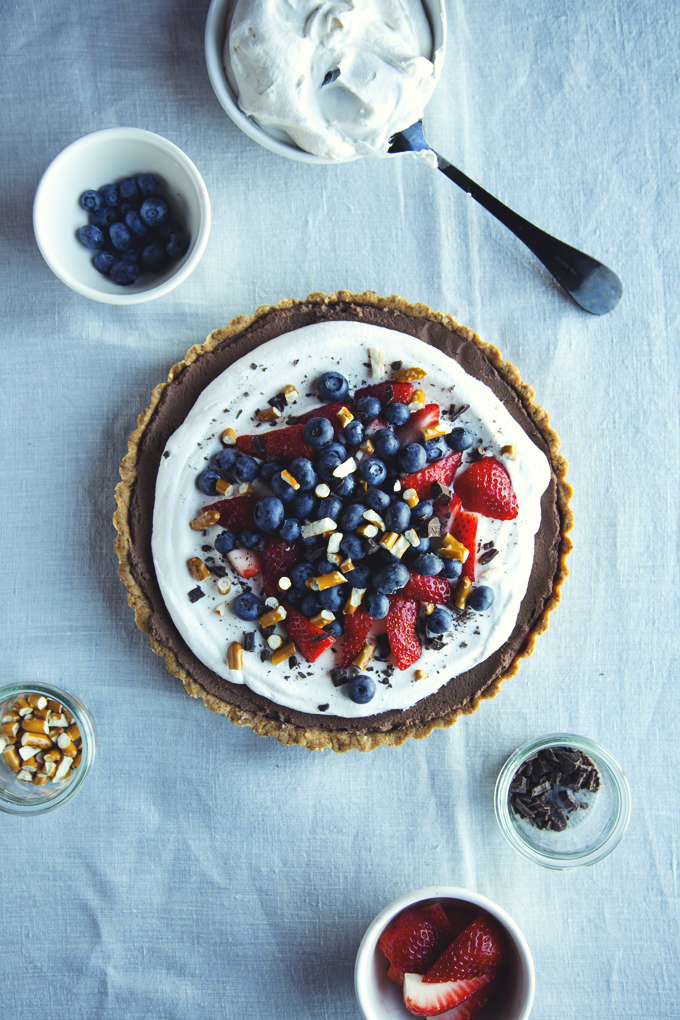 You could stop there, but the upcoming 4th of July holiday had me thinking red, white, and blue and so I went ahead and piled it high with fresh, sliced summer strawberries and blueberries (THE best!). Oh my. Dare I say it, this pie is perfect. And it's easy too. I made it in our hotel room, without a proper kitchen, oven, most utensils, or mixing bowls. When we left Boston, I brought our Vitamix blender with us on our roof rack (true story), and used it to grind the pretzels into flour and process the chocolate chickpea filling until it was very smooth. Normally I would use a food processor for those tasks, but I've gotta say—the blender may have worked even better. I got lucky and found a frying pan in our hotel and used that to mix together the crust in place of a bowl. The tart pan I dug out of our roof rack. Don't judge me.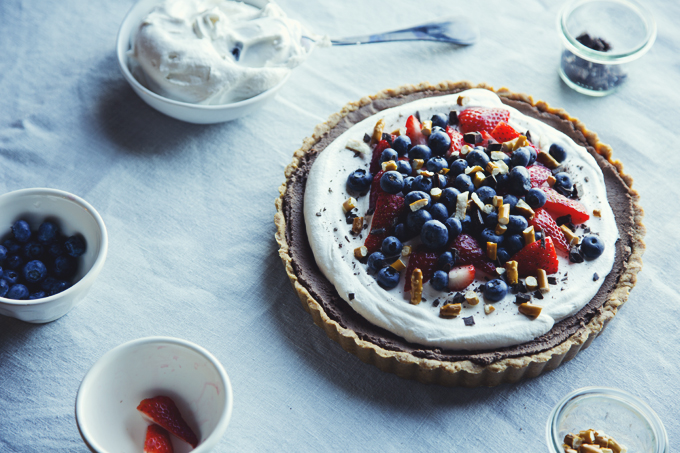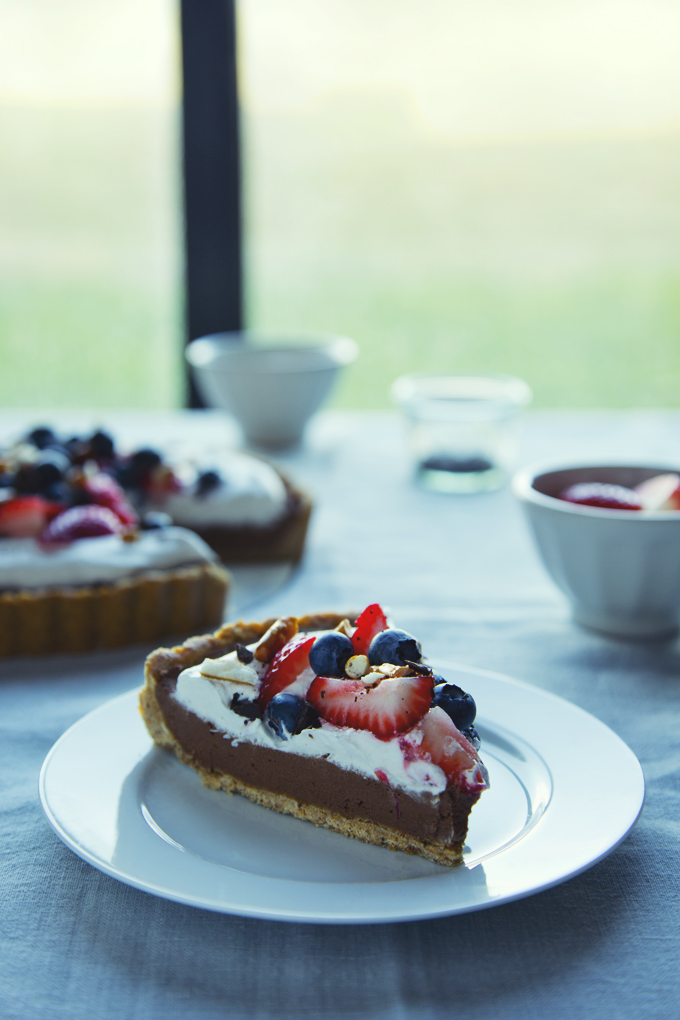 We photographed the pie with natural light (this makes me super happy) next to a big window in our first floor room, as random hotel guests walked by and stopped to stare. One lady stood in front of our window for a solid minute as I carefully dolloped whipped cream and Aaron snapped away. It was really awkward. If only I had thought to open the window to tell her about the chickpeas in the filling. Mind. Blown.
We'd love for you to follow us on Instagram and tag photos you post of our recipes with #picklesnhoney so we can see!
No-Bake Dark Chocolate Chickpea Pie with Pretzel Crust
This rich, dark chocolate pie has an easy pretzel crust for that perfect sweet/salty bite. It tastes indulgent, but it's actually packed with whole food ingredients and a healthy dose of plant-based protein. No one will ever guess the secret ingredient (chickpeas!).
Author:
Amanda Maguire | Pickles & Honey
Recipe type:
Dessert, Pie
Cuisine:
Vegan, Gluten-Free Option
Ingredients
for the crust:
226.8 grams (8 ounces) salted pretzels (use gluten-free if necessary)
3 tablespoons coconut sugar
½ cup + 2 tablespoons coconut oil, soft but not melted
for the dark chocolate chickpea filling:
15 ounces cooked chickpeas, rinsed very well and drained
½ cup + 2 tablespoons raw cacao powder (or cocoa powder)
½ cup coconut sugar
½ cup non-dairy milk (I used organic soy)
⅓ cup melted raw cacao butter
1 tablespoon pure maple syrup
1 teaspoon pure vanilla extract
½ teaspoon fine grain sea salt
for topping:
sliced strawberries
blueberries
vegan dark chocolate shavings
pretzel pieces
Instructions
Line the bottom of an 8-9″ tart pan (it should have a removable bottom ) with parchment paper and set it aside.
To make the crust: add the pretzels to a food processor or blender and pulse until very finely ground (it's important that it be the consistency of flour). In a large mixing bowl, stir together the pretzel flour, coconut sugar, and softened coconut oil (it should have the texture of shortening) until combined. Firmly press the crumbs into the tart pan and refrigerate it while you prepare the filling so that the coconut oil becomes solid and the crust holds its shape.
To make the filling: add all of the filling ingredients to a food processor or high-speed blender and process until very smooth, scraping down the sides as necessary. If you're using a blender, I find it helpful to add all of the ingredients except the melted cacao butter, blend until smooth, then add in the cacao butter and blend once more (this keeps it from becoming too thick to blend). Transfer it into the crust, smooth it into an even layer with a spatula, and refrigerate it for at least 1 hour to firm up.
Just before serving, top the pie with coconut whipped cream, berries, shaved dark chocolate, and pretzel pieces. It's best to add the pretzel pieces by the slice so they don't get soggy if there's leftover pie.
To my fellow U.S. readers, I hope you have a wonderful 4th of July holiday! Internet-permitting, we should be back at the end of the week with our next
travel
post. xo Amanda