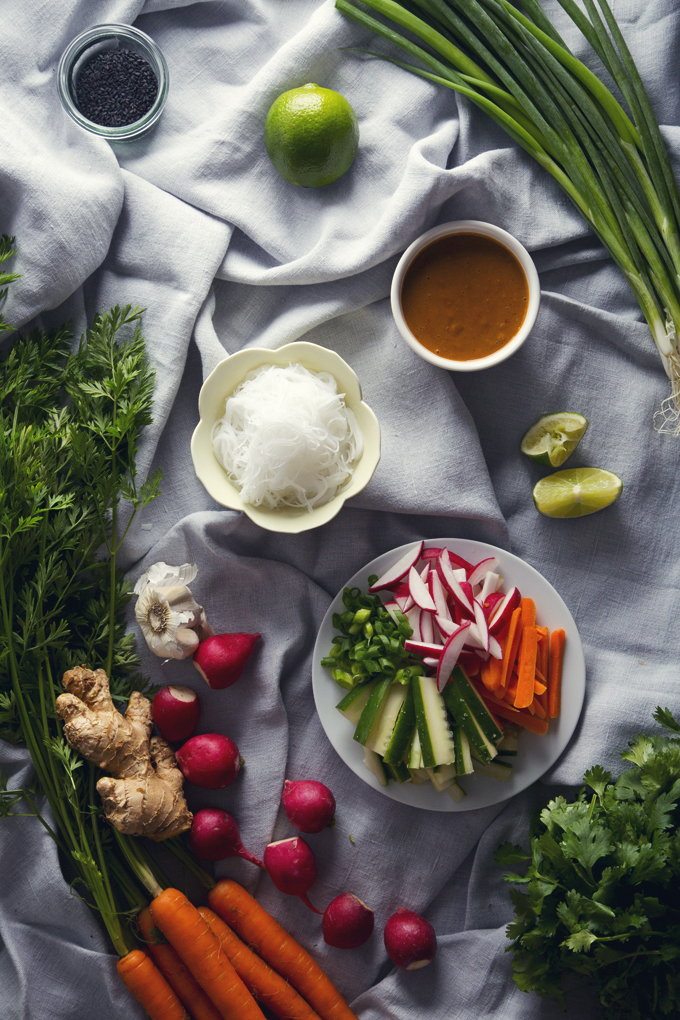 I've been thinking a lot lately about perception versus reality, specifically when it comes to blogging and social media. Sometimes I'll look back at the photos from a stop on our road trip and think, "that place looks so much more perfect than I remember it." It's not that the particular images in the photos weren't dreamy—it's that there were some moments leading up to and following those snapshots that detracted from the overall experience. No dogs allowed in National Parks (huge, huge bummer when you're traveling with two). Crazy hot weather. Crappy accommodations that ate up our budget.
I read somewhere that it's important not to compare your life to someone else's highlight reel (hello, Facebook, Instagram, and Pinterest). But what I'm also realizing on this road trip adventure is that we also shouldn't necessarily compare our life to our own highlight reel.
To help with this, I think I may start captioning some of my Instagram pictures with "what it looks like" and "reality". For example, the photo of me enjoying a snack under a waterfall? Right before Aaron snapped that pic, I attempted to climb down a very steep, dusty rock and I fell flat on my ass, doing a full body slide that left me covered in dirt and with a baseball-sized bruise that's going to last for-ev-er. It's funny in retrospect because I was so pissed at the time, but it does still hurt to sit down.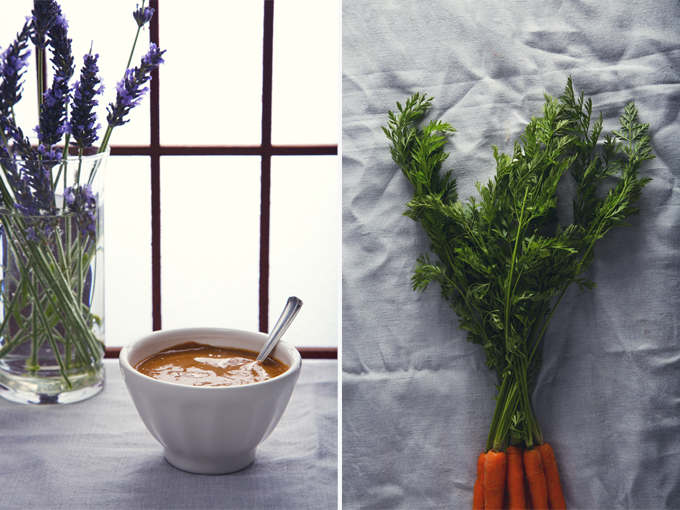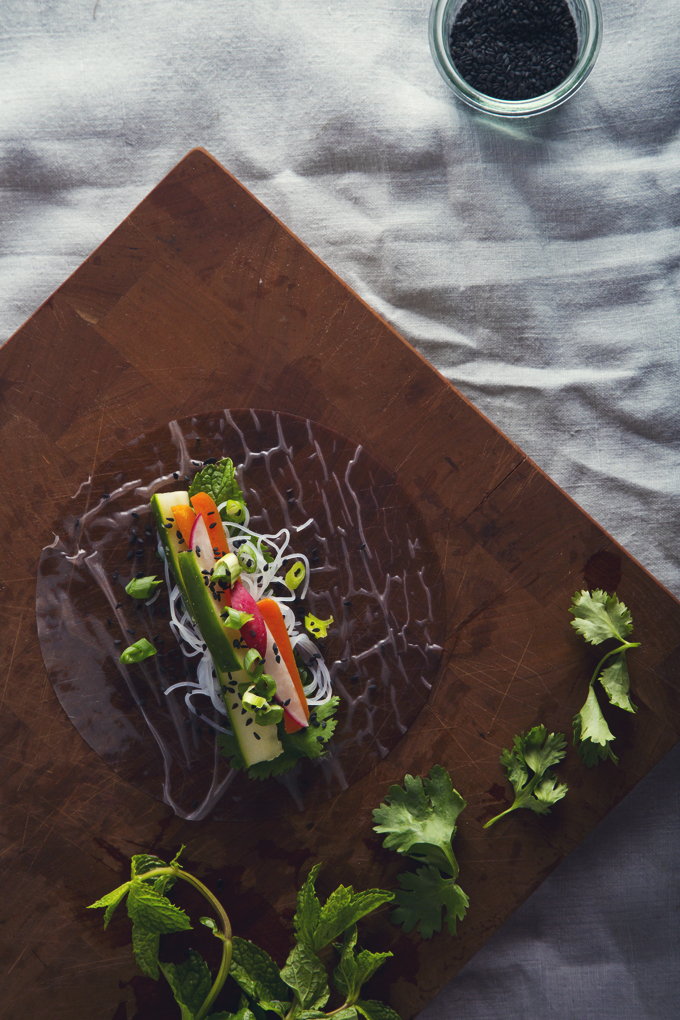 The recipe I'm sharing today is very much in line with the "what it looks like" and "reality" discrepancy. Not at all in terms of flavor—that part is rockin' and you will want to put the peanut sauce on everything! It's that we photographed this meal in a tiny airbnb in the basement, without a stovetop or full kitchen, on a floor I wiped down by hand and then covered with a shower curtain we picked up at a Walmart. Our camera lights kept blowing the fuse, I used the tops of a washer and dryer for counter space, and our one piece of linen was wrinkled from being crammed in the car. There was a point where Barley needed to go outside to pee and I contorted myself around this crazy setup of camera and tripod and lighting and ingredients splayed on every possible surface. We laughed about the ridiculousness of it all even in the moment.
This whole experience is teaching me to be a more go-with-the-flow, resourceful type of person, a more accessible recipe creator, and both Aaron and I are learning that having less is actually opening us up to experiencing more. Definitely not all highlight-reel and Instagram-dreamy, but each moment is meaningful in its own way, bruises and all.
We'd love for you to follow us on Instagram and tag photos you post of our recipes with #picklesnhoney so we can see!
Vegan Vietnamese Summer Rolls with Peanut Dipping Sauce
Easy vegan Vietnamese summer rolls that are light and flavorful with a peanut sauce that's so good, you'll want to make it a weekly staple. No time or patience for rolling? I feel you. Skip the rice wrappers and toss everything together in a big bowl!
Author:
Amanda Maguire | Pickles & Honey
Recipe type:
Vegan, Gluten-Free
Serves:
makes about 10 rolls
Ingredients
for the peanut dipping sauce:
⅓ cup creamy salted peanut butter
¼ cup reduced-sodium soy sauce
2 tablespoons fresh lime juice
2 tablespoons pure maple syrup
2 tablespoons sriracha (or to taste)
2 large cloves garlic
1 heaping tablespoon fresh, peeled ginger
for the fillings:
1 small bunch fresh mint leaves
1 small handful fresh cilantro leaves
2½ ounces thin rice noodles, cooked and salted
1 medium carrot, sliced into thin strips
½ medium seedless cucumber, sliced into thin strips
2 medium radishes, sliced into thin strips
1 green onion, thinly sliced
sea salt for seasoning the vegetables
to make the rolls:
10-20 rice paper wrappers, depending on whether you double wrap the rolls
black sesame seeds for garnish
Instructions
Combine all of the peanut sauce ingredients in a blender. Process until smooth. Set aside.
To soften the rice wrappers: fill a shallow dish with very warm water. Place each wrapper in the water until it softens, about 10-20 seconds. Carefully lift it out of the water and spread it on a cutting board or plate.
To assemble the wraps, layer a few of the mint and cilantro leaves in the center of the wrappers. Top with a few rice noodles, followed by a layer of the remaining sliced vegetables. Sprinkle with a pinch of sea salt and black sesame seeds.
To roll up the summer rolls: fold the top then bottom edges of the wrapper over the filling, then fold over the left and right edges towards the center. It should be snug, but try not to rip the wrappers. If the rolls are a bit messy (as mine usually are!), you can wrap the roll in a second wrapper using the same method. This makes for a tighter and neater-looking roll. Repeat this process with the remaining wrappers and filling ingredients. You may need to change your water partway through to make sure it stays warm.
Serve the rolls with lots of peanut sauce for dipping and extra sriracha if you like them spicy!