I think I only discovered banh mi sandwiches a year and a half ago, which is very unfortunate because they have so many of my favorite things happening, not the least of which are the spicy pickled veggies. The good news is that you can make your own pickles at home with less than 5 minutes of prep time and an hour of waiting. During that wait time, I highly recommend you marinate some tofu, cook it up, and gather a handful of ingredients to make a banh mi bagel sandwich that's pretty damn epic for breakfast, but of course equally awesome for lunch or dinner too. Who says bagels are only a breakfast food anyway?
These sandwiches hit all the right marks in the texture and flavor departments. Crispy, doughy, tangy, spicy, garlicky and wait for it…extra creamy from some sliced avocado. One bite in and you'll wonder why every restaurant isn't adding avocados to their banh mi sandwiches.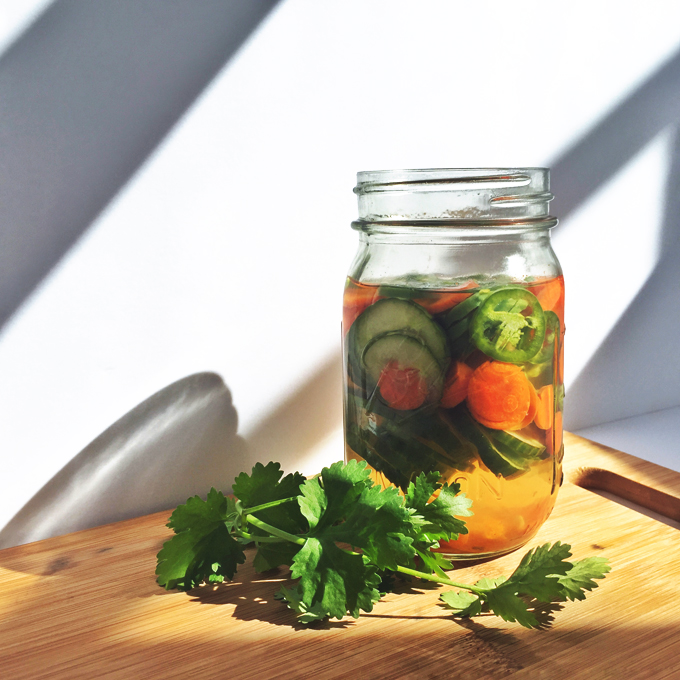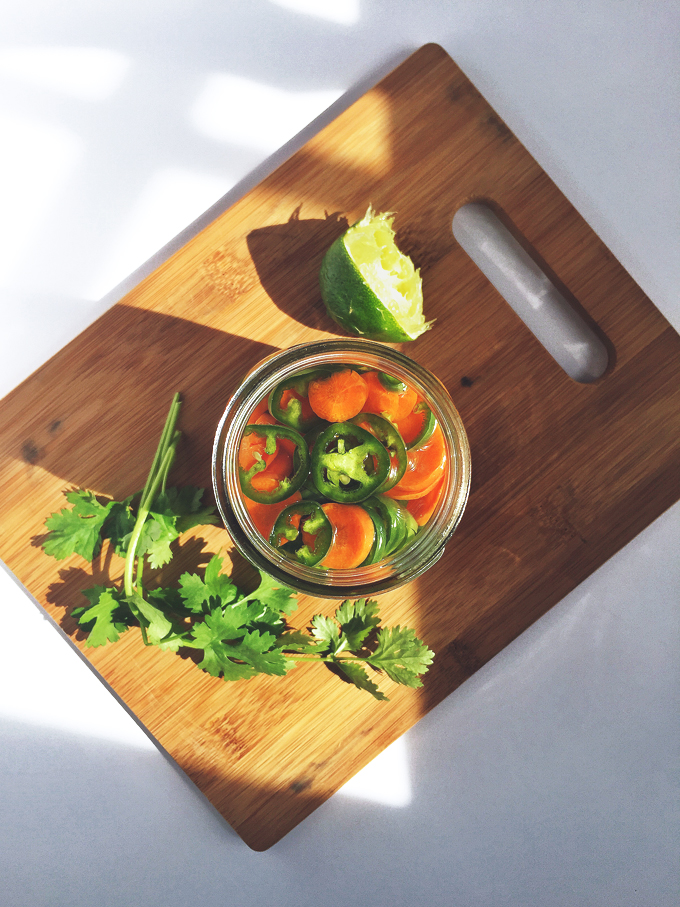 We'd love for you to follow us on Instagram and tag photos you post of our recipes with #picklesnhoney so we can see!
Tofu Banh Mi Breakfast Sandwich
Unbelievably simple vegan banh mi sandwiches made with tofu and quick, homemade pickles. Serve them on a bagel for a satisfying savory breakfast!
Author:
Amanda Maguire | Pickles & Honey
Recipe type:
Breakfast, Sandwich
Cuisine:
Vegan, Gluten-Free Option
Ingredients
for the quick pickles:
1 small carrot, sliced into thin rounds
1 small cucumber, sliced into thin rounds
1 small jalapeño, sliced into thin rounds (adjust to your spiciness preference, remove the seeds to reduce the heat)
½ cup white wine vinegar
½ cup water
1 tablespoon vegan cane sugar
1 teaspoon fine grain sea salt
for the tofu:
2 tablespoons reduced sodium soy sauce
2 tablespoons fresh lime juice
1 tablespoon extra virgin olive oil, plus extra for greasing the pan
1 medium clove garlic, minced
½ package (8 ounces) extra firm tofu, sliced ¼ inch thick and gently pressed between paper towels to remove excess water
for the sandwiches:
plain bagels, toasted if you like (gluten-free if necessary)
avocado slices
vegan mayo
fresh cilantro
sriracha
Instructions
Make the pickles: Add all of the pickle ingredients to a medium jar, close the lid tightly, and shake to combine. If the vegetables aren't completely submerged in the vinegar, add just enough water to cover them. Refrigerate for 1-2 hours.
Prepare the tofu: In a shallow dish, combine the soy sauce, lime juice, olive oil, and garlic. Dip the slices of tofu into the marinade, coating both sides. Cover and refrigerate for 30 minutes. Heat a non-stick skillet over medium heat. Once the pan is hot, add a small pour of olive oil and cook the tofu, giving each piece a little space on all sides to brown. Cook the tofu for 2-4 minutes on each side, until browned and slightly crispy. Remove the pan from the heat.
Assemble the sandwiches: Slice the bagels in half, then spread with mayo on both halves. Layer on the tofu slices, pickled vegetables, avocado, cilantro and drizzle with sriracha. Devour!
Notes
We like the "high protein" tofu from Trader Joe's because it's super firm, cooks up nicely, and holds together very well. It also requires minimal pressing to remove the excess water.
---
P.S. This post is iphone + natural light only (no iphone lenses either).