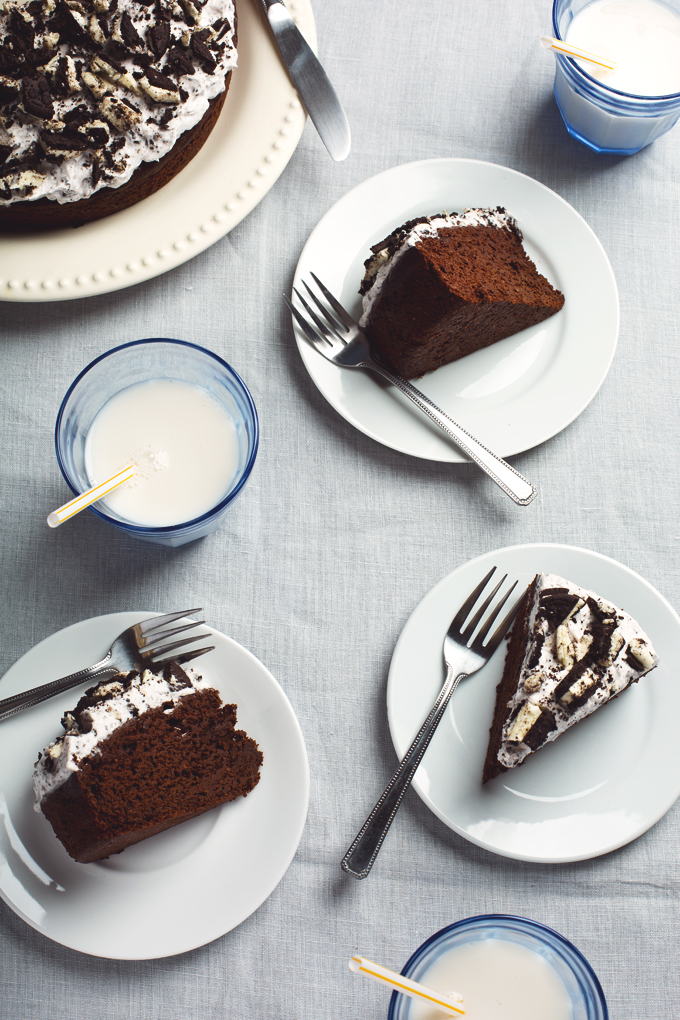 Today is a big day because Pickles & Honey turns 4! I'm having one of those "the days are long, but the years are short" kinds of moments. Except I also feel like most of the days are short, which is what happens when you do what you love. To celebrate, I made vegan Oreo cake! And it's chocolate cake, of course. It's so simple with only 9 ingredients, you can honestly mix it all up (1 bowl!) in under 10 minutes. The frosting is a 3 ingredient, fluffy coconut whipped cream loaded with crushed Oreo cookies, then piled high with more cookies for a dessert that's totally decadent but still ridiculously easy to make.
Rich chocolate, airy whipped cream, and our favorite childhood Oreo cookies all in one. It really doesn't get much better, does it?
The biggest hugs to you for reading and making my recipes over the years! If you wouldn't mind sharing in the comments, I'd be curious to know how long you've been reading and how you first found P&H. You can tell me anything else you'd like, too.
xo
Amanda
We'd love for you to follow us on Instagram and tag photos you post of our recipes with #picklesnhoney so we can see!
Vegan Oreo Chocolate Cake
9-ingredient vegan chocolate cake, 3-ingredient Oreo cookie frosting, 1 mixing bowl, and under 20 minutes of active prep work. This is your new go-to vegan Oreo cake recipe!
Author:
Amanda Maguire | Pickles & Honey
Recipe type:
Dessert, Cake
Ingredients
for the chocolate cake:
1¼ cups almond milk
6 ounces non-dairy vanilla yogurt
5½ tablespoons melted coconut oil, plus additional for greasing the pan
½ cup + 2 tablespoons coconut sugar
¾ teaspoon vanilla extract
1½ cups all-purpose flour, sifted
1 cup raw cacao powder (or cocoa powder), sifted
1 teaspoon baking soda
½ teaspoon fine grain sea salt
for the cookies and cream frosting:
1 can (14 oz) coconut cream, refrigerated overnight
¼ cup vegan powdered sugar (or 1-2 packets powdered stevia)
6 Oreo cookies, roughly crushed, plus additional for decorating
Instructions
Make the chocolate cake: Preheat the oven to 350 degrees F. Lightly grease an 8-inch cake pan with melted coconut oil and set it aside. In a large mixing bowl, whisk together the milk, yogurt, coconut oil, sugar, and vanilla. Using a wooden spoon or the paddle attachment on a stand mixer, slowly stir in the flour, cacao powder, baking soda, and salt. Mix until just combined--be careful not to over-mix. The batter will be thick. Using a spatula, transfer the batter to the prepared cake pan and smooth out the top into an even layer. Bake for 35-40 minutes, or until a toothpick inserted in the center comes out clean. Remove the cake from the oven and allow it to cool to room temperature. Once cooled, remove the cake from the pan: put a large plate over the top of the pan, flip it upside down, and tap the pan to release the cake onto the plate. Place the cake in the fridge to chill for 20 minutes.
While the cake cools, prepare the cookies and cream frosting: Open the can of coconut cream and scoop the solid cream into a medium mixing bowl. Using electric beaters, mix the coconut cream and powdered sugar on low speed until combined, then crank the beaters up to high speed for 1 minute, or until the frosting is light and fluffy. Use a spatula to fold in the crushed Oreo cookies.
Frost the cake: Add all of the frosting to the top of the cake and using an off-set spatula (or regular spatula), spread the frosting outward on the top and down the sides of the cake. Decorate with additional crushed Oreos.
Notes
It's crucial to only use the solid coconut cream to make the frosting and not the liquid or else your frosting will be runny. Sometimes the amount of solid coconut cream varies from can to can, so it's a good idea to have an extra can on hand in the fridge in case you need it.

Leftover cake should be covered and refrigerated.