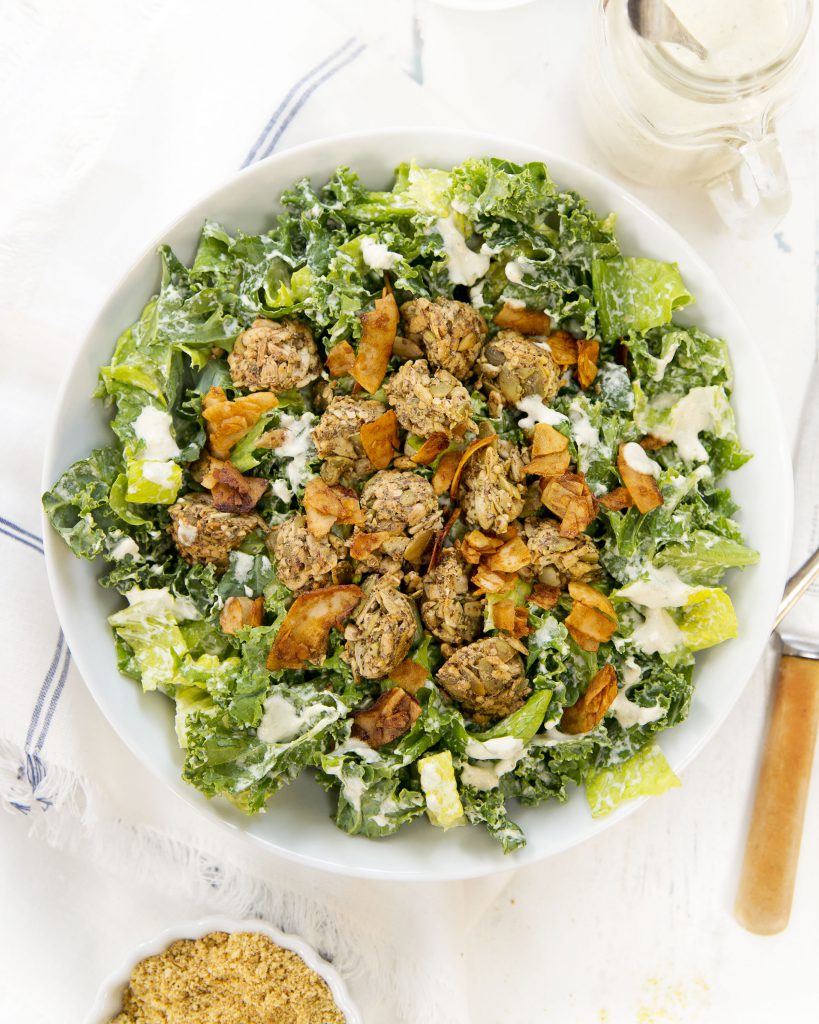 October just flew by, didn't it? I feel like we were just talking about that perfectly tart raw key lime pie yesterday (have you tried it yet? so good). Today, I'm excited to share another recipe—this time savory instead of sweet.
If you haven't jumped on the coconut bacon bandwagon yet, you've gotta give it a try. The new cookbook from Nicole Axworthy and Lisa Pitman titled DIY Vegan is making it very easy to bake up some coconut bacon, and many other delicious staples, at home and for a fraction of what it might cost to buy it pre-made at the grocery store.
Here's why I like DIY Vegan so much: it's approachable, the recipes are focused around basics but always with unique spins on flavor, and the ingredient lists are short.
For me, the short ingredient list thing has become make or break in terms of whether I'll choose a recipe since we're still on our year-long road trip. I don't have a pantry of twenty different flours or fifty million spices (the latter might be an exaggeration but the former was not too far from the truth #flourproblems). So if I'm going to make a recipe, I don't want to have to buy ingredients that I'm only going to use once and then have to leave behind or toss when we move on to our next travel destination. I'm betting you feel the same, regardless of whether you're moving from place to place.
Even though this coconut bacon is savory (and great for adding crunch on big ass salads), what got me really excited about it is the prospect of putting it on sweets! Cookies, brownies, and donuts! I'm always angling for dessert. My advice is to use it on a salad and get in your veggies, then go make these peanut-butter-frosted banana donuts and sprinkle them with leftover coconut bacon just after you frost them.
Peanut butter banana coconut bacon donuts…I think we're on to something!
P.S. Nicole and Lisa are offering the most awesome Blendtec and Breville giveaway to celebrate their new DIY Vegan cookbook. Get the details after the recipe!

Coconut Bacon Bits
You've just got to give these coconut bacon bits a try! Use them in vegan club sandwiches or in salads. If you're someone who loves smoky, salty sweets, you can also add them as a topping to doughnuts, cookies, and brownies!
Author:
DIY Vegan | Copyright © 2015 Nicole Axworthy and Lisa Pitman
Cuisine:
Vegan, Gluten-Free
Ingredients
1 tablespoon tamari
1 tablespoon vegan Worcestershire sauce, homemade (page 139) or store bought
2 teaspoons liquid smoke
2 teaspoons pure maple syrup
2 teaspoons olive oil (optional)
½ teaspoon apple cider vinegar
½ teaspoon smoked paprika
2 cups large coconut flakes
Instructions
Preheat the oven to 300°F. Line a baking sheet with parchment paper.
In a medium bowl, combine the tamari, Worcestershire, liquid smoke, maple syrup, olive oil (if using), vinegar, and paprika and stir. Toss in the coconut flakes and stir until well coated and no liquid remains at the bottom of the bowl.
Spread the coated coconut in a single layer over the prepared baking sheet. Bake for 18 to 20 minutes, stirring every 5 minutes. Watch carefully—the edges can burn quickly! Let cool on the baking sheet. Store in an airtight container at room temperature for up to 1 month.
Notes
TRY THIS: If you're looking to reduce your oil consumption, the natural fat in the coconut flakes make these delicious with or without the oil in the recipe. If you like things a little more on the salty side, add a sprinkle of salt once you lay out the coconut flakes on the baking sheet, before they go into the oven.
Reprinted from
DIY Vegan
. Copyright © 2015 Nicole Axworthy and Lisa Pitman. Published by St. Martin's Griffin. Photo Copyright © 2015 Nicole Axworthy.
---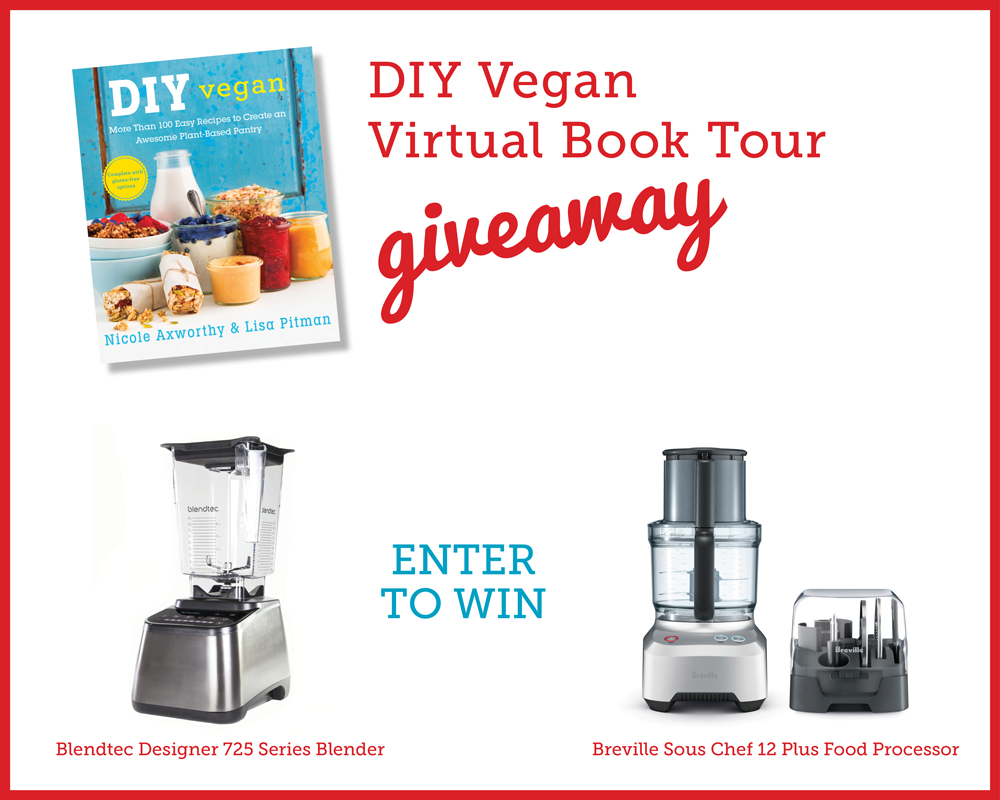 Nicole and Lisa want to share two of their most-­loved kitchen appliances with you!
Use the link below to enter to win a Blendtec blender or Breville food processor. The giveaway is open to US and Canadian residents* only and will run until 12:00 a.m. EST on December 9, 2015. One US and one Canadian winner will be chosen. Good luck!
Prize One: Blendtec Designer 725 Series Blender ($650 value) is a sleek, top­-of-­the-­line kitchen appliance that will meet all your blending needs! Features SmartBlend technology, multi­speed pulse, and a 100­speed touch slider for precision control. *Shipping qualification apply. One US resident will be chosen randomly through Rafflecopter.
Prize Two: Breville Sous Chef 12 Plus Food Processor ($500 value) boasts power and versatility in a more compact size! This 12-­cup food processor comes fully equipped with an additional accessory kit to simplify a wide range of kitchen tasks. *Shipping qualifications apply. One Canadian resident will be chosen randomly through Rafflecopter.
Visit Rafflecopter to enter the giveaway!
---