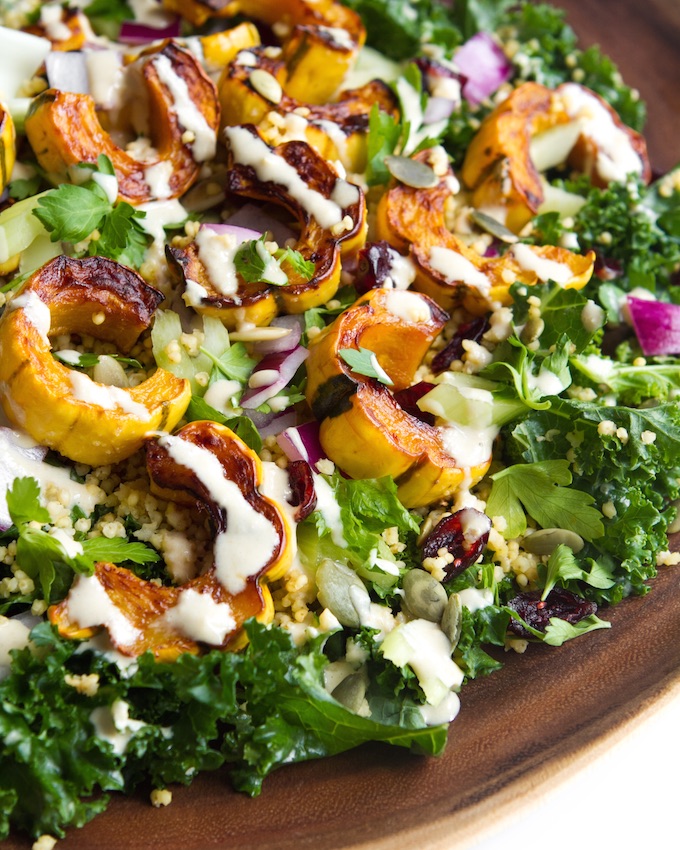 Who else is ready for Thanksgiving?? Is your 10-course menu all planned out, your grocery list alphabetized, and your seating arrangement thoughtfully set? No?
I'm not that organized or fancy either. To be fair though, it's just Aaron and me this year hanging out in Southern California trying to avoid all signs of winter, so it's going to be a very laid back (and hopefully in the 70s and sunny!) holiday. Aaron would be content with pizza and cookies for Thanksgiving dinner, but I'd like it to be more festive. Pumpkin and apples and spices and tofurky squash! I just love those Thanksgiving flavors, and this wholesome Delicata Squash, Quinoa and Kale Salad with Lemon-Tahini Dressing has them in spades.
This week (and probably next week if I'm being honest with myself), Pickles & Honey will be all about the vegan Thanksgiving recipes. For me, the side dishes are where it's at. I like to pile my plate high with roasted veggies, mashed potatoes, cranberry sauce, and a big ol' hearty salad. Today's salad recipe is from one of my top 5 favorite cookbooks of all time, The Oh She Glows Cookbook. I kid you not, every recipe is a winner. Angela has a knack for making really approachable, practical food that's this great balance of comforting and nutritious. It's food that makes you feel good.
This Delicata Squash, Quinoa and Kale Salad requires just 12 ingredients and 30 minutes of prep time. Also, no peeling the squash! Delicata squash has a thin, edible skin and it's easy to chop. And like all of the recipes in The Oh She Glows Cookbook, it's hearty and comforting while still being light and energizing.
Kale salad: the antidote to that sluggish Thanksgiving food coma. Bonus: plenty of room for pie!
Spoiler: (healthy!) pie recipe coming soon…

Oh She Glows Kale Salad with Delicata Squash, Quinoa and Lemon-Tahini Dressing
This Oh She Glows Kale Salad is always a crowd-pleaser. Here's how Angela describes it: "Delicata squash is my favorite squash to prepare because it has a thin, edible skin that doesn't require peeling, and it's easy to chop. In this cool-weather salad, kale and quinoa are topped with roasted delicata and a creamy lemon-tahini dressing. It's hearty and comforting while still being light and energizing. Don't despair if you can't find delicata squash; feel free to substitute your favorite squash in its place."
Cuisine:
gluten-free, nut-free, soy-free, refined sugar–free
Ingredients
for the lemon-tahini dressing:
1 large clove garlic
1⁄4 cup (60 mL) tahini
1⁄4 cup (60 mL) fresh lemon juice
3 tablespoons (45 mL) nutritional yeast
1 to 2 tablespoons (15 to 30 mL) sesame oil or extra-virgin olive oil, to taste
1 to 2 tablespoons (15 to 30 mL) water
1⁄4 teaspoon (1 mL) fine-grain sea salt, or to taste
for the kale salad:
2 delicata squash (1¾ to 2 pounds/790 to 900 g total), halved lengthwise and seeded
1 tablespoon (15 mL) sesame or coconut oil
Fine-grain sea salt and freshly ground black pepper
½ to 1 bunch kale, stems removed, leaves torn into 1-inch (2.5-cm) pieces
1 cup (250 mL) quinoa or millet
½ cup (125 mL) diced red onions
½ cup (125 mL) chopped celery (about 1 large stalk)
½ cup (125 mL) fresh parsley leaves
2 tablespoons (30 mL) dried cranberries
2 tablespoons (30 mL) raw or toasted pumpkin seeds
1 recipe Lemon-Tahini Dressing
Instructions
Make the dressing:
In a food processor, pulse the garlic to mince it. Add the tahini, lemon juice, nutritional yeast, oil, water, and salt and process until smooth.
Make the salad:
Preheat the oven to 425°F (220°C). Line a rimmed baking sheet with parchment paper.
Slice the squash crosswise into 1-inch-wide (2.5-cm) pieces (they should be the shape of a U) and place them in a single layer on the prepared baking sheet. Drizzle them with the oil and toss to combine. Season generously with salt and pepper.
Roast the squash for about 30 minutes, flipping once halfway through the cooking time.
Meanwhile, cook the quinoa (Ratio: 1 cup of dry quinoa to 1 ½ cups of water, cook for 15-17 minutes).
Place the kale in a large bowl and spoon 2 to 4 tablespoons (30 to 60 mL) of the Lemon-Tahini Dressing over top. Massage the dressing into the kale with your hands until evenly coated. Let the kale sit on the counter for at least 10 to 15 minutes so the dressing can soften the kale leaves.
To assemble the salad, place the dressing-coated kale on a large serving plate. Spread the cooked quinoa over top, followed by the onion, celery, parsley, roasted squash, cranberries, and pumpkin seeds. Drizzle on the rest of the dressing.
Notes
Tip
: Try roasting the red onion along with the squash for a deep, caramelized flavor.
Reprinted from
The Oh She Glows Cookbook
by arrangement with Avery Books, a member of Penguin Group (USA) LLC, A Penguin Random House Company. Copyright © 2014 Angela Liddon. Photo Copyright © 2014 Angela Liddon.