It's really only been in the last year that I've been a coffee drinker, while Aaron has been coffee-obsessed since the day we met way back in high school. He once told me that when he was studying design in college and sleeping four hours a night (because RISD was no joke), he was drinking something like eight to ten cups of coffee a day! Insanity.
It's true what they say about your partner's habits rubbing off on you though, because in the time we've known each other his coffee consumption has slowly been dropping while mine has even more slowly been rising. We're now at a point where we agree (finally!) that we like coffee for the flavor and the ritual, but we don't want to need it to feel human.
Our current routine involves coffee on Saturday and Sunday mornings, always one cup for me, and one or two cups for Aaron. It's become a relaxed weekend morning indulgence and since it's a treat, the coffee has to be good. We buy a dark roast espresso blend, we store the beans in the freezer for freshness, and we grind them right before we use them (and then I inhale deeply because isn't that smell just the best?!).
Wanting to see what all of the fuss was about over cold brew coffee, I set out to learn how to perfect it. I made a quick stop at Target to pick up ingredients (where I swore I would stick to my list but of course went to town buying 2 for $10 t-shirts and five other things I deemed must-haves), and then I got to work figuring out this whole cold brew coffee thing. Spoiler: it's super easy!
What You'll Need:
two, 1-quart mason jars
fine mesh sieve (I used a nut milk bag)
wide-mouthed funnel (optional, but helpful)
your favorite coffee beans
cold water, preferably filtered
non-dairy creamer / sweetener (we've been enjoying the So Delicious Dairy Free Coconut Milk Creamer)
What You'll Love About Making Cold Brew Coffee:
No bitterness (something that kept me from drinking other coffee all these years)
Extremely smooth
Much cheaper than buying pre-made cold brew (seriously, why is cold brew coffee so expensive?)
It takes 5 minutes of prep work to make a big batch that stays good all week
Cold Brew Coffee Recipe
Homemade cold brew coffee that's easy, fast, and affordable! All you need is a mason jar, a sieve, and 5 minutes to prep it. This cold brew is smooth with no bitterness!
Author:
Copyright © 2016 Amanda Maguire for Pickles & Honey
Recipe type:
Coffee, Beverage
Serves:
about 6 cups of coffee
Ingredients
for the cold brew coffee:
¾ cup coffee, medium-course grind
6 cups cold water, divided in half
for serving:
ice cubes
sweetener, if desired
Instructions
In a mason jar, stir together the ground coffee and 3 cups of cold water. Put a lid on the jar and let it sit at room temperature for 8-12 hours or overnight.
Strain the mixture through a fine mesh sieve. (Doing this over a wide-mouthed funnel into your jar makes this a lot easier.) If you prefer to remove all of the silt, you can strain it a second time, but I personally don't find this step necessary.
Divide the coffee concentrate between the two mason jars, then add 1½ cups cold water to each (use less water if you prefer a stronger coffee or plan to add a lot of ice).
To serve: Add a handful of ice to a glass, fill with the prepared coffee, and add non-dairy creamer and/or sweetener to taste. Leftover cold brew coffee can be stored in the fridge to be used throughout the week.
Notes
If possible, opt for organic and fair-trade coffee, both for your own benefit and the benefit of the farmers.

For best flavor, store your coffee beans in the freezer and grind them fresh just before you make your cold brew.

To avoid watered down iced coffee, you can freeze some of the coffee in ice cube trays!
---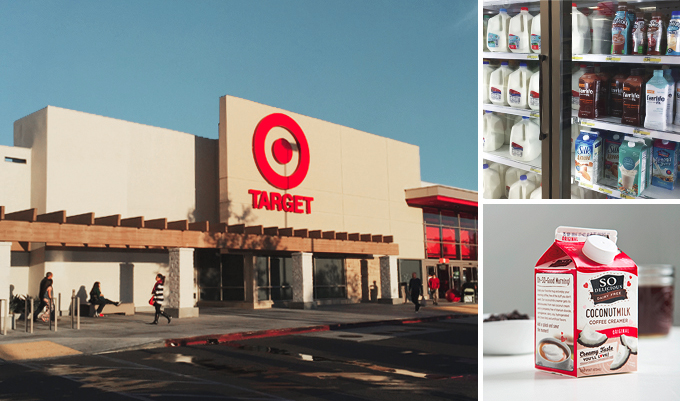 This is a sponsored conversation written by me on behalf of WhiteWave Foods and So Delicious Dairy Free. The opinions and text are all mine. From now until October 22, 2016, download and use Target's Cartwheel to save 20% on So Delicious Dairy Free Creamers!
---