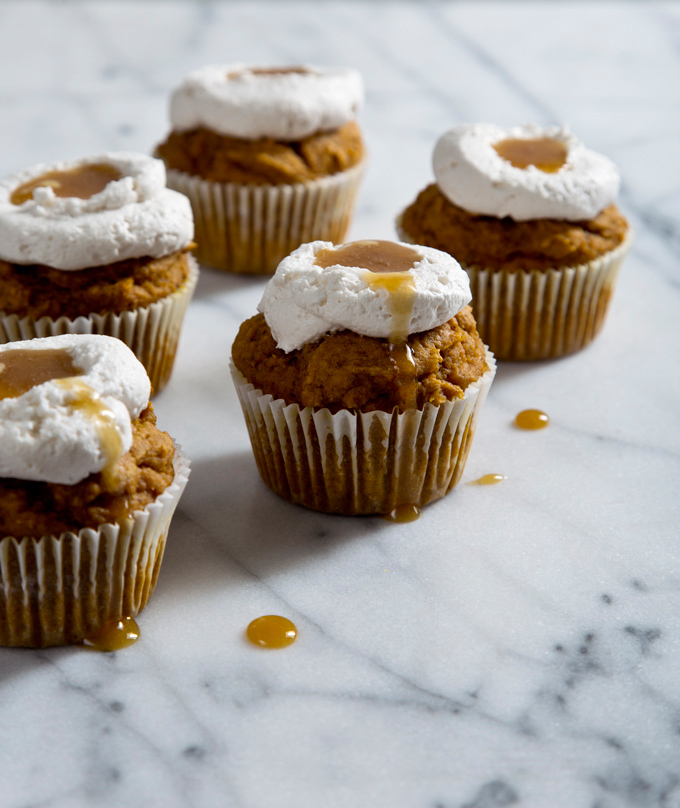 So it happened: on the very first day of Fall, I caved and broke out the pumpkin. I had a can of pumpkin that I literally toted all around the U.S. on our road trip for a year (in a suitcase I deemed my "traveling pantry") because as a food blogger, I'm pretty sure I'm required to have immediate access to pumpkin 24/7. It's just part of the job.
Aaron found himself with a serious craving for pumpkin donuts after creating images for this post the other week, so I made him a batch, which of course opened the floodgates to wanting to make ALL THE THINGS with pumpkin. Soup, fudge, cookies, and as you can see here—muffins. Err…cupcakes?
This recipe started out innocently enough with me wanting to make a simple and wholesome breakfast and snack option. Whole grain spelt flour, a chia "egg", a little coconut oil, all sweetened with raw, organic honey…but then I topped them with coconut whipped cream and more honey, so when I eventually presented one to Aaron for taste-testing he said, "Amanda, I think you made cupcakes."
I debated this for a few minutes (did I accidentally make cupcakes?), did some extensive taste-testing of my own, and responded, "Nope, these are muffins. Muffins that happen to look like cupcakes…muffcakes!"
Here's why I think you can and should eat these for breakfast or brunch:
the ingredients are actually wholesome
the texture is denser than cake (though if you swapped the spelt flour for all-purpose, you might make cake!)
they're lightly sweetened with raw honey—these won't make your teeth hurt or give you a big sugar crash
because I said so
(that last reason always seemed to work for my dad when I was a kid)
It's not often that I use honey these days because I'm really picky about how it's sourced. It's important to me that it be organic and harvested in a smoke-free and sustainable way because these things matter for all involved—the bees, the honey harvesters, and to me personally. The honey I'm using in today's recipe is from a company called Heavenly Organics and they meet all of this criteria and then some.
What makes Heavenly Organics unique is that in contrast to domestic honeybees living in boxes, they source their honey from free-range honeybees living in wild beehives in the forests of Northern and Central India and parts of the Himalayas. This provides employment to people in conflict zones and allows them to have a steady income, and because these bees live in wild beehives and don't have beekeepers, they're never exposed to chemical antibiotics. How it works is that harvesters go out during the day to locate these huge wild beehives and then they return at night, while the bees are docile, to collect the honey. The harvester climbs a tree, gently brushes away the bees, and then cuts just a portion of the hive away leaving the queen and the colony intact. Unlike smoking, this method reduces the incidences of harming the bees, it eliminates forest fires, and the hive fully regenerates within two to three weeks.
Heavenly Organics is currently running a "Clean Bee" campaign with a series of videos that offer a glimpse into the life of a domestic honeybee. The videos are light and funny (they focus on a character named "Benny the Bee"!) while still tackling important issues like Colony Collapse Disorder. If you have a minute, I'd definitely encourage you to watch and share them.
We'd love for you to follow us on Instagram and tag photos you post of our recipes with #picklesnhoney so we can see!
Pumpkin Muffins with Honey Coconut Whipped Cream
Easy pumpkin muffins sweetened with raw, organic honey and topped with a simple, dairy-free coconut whipped cream. These muffins are indulgent enough to enjoy as dessert but still wholesome enough for a celebratory breakfast or brunch!
Author:
Copyright © 2016 Amanda Maguire for Pickles & Honey
Recipe type:
Muffins, Breakfast, Brunch
Cuisine:
Dairy-Free, Egg-Free
Ingredients
for the pumpkin muffins:
1 chia "egg" (2 teaspoons freshly ground chia seeds + 3 tablespoons warm water)
15 ounces pumpkin puree
⅓ cup + 2 tablespoons Heavenly Organics Raw White Honey
¼ cup coconut oil, melted but not hot
1 teaspoon pure vanilla extract
1¾ cups spelt flour
1½ teaspoons baking powder
½ teaspoon baking soda
1 tablespoon pumpkin pie spice
½ teaspoon fine sea salt
for the topping:
1 (13.5 ounce) can full-fat coconut milk*, refrigerated for 24 hours
2 tablespoons Heavenly Organics Raw Neem Honey, plus extra for drizzling
pumpkin pie spice, for sprinkling
Instructions
Make the pumpkin muffins: Pre-heat the oven to 350 degrees F. Lightly grease or line a muffin pan. Prepare the chia egg by combining the ground chia seeds and warm water. Stir and allow it to thicken for 3 minutes. In a large mixing bowl, combine the pumpkin, honey, coconut oil, vanilla, and prepared chia egg. Sift in the flour, baking powder, baking soda, pumpkin pie spice, and salt. Mix the batter until just combined. Transfer the batter to the prepared muffin pan, filling each tin until the batter is ¼ inch from the top. Bake for 28 minutes, or until a toothpick inserted in the center comes out clean. Let cool completely.
Make the coconut whipped cream: Open the can of coconut milk and scoop out the top layer of solid coconut cream into the bowl of a stand mixer. (side note: save the remaining coconut liquid for smoothies!) Mix the coconut cream and honey on low speed until combined, then crank it up to high speed for 1 more minute until light and fluffy. Spoon a dollop on each muffin (or pipe it on with a piping bag) and make a small well in the middle. Drizzle in the honey and sprinkle with a dusting of pumpkin pie spice.
Notes
Adapted from my
Peanut Butter Chocolate Chip Pumpkin Muffins
.
I used white honey in the pumpkin muffins because it's more mild and neem honey as a topping because it's bolder. Acacia honey would also be wonderful as a topping.
You can use an ice cream scoop to evenly portion out the batter into the muffin tins. For this recipe, I used one heaping scoop per muffin tin.
*I used Trader Joe's full-fat, canned organic coconut milk. You can use your favorite brand, but be sure to stay away from coconut milks with stabilizers and gums because the cream won't separate even when refrigerated.
Leftover coconut whipped cream can be stored in a container in the fridge for 5-7 days. The whipped cream will harden when cold, so mix it on high speed until it's light and airy again before using.
---
A big thank you to Heavenly Organics for sponsoring this post! We love their 100% organic & raw honey and are proud to be a part of their "Clean Bee" campaign!