Last week my family and I got together to celebrate a very important occasion: my mom's birthday! My mom is a notoriously tricky person when it comes to buying presents for her. She'll always tell you she doesn't need gifts, but she also has very specific taste. She likes bright, funny socks, coconut-scented body products, circus peanut candy (who likes circus peanuts?!), and anything related to animals. Normally, I buy her a fancy body lotion or oil that she would never buy for herself, except this year she specifically told me "no more body products" because she's still working her way through the giant bottle of coconut + lemon lotion I gave her for Mother's Day. She really likes that lotion though, which is why I decided to take a few of her favorite things—coconut, lemon, and sugar!—and bake her a special vegan lemon yogurt cake.
Lemon and coconut are a couple of my favorite things too, so I'm not sure why it's taken me this long to share a lemon cake on P&H, but I promise this recipe was worth the wait! I spent a lot of time writing notes and recipe testing so I could get it just right, and the results are that 1) Aaron and I have way too much cake in our fridge and 2) this is maybe my best cake to date?!
In order to make a vegan yogurt cake, I used So Delicious Dairy Free Coconut Milk Yogurt, which comes in a new and very handy twenty-four ounce size container. One spoonful in, I realized just how far non-dairy yogurts have come in recent years. The smooth texture and tangy flavor is pretty darn perfect, and the bigger container is ideal for baking because it's more affordable than buying multiple five ounce yogurts AND there's less packaging that needs to be recycled. Win-win! I really like the unsweetened plain and vanilla flavors since they give me more control over the sweetness in recipes, and using yogurt also means I can cut back on the oil without sacrificing texture in baked goods.
For this vegan lemon yogurt cake, I used applesauce in place of eggs and extra virgin olive oil instead of butter. The olive oil, yogurt, and lemon are a great combination, and then the fluffy lemon cream frosting (which uses So Delicious Dairy Free CocoWhip!) and fresh raspberries make it next-level awesome.
If you're a lemon lover like me, I think you're really going to enjoy this simple and easy vegan yogurt cake. I even overheard my mom tell my dad he couldn't eat all of the leftovers, so that's how I know she really likes it too.
We'd love for you to follow us on Instagram!
Tag photos you post of our recipes with #picklesnhoney so we can see.
Lemon Yogurt Cake with Lemon Cream Frosting
This vegan lemon yogurt cake is simple to make and a big crowd favorite! It has a light, tender crumb, a bright lemon flavor, and a quick vegan lemon cream and raspberry topping.
Author:
Copyright © 2016 Amanda Maguire for Pickles & Honey
Recipe type:
Dessert, Cake
Serves:
1 large 9-inch cake
Ingredients
for the lemon yogurt cake:
¾ cup vegan cane sugar
¾ cup unsweetened applesauce
½ cup extra virgin olive oil, plus extra for greasing the pan
zest of 1 large lemon
1½ teaspoons lemon oil
½ teaspoon pure vanilla extract
2½ cups all-purpose flour
2½ teaspoons baking powder
1½ teaspoons baking soda
½ teaspoon fine sea salt
for the lemon cream frosting:
for topping:
Instructions
Preheat the oven to 350°F. Lightly grease a 9-inch springform pan with olive oil. Line the bottom of the pan with parchment paper.
In a large mixing bowl, whisk together the yogurt, sugar, applesauce, olive oil, lemon zest, lemon oil, and vanilla. Sift in the flour, baking powder, baking soda, and salt. Mix until just combined.
Transfer the batter into the prepared cake pan. Bake for 40-45 minutes, or until a toothpick inserted in the center comes out clean. Let sit in the pan on a cooling rack.
Once the cake is cool, make the lemon cream frosting: Stir the vanilla and lemon oil into the CocoWhip until combined. Gently remove the cake from the pan and place it on a serving dish. Frost it with the lemon cream and top it with the raspberries.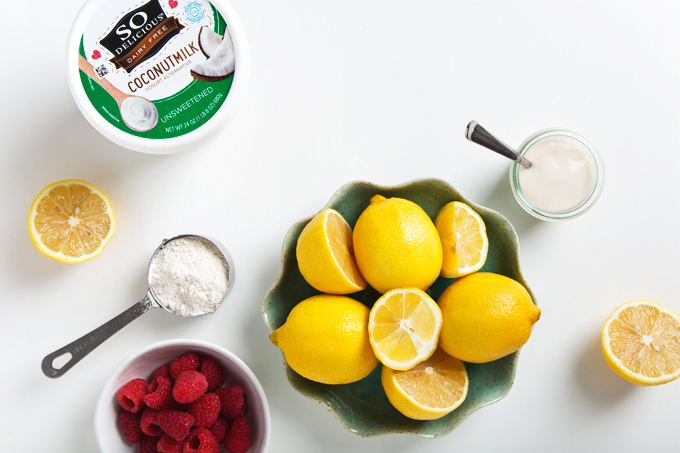 ---

A big thank you to So Delicious Dairy Free for sponsoring this post!