Sometimes I get so excited about a new recipe that when I sit down to write a post and tell you all about it, I can barely form complete sentences in my head. Instead, it's a series of short, semi-incoherent exclamations ("so chocolatey!" "the richest!" "crushed peppermints sparkly like snow!" ← that last one just completely overwhelms my glitter-loving heart). If only you were with me in my kitchen so we could have these sugar-fueled exclamations together about how vegan chocolate cupcakes and peppermint buttercream frosting can make everything feel right in the world.
Let's begin by talking about this chocolate for a minute. These cupcakes started as classic chocolate, but with raw cacao powder instead of cocoa because I'm partial to its richer, slightly fruity flavor. Then I wondered what would happen if I replaced the almond milk with my favorite chocolate drink, REBBL's Reishi Chocolate Elixir, to make double chocolate cupcakes. The verdict: if you can resist drinking your REBBL Elixir before you even get home from the grocery store (this is a real challenge for me), you absolutely must try baking with it! The REBBL chocolate flavors are like grown-up, dark chocolate Yoo-hoo—I can barely handle the nostalgia.
And then the triple chocolate part? That's because I added a bunch of semi-sweet chocolate chips to the cupcake batter. (It was a really good decision.)
For the frosting, I reworked my go-to vegan buttercream frosting recipe a bit. Instead of using equal parts (vegan) butter and shortening, I decided to go with 100% butter. This version isn't quite as firm at warmer temperatures, but I like the flavor better and there's no weird, waxy mouthfeel like you often get with store-bought frostings. The pairing of the fluffy peppermint buttercream with the rich dark chocolate cupcake is insanely awesome, and the crushed peppermint candy "sprinkles" will have you feeling very winter wonderland.
If you were like me as a kid and perpetually had chocolate cake and frosting all over your face, and few things made you light up like a big box of Junior Mints, baking up a batch of these sweet cupcakes will take you right back to your roots.
Since we often talk about the holidays as a "Season of Giving," it seems timely to mention that when you buy any of the REBBL Elixirs and Proteins, you help give back 2.5% of every purchase to Not For Sale in their mission to eliminate human trafficking and uplift vulnerable communities around the globe. As if drinking liquid dark chocolate perfection wasn't reason enough, picking up a few of these elixirs really is an amazing way to vote with your dollar. ♥
Triple Chocolate Cupcakes with Peppermint Frosting
Vegan chocolate cupcakes that are extra decadent, with rich
REBBL Reishi Chocolate Elixir
, raw cacao powder AND dark chocolate chips swirled throughout! You're going to love them even more piled high with peppermint buttercream frosting!
Author:
Copyright © 2016 Amanda Maguire for Pickles & Honey
Recipe type:
Dessert, Cupcakes
Ingredients
for the vegan chocolate cupcakes:
1 bottle (12 ounces) REBBL Reishi Chocolate Elixir
4 ounces plain unsweetened non-dairy yogurt
½ cup coconut sugar
1 teaspoon vanilla extract
1½ cups all-purpose flour, sifted
1 cup raw cacao powder (or cocoa powder), sifted
1 teaspoon baking soda
½ teaspoon fine sea salt
⅓ cup coconut oil, melted
½ cup vegan semisweet chocolate chips
for the peppermint buttercream frosting:
½ cup vegan buttery spread
2 cups organic powdered sugar, sifted
2 tablespoons unsweetened plain almond milk
½ teaspoon vanilla extract
½ teaspoon peppermint extract
pinch fine sea salt
small handful peppermint candies, crushed, for garnish
Instructions
Preheat the oven to 350° F. Lightly grease or line a cupcake pan.
In a large mixing bowl, whisk together the REBBL Reishi Chocolate Elixir, yogurt, sugar, and vanilla. Using a wooden spoon or the paddle attachment on a stand mixer, slowly stir in the flour, cacao powder, baking soda, and salt. Mix until just combined, then stir in the coconut oil. (doing this last prevents the oil from solidifying and clumping). Fold in the chocolate chips.
Transfer the batter to the prepared cupcake pan, filling each tin until the batter is ¼ inch from the top. Bake for 22-25 minutes, or until a toothpick inserted in the center comes out clean. Let cool completely.
Meanwhile, make the frosting: In the bowl of a stand mixer (or in a large mixing bowl), cream the buttery spread until it's light and fluffy (about 20 seconds). Slowly mix in the powdered sugar on low speed. Once all of the sugar has been added, turn the mixer to medium-high speed and continue to mix for 1 minute. Stop the mixer and add in the almond milk, vanilla, peppermint, and salt. Mix on medium-high speed for 1 more minute, until the frosting is fluffy. Taste and add more peppermint extract if necessary.
Spread or pipe a layer of frosting on top of the cupcakes. Decorate with crushed peppermint candies.
Notes
I prefer the rich, slightly fruity chocolate flavor of
this raw cacao powder
, but cocoa powder will also do the trick. Choose whichever you like.
The amount of peppermint extract you need in the frosting will vary depending on the potency of the brand you use.
If you find that the frosting is too soft after you mix it, pop it in the fridge for 5 minutes to firm up.
The cupcakes can be frosted in advance and stored in the fridge, but I recommend holding off on adding the crushed peppermint candy garnish until you plan to serve them (the candies will start to dissolve into the buttercream).
Cupcakes adapted from my
Vegan Oreo Chocolate Cake recipe
.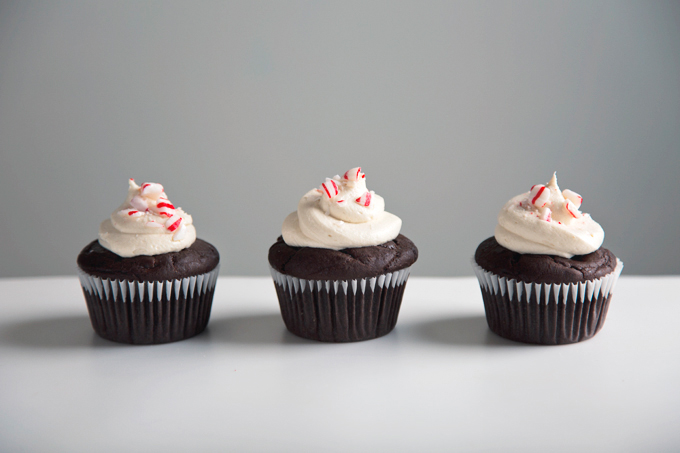 ---

Thank you to REBBL for sponsoring this post! We love their Super Herb Elixirs and Plant-Based Proteins! Be sure to check their store locator because they've recently become more widely available. Boston readers: you can now find them at Whole Foods in the South End!
P.S. Looking for other great ways to use REBBL? Try my Chai Creamsicles with Raw Chocolate Magic Shell and 5-Minute Spiced Vanilla Protein Pudding!
---