Thank you to Bob's Red Mill for sponsoring this post!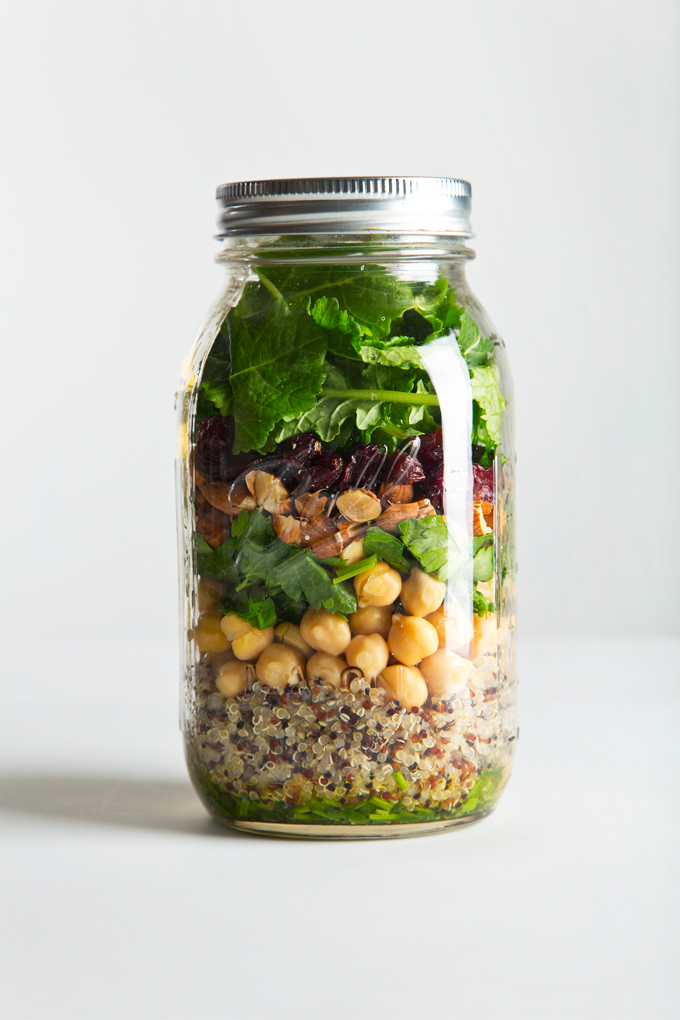 How is 2017 treating you so far? Are you drinking more water, eating a little less sugar, and getting in lots of greens? I've been making progress on all three of those resolutions, minus the pan of brownies I baked on Friday that somehow disappeared over the course of the weekend (oops). Brownies aside, today I'm excited to share a quick quinoa and kale mason jar salad that should help us all out with our goal to eat more greens.
This salad checks all of my criteria for an easy and healthy meal. It's packed with veggies in the form of baby kale, parsley, and chives. It includes healthy fats via a lemony extra virgin olive oil dressing and a handful of toasted almonds. And it's high in protein thanks to chickpeas and my most favorite quinoa ever: the Organic Tricolor Quinoa from Bob's Red Mill. We've had issues with other quinoa brands in the past because we would always end up biting down on tiny rocks and grittiness that make my teeth hurt just thinking about it. Bob's is great because it's thoroughly pre-washed, which means we can work in those whole grain, complete proteins without fear of chipping a tooth. I really like that it cooks in under 15 minutes too.
Recently, we've been packing up our quinoa and kale salads in cute, extra portable mason jars for grab-and-go work lunches and dinners. Aaron was initially skeptical of mason jar salads ("Why wouldn't I just use a tupperware, Amanda?"), but he's fully on board after I showed him how you can layer the dressing on the bottom and the greens on the top to prevent soggy salads and toting around those leaky dressing containers. I also think it's pretty clever that when you transfer the salad from jar to plate, the greens form the base and the toppings go, well, on top. It's the small things.
Feel free to play around with the ingredients and adjust them to what you have on hand. You might try sliced shallots instead of chives, white quinoa instead of tricolor, pecans instead of almonds, or dried apple pieces instead of cranberries—this recipe is super adaptable.
We'd love for you to follow us on Instagram and tag photos you post of our recipes with #picklesnhoney so we can see!
Quinoa & Kale Mason Jar Salad
This quinoa and kale mason jar salad takes about 20 minutes start to finish and is perfect for portable lunches and dinners. It's high in plant-based protein and healthy fats, and an easy way to get in lots of good-for-you greens!
Author:
Copyright © 2017 Amanda Maguire for Pickles & Honey
Recipe type:
Salad, Lunch, Dinner
Cuisine:
Vegan, Gluten-Free
Ingredients
for the dressing:
4 tablespoons extra virgin olive oil
juice from 1 medium lemon
1 clove garlic, minced
2 teaspoons pure maple syrup
sea salt & pepper to taste
for the salad:
½ cup chopped chives
1 cup Bob's Red Mill Organic Tricolor Quinoa, cooked according to package instructions
1 can (15 ounces) chickpeas, drained and rinsed
½ cup chopped parsley
½ cup toasted almonds, chopped
½ cup dried cranberries
8 cups baby kale
Instructions
Make the dressing: In a small jar with a lid, add the olive oil, lemon juice, garlic, and maple syrup. Screw the lid on the jar tightly, then shake to combine. Add salt and pepper to taste. Divide evenly between 4 large mason jars.
Assemble the mason jar salads: On top of the dressing, layer ¼ of each salad component in the following order: chives, quinoa, chickpeas, parsley, almonds, cranberries, and kale. This order is intentional so that the chives will flavor the dressing, while the almonds will stay crunchy and the kale crisp and dry. Also, when you transfer the salad to a plate, the kale will form the base of the salad.
---

This is a sponsored post written by me on behalf of Bob's Red Mill. Visit BobsRedMill.com to find a store near you and get a coupon.