I first learned about aquafaba a couple of years ago and I had my doubts. I mean, who would have thought that the liquid from a can of chickpeas could be whipped up and used as a replacement for egg whites? It's kind of crazy, but it's true. I've since used it to make vegan meringue and pavlova, marshmallow fluff, and my latest obsession: aquafaba chocolate mousse. It was only a matter of time before I figured out how to combine aquafaba with chocolate.
Today's recipe brings together my tried and true aquafaba marshmallow fluff and the richest, darkest, chocolate pudding I've ever made. It takes 15 minutes start to finish and what really gets me pumped is how wholesome the pudding is—raw cacao powder, chia seeds, cashew butter, medjool dates, and my favorite REBBL Reishi Chocolate Elixir. You might remember that elixir from December's Triple Chocolate Cupcakes with Peppermint Frosting post (fyi, that recipe makes THE best chocolate cupcakes).
I love REBBL for a lot of reasons, not the least of which is that they incorporate super herbs into their drinks. Reishi, if you're not familiar, is a medicinal, glossy red mushroom that's been nicknamed the "Divine Mushroom of Immortality" because it's thought to give your immune system a boost, promote heart health, help detoxify your liver, and a seemingly endless list of other benefits. I can't detect the reishi at all in the flavor of REBBL's Chocolate Elixir, but it's nice to know I'm getting some extra goodness with my chocolate.
As we're wrapping up January, month of salads and healthy greens, and heading towards Valentine's Day and all things chocolate, I wanted to take a moment to acknowledge the importance of mindful indulgence. For me, this means slowing down and being present enough to be in tune with what my body is actually craving, whether that's more sleep, a brisk walk outside, a giant kale salad, or a bowl of rich chocolate mousse. Food isn't solely about nutrition—sometimes we need a little reminder to feed our bodies and our souls.
THE GIVEAWAY HAS ENDED.
In the spirit of mindful indulgence and self-care, REBBL is generously giving away an entire case of their coconut milk-based elixirs and proteins to one lucky P&H reader! To enter, simply leave a comment on this post letting me know one of the ways you replenish your body and soul. I would love to hear what works for you. ♥
I'll randomly choose a winner on Thursday, February 9th at 12pm ET. Please note that the giveaway is open to US residents. Good luck!
P.S. If you'd like an additional chance to win some REBBL drinks and an awesome prize pack, make sure you enter REBBL's sweepstakes too! They've partnered with KitchenAid and Cocokind Skincare for some pretty great prizes.
---
Aquafaba Chocolate Mousse
15 minute vegan chocolate mousse that's extra rich and chocolatey without any of the dairy! This is one of my favorite recipes and it's so easy to make!
Author:
Copyright © 2017 Amanda Maguire for Pickles & Honey
Recipe type:
Dessert, Chocolate
Cuisine:
Vegan, Gluten-Free
Ingredients
for the aquafaba fluff:
½ cup organic fine white sugar
½ tablespoon arrowroot powder
pinch fine sea salt
liquid from one 15-ounce can unsalted chickpeas, chilled
1 teaspoon vanilla extract
for the chocolate mousse:
1½ bottles (16 ounces) REBBL Reishi Chocolate Elixir
½ cup raw cacao powder (or cocoa powder)
¼ cup chia seeds
¼ cup creamy salted cashew butter
5 medjool dates, pitted, soaked in boiling water for 10 minutes and drained
½ teaspoon pure vanilla extract
2 cups prepared aquafaba fluff
for the garnish (optional):
leftover aquafaba fluff
fresh berries
shaved vegan dark chocolate
mint leaves
Instructions
Prepare the aquafaba fluff: In a small bowl, mix together the sugar, arrowroot powder and salt. Set aside. Pour the chickpea liquid into a large mixing bowl or the bowl of a stand mixer. Beat at low speed, then slowly increase the speed to high. Beat for 5 minutes, until soft peaks have formed and the mixture has become very light and fluffy (it should expand to more than quadruple in size and look like shaving cream). Turn the speed down to medium-high and start adding the sugar mixture one heaping tablespoon at a time. Once all of the sugar has been added, increase the speed back to the highest setting. Continue to whip until stiff, glossy peaks form and hold their shape (about 5-7 minutes). You should be able to hold the mixing bowl upside down and have everything stay in place. Stop the mixer and pour in the vanilla. Beat for another 10-15 seconds until incorporated.
Prepare the chocolate mousse: add the REBBL Reishi Chocolate Elixir, cacao powder, chia seeds, cashew butter, dates, and vanilla to your blender. Turn it to low speed and slowly increase to high speed, blending until very smooth. Transfer the chocolate mixture to a medium mixing bowl and allow it to sit in the refrigerator for 5 minutes to chill and thicken.
Add 2 cups of the prepared aquafaba fluff to the chocolate mixture. Gently fold to combine.
Portion the chocolate mousse into 4 dishes. Top with a dollop of leftover aquafaba fluff, then garnish with fresh berries, dark chocolate shavings, and a sprig of mint. Serve immediately.
Notes
The cashew butter can be replaced with another nut butter if you'd prefer, but it will change the flavor. I like cashew butter because it's mild, but peanut or almond butters would also work well.
Leftover chocolate mousse will begin to deflate as it sits. It's still delicious, but it won't be as fluffy as when the aquafaba has just been prepared. For best results, I recommend making this recipe right before you plan to serve it.
Use the leftover aquafaba fluff to make
vegan meringue or pavlova
!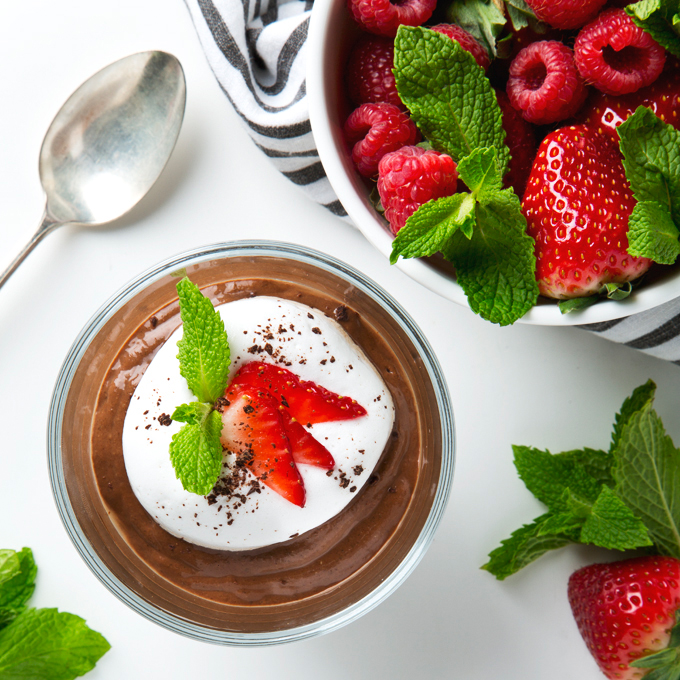 ---

Thank you to REBBL for sponsoring this post! We love their Super Herb Elixirs and Plant-Based Proteins. Check their store locator to find them near you (they're adding new locations all the time)!