Happy (almost) Cinco de Mayo! Will you be doing anything fun to celebrate? Or at least marking the occasion with a margarita? (A margarita sounds pretty amazing right now.) Aaron and I have been really into Mexican flavors lately, which started after we made Laura's crave-worthy Crispy Avocado Tacos the other week. Today we're excited to share a new favorite recipe that we've been making on repeat: vegan tostadas!
This is one of those meals that's perfect as a speedy lunch or dinner because a) you only need 9 basic ingredients, b) it's semi-homemade, and c) there's no actual cooking involved—it's mostly assembly! The base is made of a simple sweet potato salsa from a Vermont company called Yummy Yammy. Long-time readers may remember us mentioning them before because we've been using their salsas for almost 3 years (check out our Chickpea Scramble with Garlicky Kale for another way to use them!). They're a great pantry staple to keep on hand for days when you're tired or feeling rushed, and we especially love their short and wholesome ingredients list.
For our tostadas, we like to use the Medium Mexican flavor, which includes roasted sweet potatoes, black beans, corn, lime juice, garlic, salt, ginger, chipotle, cumin, and cayenne.  From there, we pile on the toppings: sliced romaine and avocado, chopped scallion and cilantro, an extra squeeze of fresh lime juice, plus a few dashes of hot sauce. It takes about 8 minutes to toast the tortillas, which is enough time to quickly slice the toppings so you can be chowing down in under 15 minutes flat.
Crispy, salty, sweet, spicy…these easy tostadas hit all the right notes in the texture and flavor departments. We hope you'll want to put them on regular rotation at your house too.
We'd love for you to follow us on Instagram!
Tag photos you post of our recipes with #picklesnhoney so we can see.
Vegan Tostadas with Sweet Potato Salsa
9 ingredient tostadas, using sweet potato salsa as the base! Crispy, salty, sweet, spicy...and under 20 minutes to make!
Author:
Copyright © 2017 Amanda Maguire for Pickles & Honey
Cuisine:
Vegan, Gluten-Free
Ingredients
6 small corn tortillas
1 cup thinly sliced romaine lettuce
¾ cup frozen and defrosted corn
1 small avocado, sliced
1 scallion, diced
fresh cilantro, chopped
1 lime, cut into wedges
hot sauce (optional)
Instructions
Preheat the oven to 350°F. Place the tortillas on a baking sheet. Bake until crispy, about 8-10 minutes. (Alternatively, you can toast the tortillas in a skillet on the stove if you don't want to use your oven.)
Assemble the tostadas: add a layer of sweet potato salsa, romaine, corn kernels, sliced avocado, and scallion. Garnish with cilantro, a squeeze of fresh lime juice, and hot sauce (if using).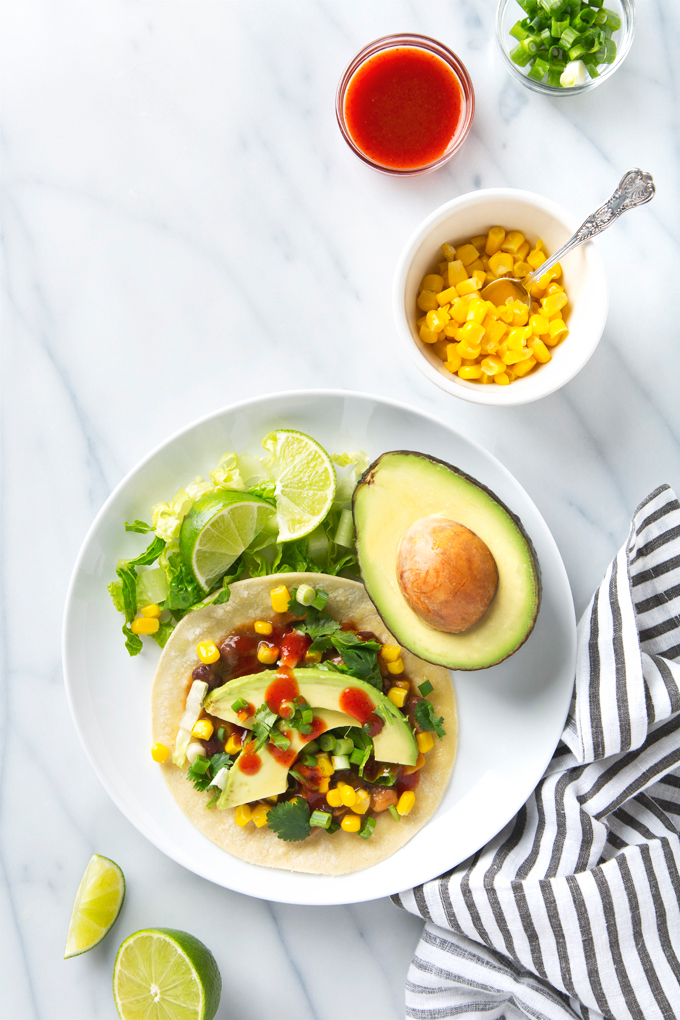 ---
Thank you to Yummy Yammy for sponsoring this post! Check out their Store Locator to purchase their salsas near you, or find them on Amazon!