Last winter I shared a recipe for a Tofu Banh Mi Bowl (a sort of deconstructed banh mi using rice instead of bread), and to this day it remains one of our most popular recipes. I'm thrilled about that, and not just because it feels really rewarding to have you all enjoy our recipes. I also just straight-up love the flavors of banh mi. This latest Tofu Banh Mi Salad is a version of those bowls, again without the bread that's traditionally used. This salad version is lighter and even more vegetable-heavy, which makes it perfect for "cleaner" eating post-holidays, and I expect it will be equally delicious come warmer weather in summertime, too.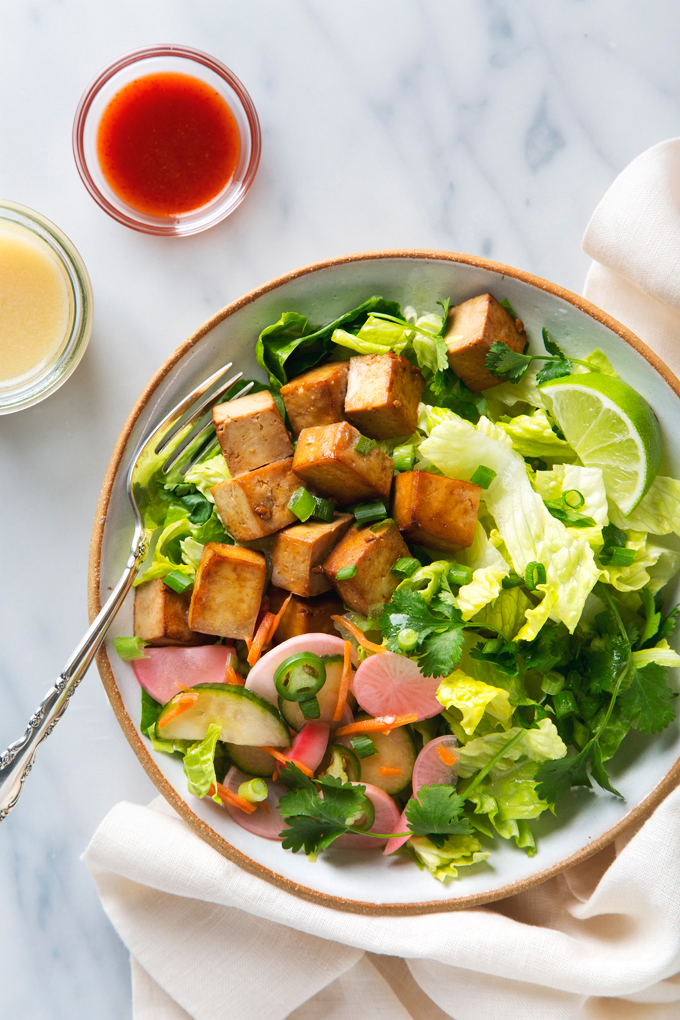 There are a few more ingredients and steps in this recipe than usual, but try not to be deterred because each component is simple and most things can be made in advance, if you'd like to break up the prep work. First you make the quick banh mi pickles, then you marinate/cook the tofu (seriously one of the tastiest ways to make tofu), and then you make the dressing (a super speedy mix of fresh lime juice, vinegar, sesame oil, and miso). The pickles can be stored in the fridge for a full month, so I always make extra for jazzing up salads/bowls throughout the coming weeks. They're a very easy way to add a lot of flavor with minimal effort.
Maybe one of these days I will actually make a banh mi sandwich…
We'd love for you to follow us on Instagram!
Tag photos you post of our recipes with #picklesnhoney so we can see.
Tofu Banh Mi Salad with Quick Pickles
Easy vegan banh mi salad made with tofu and quick, homemade pickles. This is a lighter, more vegetable-heavy version of our favorite banh mi sandwich.
Author:
Copyright © 2018 Amanda Maguire for Pickles & Honey
Cuisine:
Vegan, Gluten-Free
Ingredients
for the quick pickles:
1 small radish, sliced into thin rounds
1 small carrot, julienned
1 small cucumber, julienned
1 small jalapeño, sliced into thin rounds (adjust to your spiciness preference, remove the seeds to reduce the heat)
½ cup white vinegar
½ cup water
1 tablespoon organic cane sugar
1 teaspoon fine sea salt
for the tofu:
¼ cup reduced sodium soy sauce
¼ cup fresh lime juice
2 tablespoons toasted sesame oil, plus extra for greasing the pan
2 cloves garlic, minced
1 package (16 ounces) extra firm tofu, pressed then cubed
for the dressing:
juice of 1 lime
2 tablespoons rice wine vinegar
1½ tablespoons avocado oil
2 teaspoons toasted sesame oil
2 teaspoons white miso
1 teaspoon pure maple syrup
for the salad:
1 head chopped romaine
2 scallions, sliced
1 small bunch fresh cilantro, chopped
sriracha, for serving
Instructions
Make the pickles: Add all of the pickle ingredients to a medium jar, close the lid tightly, and shake to combine. If the vegetables aren't completely submerged in the vinegar, add just enough water to cover them. Refrigerate for 1 hour.
Marinate the tofu: In a shallow dish, combine the soy sauce, lime juice, sesame oil, and garlic. Add the tofu to the marinade, tossing to coat all sides. Cover and refrigerate for 30 minutes.
Make the dressing: Add all of the ingredients to a small bowl and whisk to combine. Season with salt, if necessary. Set aside.
Cook the tofu: Heat a non-stick skillet over medium heat. Once the pan is hot, add a small pour of sesame oil and cook the tofu, giving each piece a little space on all sides to brown. Cook the tofu for 2-4 minutes on each side, until browned and slightly crispy. Remove the pan from the heat.
Assemble the salads: In a large bowl, toss together the romaine, scallions, and cilantro with enough dressing to coat everything. Divide the salad between serving dishes, then top with tofu and quick pickles. Serve with sriracha, if you like it spicy.
Notes
Normally I only press my tofu for 5-10 minutes, but for this recipe it's best if you can press it for 30 minutes or more to remove as much water as possible and allow the marinade to really soak in. The result is a chewy tofu that's loaded with flavor. It will also get extra crispy around the edges when you cook it!
Recipe adapted from this
Tofu Banh Mi Bowl
.