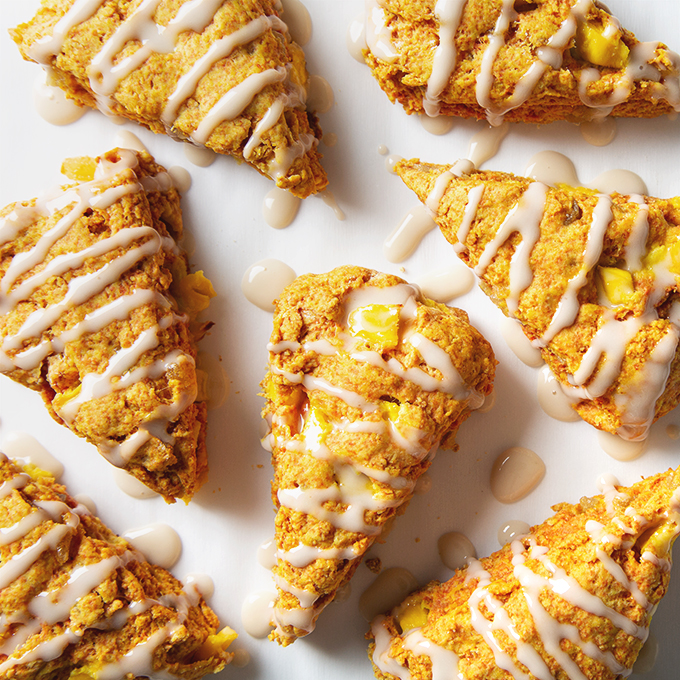 If you've ever felt intimidated by baking, you must make a batch of these warm and cozy Mango Spiced Scones. They're a great beginner recipe and an instant confidence-booster because they're made from simple ingredients that get combined together in one big bowl. You can mix your scones by hand and get in a quick arm workout, or do what I do and let your stand mixer (with the paddle attachment) handle all of the heavy-lifting. 😉
The star ingredient here is REBBL's 3 Roots Mango Spice Elixir, which serves as an extra flavorful stand in for milk. It's made from Alphonso mango and banana, with just the right kick of heat from cayenne pepper at the end. It's bright and fruit-forward, and incorporates anti-inflammatory turmeric, black pepper (which helps increase the bioavailability of curcumin, turmeric's star antioxidant), ginger root, and ashwagandha. Ginger is wonderful when it comes to aiding digestion, and I love ashwagandha for helping me manage stress.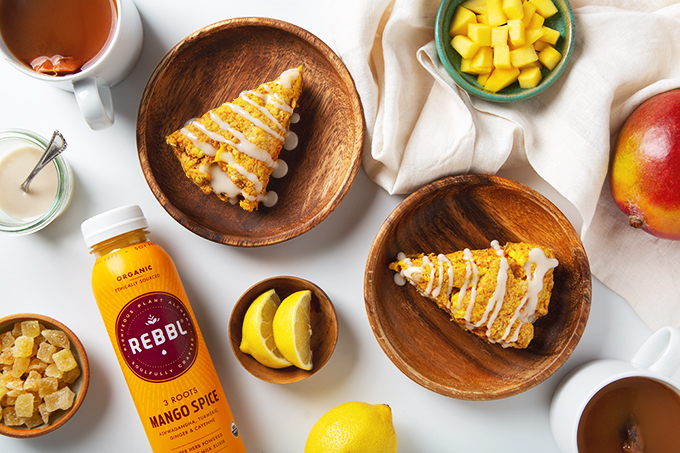 These perfectly Fall-spiced scones are gluten-free and vegan, and lightly sweetened with just a small pour of pure maple syrup. To make them gluten-free, I use a combination of gluten-free all-purpose flour and fine almond flour from blanched almonds. And instead of butter, I like to swap in unrefined coconut oil. From there, my motto is to go heavy on the spices and mix-ins to really amp up the flavors—a little extra ground ginger and turmeric, plus lots of chopped fresh mango and chewy crystallized ginger studded throughout. You could stop there, but what's a scone without a little icing? I highly recommend topping them with a drizzle of my 3-ingredient coconut butter glaze.
This mango spiced scone recipe makes 1 round, which slices into 8 small-medium scones. Aaron and I always devour them within a couple of days, but it's worth noting that they freeze well too. If you decide to go that route, simply let your scones thaw on the counter at room temperature, then drizzle on the icing and enjoy!
We'd love for you to follow us on Instagram!
Tag photos you post of our recipes with #picklesnhoney so we can see.
Gluten-Free Mango Spiced Scones
Simple vegan and gluten-free mango scones spiced with ginger and turmeric, then drizzled in a naturally sweet, 3-ingredient coconut butter glaze. These scones are a great (easy!) recipe if you've ever felt intimidated about baking your own at home.
Author:
Copyright © 2018 Amanda Maguire for Pickles & Honey
Recipe type:
Breakfast, Brunch
Cuisine:
Vegan, Gluten-Free
Ingredients
for the scones:
1 tablespoon fresh lemon juice
1½ cups gluten-free all-purpose flour, plus more for sprinkling
½ cup fine almond flour (from blanched almonds)
1½ teaspoons baking powder
¾ teaspoon baking soda
½ teaspoon ground ginger
½ teaspoon ground turmeric
½ teaspoon sea salt
¼ cup coconut oil, solid and cut into pea-sized pieces
¾ cup diced fresh mango
⅓ cup diced crystallized ginger
2 tablespoons pure maple syrup
1½ teaspoons vanilla extract
for the glaze: (optional)
⅓ cup coconut butter, melted but not hot
1 tablespoon REBBL 3 Roots Mango Spice, room temperature
½ teaspoon vanilla extract
Instructions
Preheat the oven to 375° F. Line a baking sheet with parchment paper, lightly dust with flour, and set it aside.
In a small bowl, whisk together the REBBL 3 Roots Mango Spice and lemon juice. Allow to sit for 5 minutes.
In the bowl of a stand mixer, use the paddle attachment to mix together the all-purpose flour, almond flour, baking powder, baking soda, ground ginger, turmeric, and salt. Add the coconut oil pieces and mix on low-medium speed until well-incorporated (about 30 seconds). Gently fold the mango and crystallized ginger into the flour mixture.
Make a well in the center and add in the REBBL 3 Roots Mango Spice and lemon juice mixture, maple syrup, and vanilla. Mix until a slightly sticky, very thick dough forms.
Transfer the dough to your prepared baking sheet. Lightly dust it with flour, then form it into an 8-inch round and cut into 8 parts, leaving space between each so all sides can brown. Bake for 25-30 minutes, or until golden and no longer doughy. Allow the scones to cool on the baking sheet for 10 minutes, then transfer them to a wire rack to cool completely.
While the scones cool, make the glaze: Add the coconut butter, REBBL 3 Roots Mango Spice, and vanilla to a small mixing bowl. Stir together until smooth. (The coconut butter should be the consistency of drippy peanut butter.) Drizzle the scones with the glaze and serve.
Notes
You'll have a little less than a cup of the
REBBL 3 Roots Mango Spice
drink left after you make this recipe. Feel free to sip it alongside your scones, add it to a smoothie, or mix it into overnight oats (so good!)
I use and recommend this
Gluten-Free 1 to 1 Baking Flour from Bob's Red Mill
.
I've made these scones a handful of different ways and found them to be adaptable. If you'd prefer not to make them gluten-free, you can use all-purpose flour with excellent results. This recipe also works well with 100% light spelt flour or half light and half whole grain spelt flour.
---
Thank you to REBBL for sponsoring this post! We love their Super Herb Elixirs and Plant-Based Proteins, especially because when you buy any of their beverages, you help give back 2.5% of every purchase to Not For Sale in their mission to eliminate human trafficking and uplift vulnerable communities around the globe. Check REBBL's store locator to find their drinks near you!