Vegan S'mores Pudding with Aquafaba Marshmallow Fluff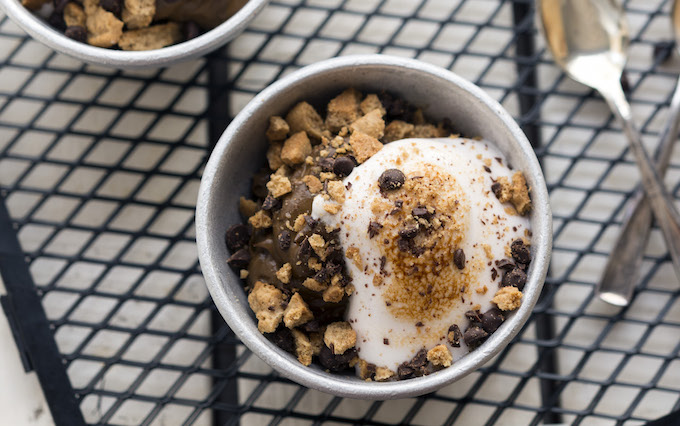 Recipe type:
Dessert, Pudding
Cuisine:
Vegan, Soy-free, Nut-free
1½ cups (345 g) mashed avocado
½ cup (40 g) unsweetened cocoa powder
⅓ cup (59 g) Medjool dates, pitted and soaked in warm water for 15 minutes
1 to 2 tablespoons (15 to 28 ml) date soaking water
3 tablespoons (45 ml) maple syrup
¼ teaspoon salt
⅓ cup (80 ml) Aquafaba (the liquid drained from a can of chickpeas)
½ cup (120 g) organic superfine cane sugar
½ teaspoon vanilla powder
¼ cup (21 g) vegan graham crackers, crushed
¼ cup (44 g) soy-free, nut-free vegan mini chocolate chips
To make the chocolate pudding: Place all of the ingredients in a food processor and process with an s-blade until smooth. It may take a couple of minutes for the dates to break down. Add more date soaking water to the pudding if you think it is too thick. Refrigerate the pudding for 1 to 2 hours until chilled.
To make the vegan marshmallow fluff: Put the Aquafina into the bowl of a stand mixer fitted with the whisk attachment and beat the liquid on medium speed until foamy. Raise the speed to high and beat until the mixture has expanded considerably and forms peaks, about 15 to 20 minutes. With the mixer running, add the superfine sugar 2 tablespoons (30 g) at a time and then add the vanilla powder. The fluff should form soft peaks.
To assemble: Divide the pudding among 4 small bowls and then place about ⅓ cup (32 g) of marshmallow fluff into each bowl. Using a kitchen torch, toast the top of the fluff lightly. (If you do not have a torch, you can omit this step.) Top the dessert with the crushed graham crackers and chocolate chips. Serve immediately.
Recipe by at http://www.picklesnhoney.com/2016/07/12/vegan-smores-pudding-aquafaba-marshmallow-fluff/