Grilled Artichoke Avocado Toast with Sweet Potato Waffle Fries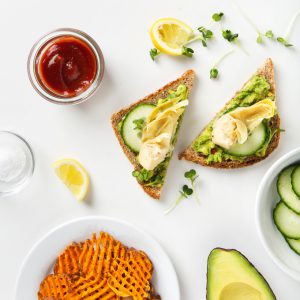 Author:
Copyright © 2017 Amanda Maguire for Pickles & Honey
Recipe type:
Lunch, Dinner, Main Meal
4 slices whole grain bread
extra virgin olive oil, for drizzling
garlic powder, sea salt and pepper, to taste
1 medium avocado
4 lemon wedges
red pepper flakes, to taste
1 small cucumber, sliced
grilled & marinated artichoke hearts
2 small handfuls sprouts
2 medium sweet potatoes
extra virgin olive oil, for drizzling
sea salt and pepper, to taste
ketchup, for dipping
Make the waffle fries: Preheat the oven to 400° F. Line a large baking sheet with parchment paper. Cut the sweet potatoes in half crosswise. Using the Borner Waffle slicer, thinly slice the potatoes into waffle-cut rounds, rotating the sweet potato 90° between each cut. Spread the waffle fries on the prepared baking sheet and drizzle with olive oil. Season with salt and pepper. Toss to coat evenly, then spread in a single layer (don't crowd them or they won't crisp up). Bake until golden brown, about 15-20 minutes.
Make the toast: While the fries bake, place the bread on a separate parchment-lined baking sheet. Drizzle each slice with olive oil and season with garlic powder, salt, and pepper. Bake for 8 minutes, or until toasted. Remove from the oven.
Slice the avocado in half lengthwise and remove the pit. With the avocado still in its skin, slice it into cubes (be careful not to slice all the way through the skin). Scoop the avocado onto the toasted bread, squeezing 1 lemon wedge over each slice. Mash the avocado with a fork, then season with salt, pepper, and a pinch of red pepper flakes.
Top each toast with sliced cucumber, artichoke hearts, and sprouts. Season with salt and pepper. Serve immediately with sweet potato waffle fries and ketchup for dipping.
Look for pre-made artichoke hearts that have been marinated in olive oil, not artichokes packed in water. These are a lot more flavorful.
Recipe by at http://www.picklesnhoney.com/2017/04/12/artichoke-avocado-toast/