Raw Beet Ravioli with Cashew Cheese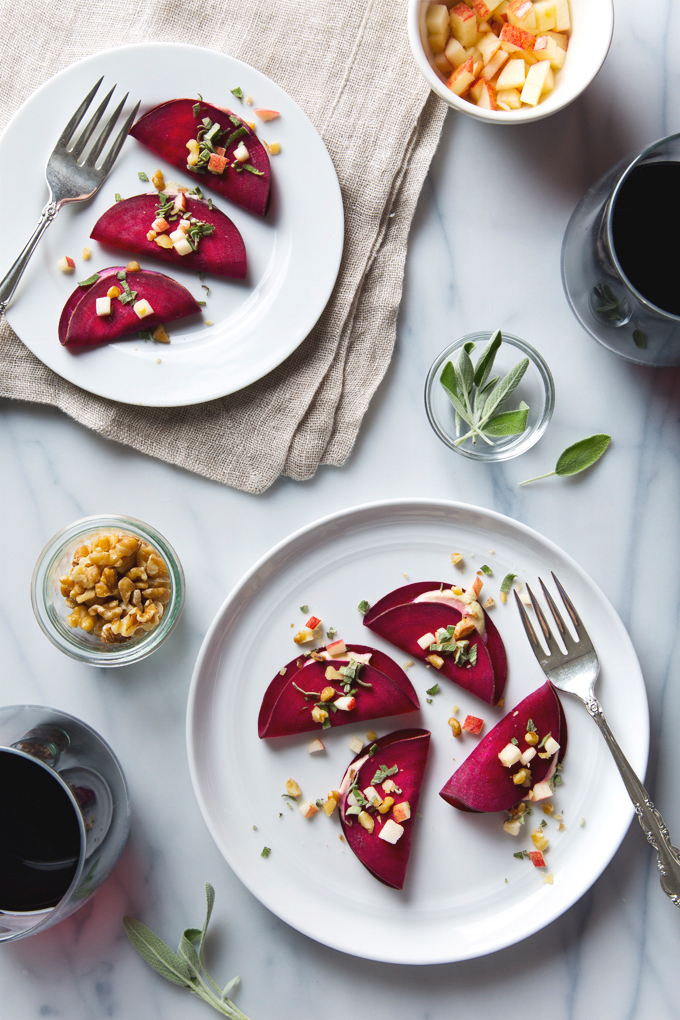 Author:
Copyright © 2017 Amanda Maguire for Pickles & Honey
Recipe type:
Main, Appetizer
Cuisine:
Raw, Vegan, Gluten-Free
1 cup raw cashews, soaked 2 hours (or overnight), rinsed and drained
¼ cup filtered water
juice from 1 lemon (about 2 tablespoons)
2 tablespoons nutritional yeast
1 tablespoon apple cider vinegar
2 teaspoons white miso
2 teaspoons extra virgin olive oil
fine sea salt, to taste
1 bunch beets (at least 2 inches diameter), sliced very thin
1 apple, cored and diced
1 handful chopped walnuts
1 small handful fresh sage leaves, torn
Make the cashew cheese: Add all of the ingredients to a high-speed blender. Process until smooth and creamy. Taste and adjust seasoning if necessary. Refrigerate for at least 1 hour.
Make the ravioli: Arrange half the beet slices flat on a work surface. Place a dollop of cashew cheese onto half of each slice, then fold the other half over the cashew cheese, pressing down gently to seal them. Sprinkle each ravioli with diced apple, walnuts, and fresh sage.
Recipe by at http://www.picklesnhoney.com/2017/09/14/raw-beet-ravioli-cashew-cheese/