Individual Cinnamon Pear Crisps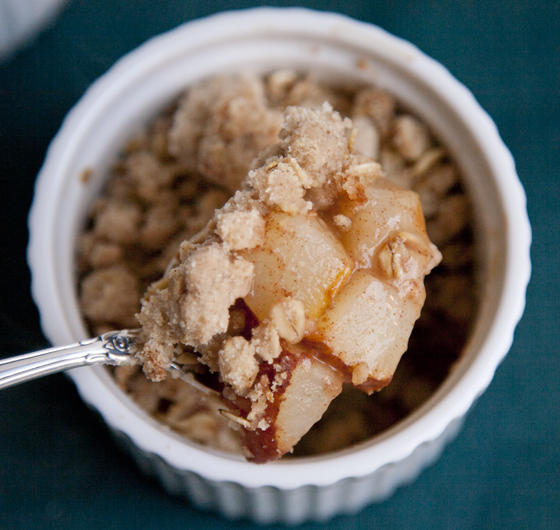 4 ramekins
4 pears (I used Bartlett, but Bosc would also be delicious)
½ cup + ½ tablespoon all-purpose flour, divided
½ cup rolled oats
¼ cup organic cane sugar
¼ cup earth balance buttery spread, melted
1 teaspoon cinnamon
¼ teaspoon nutmeg
¼ teaspoon ground ginger
4 tablespoons filtered water
Pre-heat the oven to 350 degrees F.
Chop the pears and place them in a medium bowl.
Add to the pears: cinnamon, nutmeg, ginger, and ½ tablespoon flour. Toss until the pears are evenly coated.
Evenly distribute the pears in the ramekins. Add 1 tablespoon of water to each and set them aside.
In a separate medium bowl, combine the remaining ½ cup flour, oats, sugar, ½ teaspoon cinnamon, and melted buttery spread. The texture should be slightly dry and crumbly. Evenly distribute the topping into the ramekins.
Set the ramekins on a baking sheet and bake for 30 minutes, or until the topping has turned golden brown and the pears are very tender. Allow to cool slightly before serving.
This pear crisp is delicious on its own, but would be even more amazing served with a scoop of your favorite (vegan) vanilla bean ice cream.
Recipe by at http://www.picklesnhoney.com/2011/10/20/individual-cinnamon-pear-crisp/