Spiced Vegetable & Chickpea Stew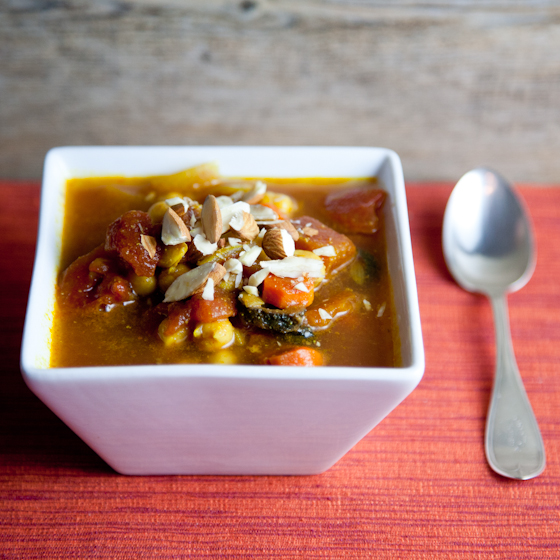 1 Tbs. Extra Virgin Olive Oil
1 32 oz. Can Diced Tomatoes
3 C. Vegetable Broth
1 Small Onion, Chopped
2 Carrots, Chopped
10 Button Mushrooms, Sliced (or Baby Bella)
Juice of 1 Lemon
⅓ C. Pitted Black Olives, sliced
1 C. Cooked Chickpeas
2 Tsp. Cumin
1 Tsp. Paprika
1 Tsp. Garlic Powder
½ Tsp. Turmeric
½ Tsp. Cinnamon
Salt and Pepper to taste
¼ Cup Roasted Almonds, chopped
Heat the olive oil in a large pot over medium heat.
Once heated, add the chopped onions and cook for 4-5 minutes, stirring occasionally.
To the onions, add the cumin, paprika, garlic powder, turmeric, and cinnamon, and stir to combine.
Add the chopped carrots and mushrooms, and then stir in the lemon juice.
Next add the vegetable stock and the can of diced tomatoes (including the tomato juice).
Stir and bring the stew to a boil over high medium-heat.
Reduce the heat to a simmer, cover the pot, and allow to cook for an additional 10-15 minutes.
After the soup has simmered, stir in the olives and chickpeas. Cover once again and allow the soup to simmer for another 5 minutes.
Add salt and pepper to taste.
When ready to serve, sprinkle the chopped almonds on top and enjoy immediately so they don't lose their crunch.
Recipe by at http://www.picklesnhoney.com/2013/01/15/spiced-vegetable-chickpea-stew/