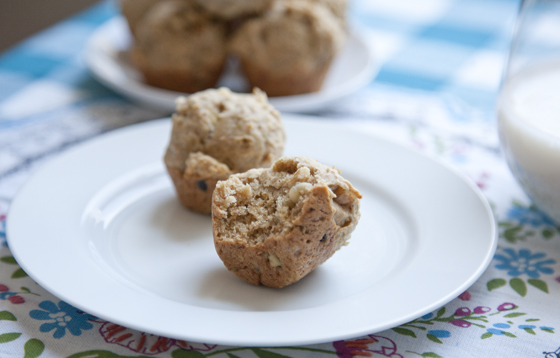 2 Large, Very Ripe Bananas
¼ C. Granulated Sugar
¼ C. Coconut Oil, Melted (canola would also work)
¼ C. Applesauce
1 C. All Purpose Flour
1 C. Whole Wheat Flour
1 Tsp. Baking Soda
½ Tsp. Cinnamon
¼ Tsp. Nutmeg
½ Tsp. Sea Salt
½ C. Chopped Walnuts (optional)
Pre-heat oven to 350 degrees. Lightly grease a muffin pan.
In a large bowl, mash the bananas until very few lumps remain.
Add the sugar, oil, and applesauce. Whisk to combine.
Sift in flours, baking soda, cinnamon, nutmeg, and salt. Mix with a wooden spoon until just combined.
Fold in chopped walnuts, if using. The batter will be very thick.
Transfer batter to muffin pan and bake for 8-10 minutes. A knife inserted in the center should come out clean when it's done.
Allow to cool slightly and enjoy!
I like to use a cookie dough scoop to evenly portion out the batter into the muffin tins.
Recipe by at http://www.picklesnhoney.com/2011/12/02/banana-nut-mini-muffins/