Vegan Cornbread Stuffing with Mushrooms & Herbs (Gluten-Free Option)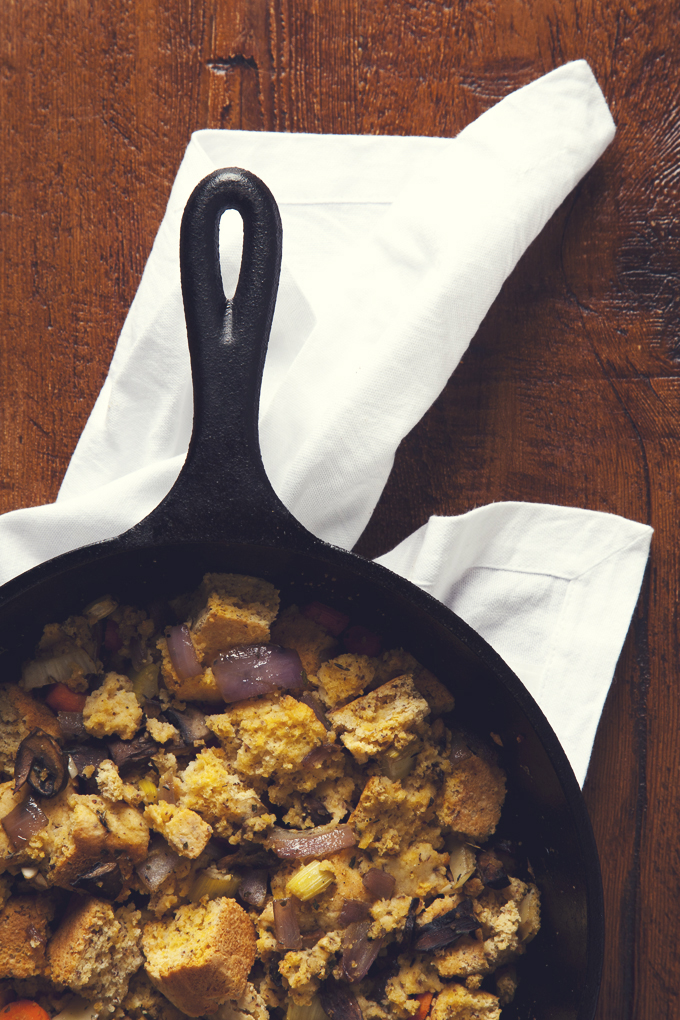 Author:
Amanda Maguire | Pickles & Honey
Recipe type:
Stuffing, Side Dish
1 batch simple vegan cornbread (or simple gluten-free vegan cornbread)
2 tablespoons extra virgin olive oil
1 small onion, chopped
2 cloves garlic, minced
¾ cup chopped carrot
¾ cup chopped celery
1 cup thinly sliced baby bella mushrooms
1 teaspoon dried sage
1 teaspoon dried thyme
1 teaspoon dried parsley
1½ cups homemade vegetable stock
fine grain sea salt & freshly ground black pepper to taste
Preheat your oven to 350 degrees F.
Cube the cornbread into 1" pieces and spread it on a parchment-lined baking sheet in a single layer. Bake for 20-25 minutes, turning once halfway through, until golden brown and toasted.
While the cornbread is toasting, add the olive oil to a deep 10" cast iron skillet over medium heat.
When the skillet is hot, add the onion, garlic, carrots, and celery. Cook for 8-10 minutes, stirring often, until the vegetables have softened.
Stir in the mushrooms, sage, thyme, and parsley. Cook for 1-2 more minutes, then season with salt and pepper to taste. Remove the skillet from the heat.
Add the cornbread croutons to the skillet and gently toss them with the cooked vegetables. Pour in the vegetable stock and gently toss once more.
Cover the skillet with foil and bake for 20 minutes at 350 degrees F, then uncover and continue cooking for 5-10 more minutes, until the top is golden brown. Serve immediately, topped with a pour of easy vegan gravy if you like!
Recipe by at http://www.picklesnhoney.com/2014/12/19/vegan-cornbread-stuffing/