Vegan Vietnamese Summer Rolls with Peanut Dipping Sauce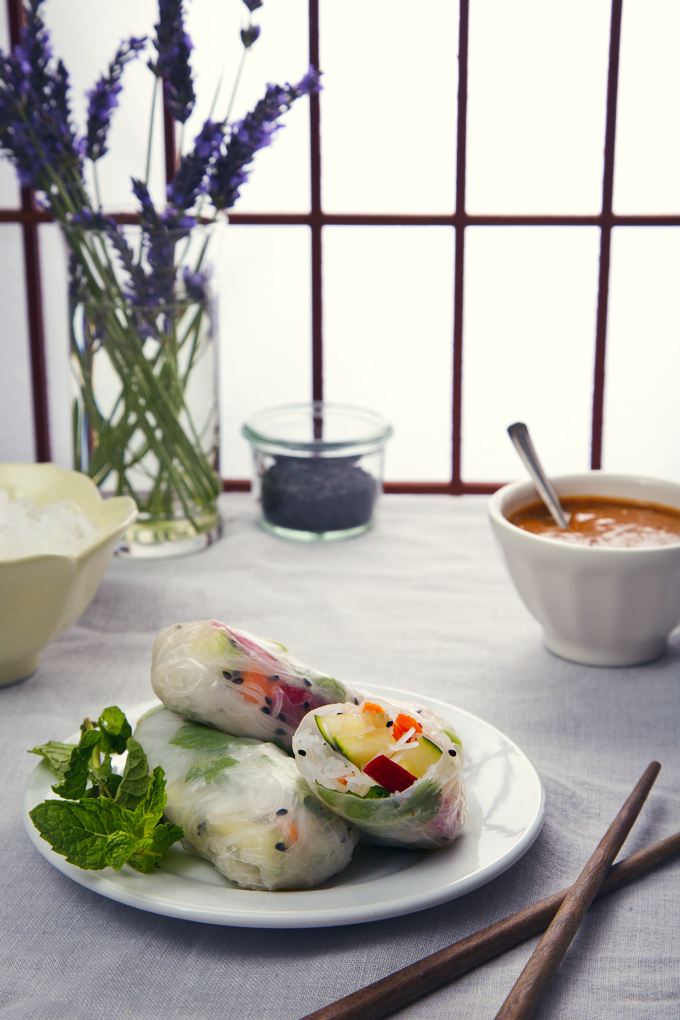 Author:
Amanda Maguire | Pickles & Honey
Recipe type:
Vegan, Gluten-Free
Serves:
makes about 10 rolls
⅓ cup creamy salted peanut butter
¼ cup reduced-sodium soy sauce
2 tablespoons fresh lime juice
2 tablespoons pure maple syrup
2 tablespoons sriracha (or to taste)
2 large cloves garlic
1 heaping tablespoon fresh, peeled ginger
1 small bunch fresh mint leaves
1 small handful fresh cilantro leaves
2½ ounces thin rice noodles, cooked and salted
1 medium carrot, sliced into thin strips
½ medium seedless cucumber, sliced into thin strips
2 medium radishes, sliced into thin strips
1 green onion, thinly sliced
sea salt for seasoning the vegetables
10-20 rice paper wrappers, depending on whether you double wrap the rolls
black sesame seeds for garnish
Combine all of the peanut sauce ingredients in a blender. Process until smooth. Set aside.
To soften the rice wrappers: fill a shallow dish with very warm water. Place each wrapper in the water until it softens, about 10-20 seconds. Carefully lift it out of the water and spread it on a cutting board or plate.
To assemble the wraps, layer a few of the mint and cilantro leaves in the center of the wrappers. Top with a few rice noodles, followed by a layer of the remaining sliced vegetables. Sprinkle with a pinch of sea salt and black sesame seeds.
To roll up the summer rolls: fold the top then bottom edges of the wrapper over the filling, then fold over the left and right edges towards the center. It should be snug, but try not to rip the wrappers. If the rolls are a bit messy (as mine usually are!), you can wrap the roll in a second wrapper using the same method. This makes for a tighter and neater-looking roll. Repeat this process with the remaining wrappers and filling ingredients. You may need to change your water partway through to make sure it stays warm.
Serve the rolls with lots of peanut sauce for dipping and extra sriracha if you like them spicy!
Recipe by at http://www.picklesnhoney.com/2015/07/10/vegan-vietnamese-summer-rolls-peanut-sauce/