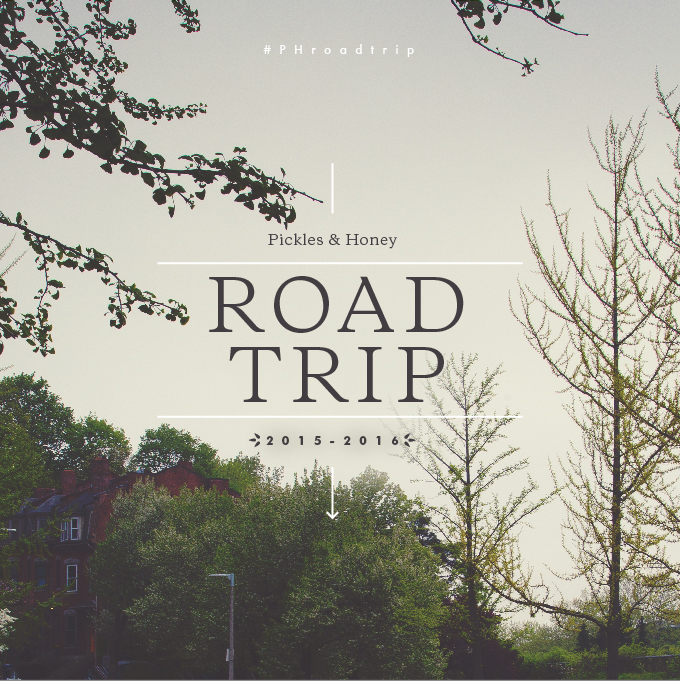 In December 2014, the branding agency Aaron co-founded was at a sudden crossroads. In the midst of making the decision to sell the business, we suddenly realized that we were at a very opportune moment in our lives when our options were wide open if we wanted them to be. We could hope for the experiences we'd always wanted to happen, or we could decide to make them happen now.
Four months after buying our first home, we chose to put it up for rent, pare down and move all of our belongings to storage, and leave safe but stagnant for adventure and possibility.
On May 16th, 2015, we hit the road with our tiny car, single suitcase, kitchen and camera gear, and our two dogs in tow. Our plan was to visit National Parks and new-to-us cities (Portland! Austin!) throughout the continental United States.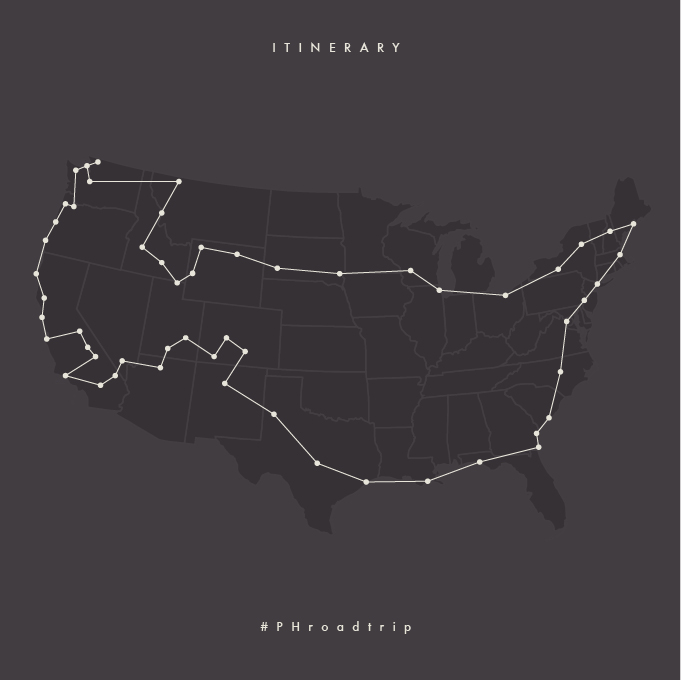 In addition to sharing our usual recipes, we documented our road trip with updates on Pickles & Honey though photos, stories, and statistics (miles driven, cost of food and fuel, etc), as well as on Instagram using #PHroadtrip.
Click the links below for recaps from each location!
Boston, MA
Mount Desert Island, ME / Acadia National Park
Bethel, ME / White Mountains
Lake Placid, NY / Adirondack Mountains
Waterville, NY
Cleveland, OH
Chicago, IL
Devil's Lake State Park, WI (rained out!)
Cashton, WI
Sioux Falls, SD (one-night crash pad)
Badlands, SD
Hot Springs, SD / Black Hills Forest / Custer State Park
Sheridan, WY / Bighorn Mountains
Fort Smith, MT / Bighorn Canyon
Pray, MT / Yellowstone
Grand Tetons, WY
Bear Lake, UT (skipped—we couldn't find a place to stay)
Craters of the Moon, ID
Ketchum / Sawtooth Mountains & Sawtooth Lake, ID
Missoula, MT (one-night crash pad)
Kalispell / Glacier National Park, MT
Spokane, WA (one-night crash pad)
Mount Rainier National Park, WA
Seattle, WA
Bellingham, WA
San Juan Island, WA
Olympic National Park / Hoh Rainforest, WA
Portland, OR
Yachats, OR / Cape Perpetua / Siuslaw National Forest
Sonoma County / Marin County / Point Reyes National Seashore Part 1 / Part 2 / Part 3 / Part 4
Davenport, CA / Aptos, CA / Pacific Grove, CA / Carmel, CA / Big Sur
Santa Barbara, CA
Laguna Niguel, CA / Orange County, CA
San Diego, CA (day trip)
Joshua Tree National Park, CA (day trip)
Phoenix / Scottsdale, AZ
Sedona, AZ
Grand Canyon National Park, AZ (day trip)
Santa Fe, NM
Lubbock, TX (one-night crash pad)
Austin, TX
Houston, TX (one-night crash pad)
Baton Rouge, LA (one-night crash pad)
Panama City Beach, FL
Savannah, GA
Hilton Head Island, SC
Charleston, SC (day trip)
Myrtle Beach, SC (roaches! we high-tailed it out of there)
Washington, DC
Boston, MA
Final Recap…coming soon!