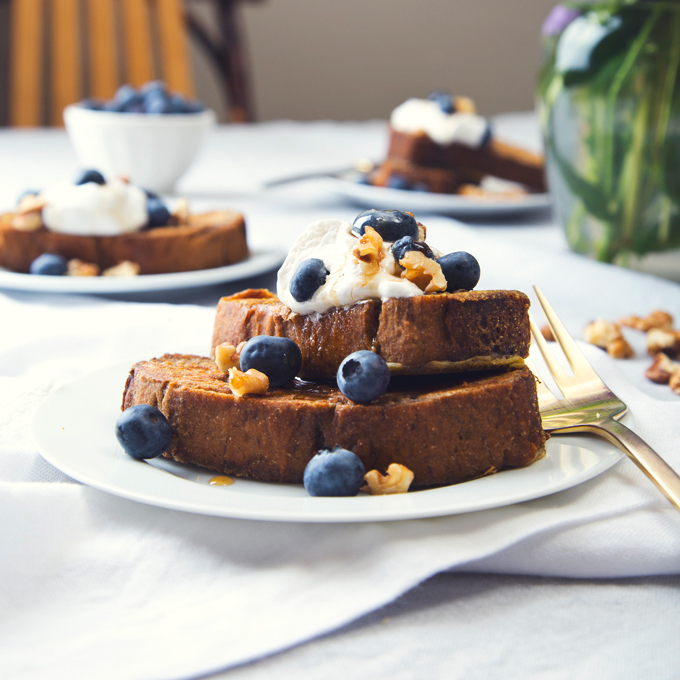 Have you decided what you're doing for Easter this year? I know a lot of families do an Easter brunch, and our family usually falls into this category too (Aaron basically lives for breakfast-y foods). Like most holidays, ours will likely be low-key. I'm thinking good coffee, French toast or cinnamon rolls (maybe both?!), and some fresh fruit to help balance it out.
Below are 11 of my favorite vegan brunch recipes—some sweet, some savory, all easy! Even if you're not celebrating Easter, I hope you'll be able to treat yourself to a leisurely brunch.
(Click on the recipe name below the photos to go to each recipe)
Pictured above: Gluten-Free Banana Bread French Toast
This banana bread is adapted from my secret ingredient banana bread of almost six years ago, shortly after I first started Pickles & Honey. I wanted a vegan version that would be low-glycemic and naturally sweetened, lower in oil than traditional banana breads, and gluten-free but not dry or crumbly. This is that banana bread, and it's made even more delicious in French toast form using chickpea flour for a subtle egg-y flavor. Top it with coconut whipped cream, walnuts, berries, and a pour of real maple syrup for a brunch that feels fancy while still being effortlessly simple to make.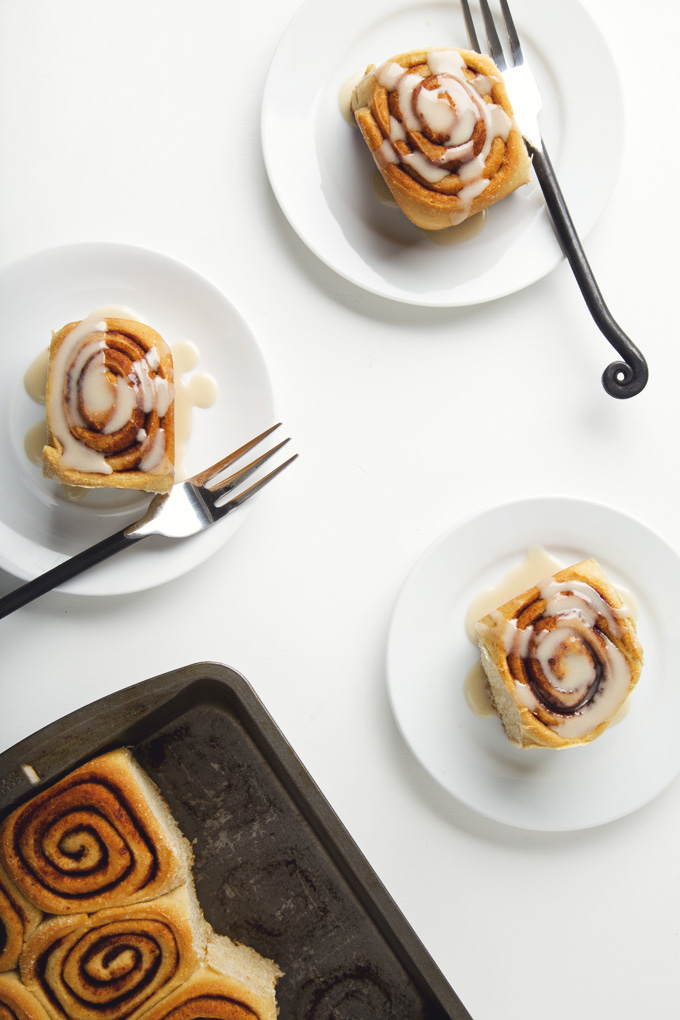 Easy Cinnamon Rolls
I always had it in my head that homemade cinnamon rolls were tricky. There's the whole yeast/dough rising component, and the filling, plus rolling out the dough, and making the icing. Add the vegan requirement to that and it just sounds like too much work. This is why I set out to create a vegan cinnamon roll recipe that's SIMPLE. Only the essential ingredients (9 total!), easy techniques, and less sugar, because no one likes a sugar hangover, especially first thing in the morning. P.S. The smell alone is worth baking these.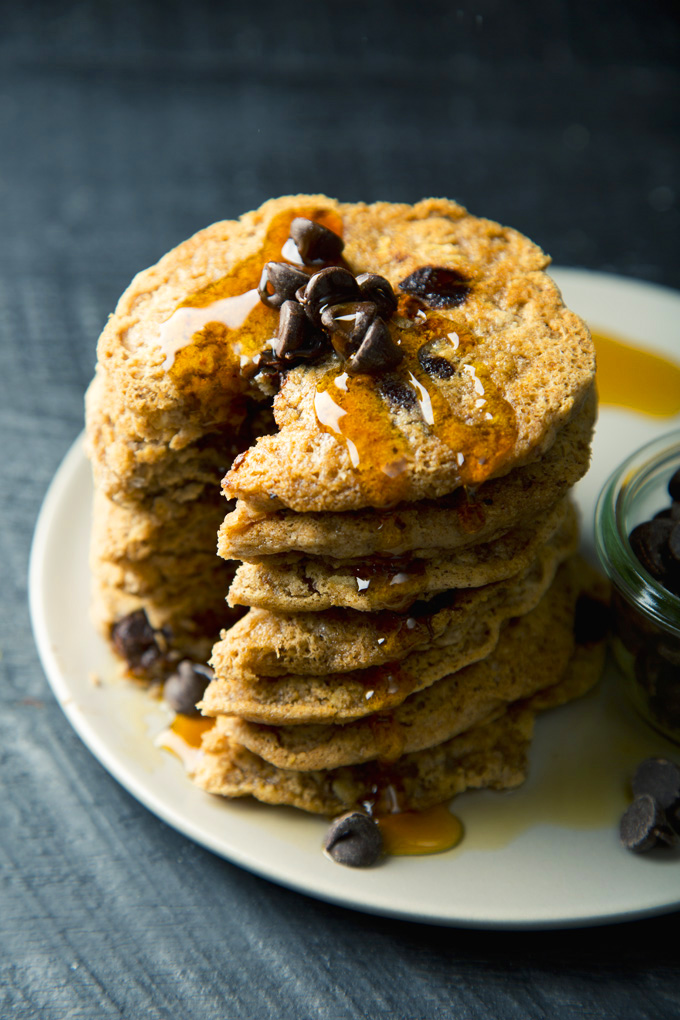 Gluten-Free Chocolate Chip Oatmeal Cookie Pancakes
Your favorite chocolate chip oatmeal cookies in a vegan and gluten-free pancake form! Just 10 ingredients, 1 bowl, and under 30 minutes to make a big batch. We love these pancakes and always have them on regular rotation.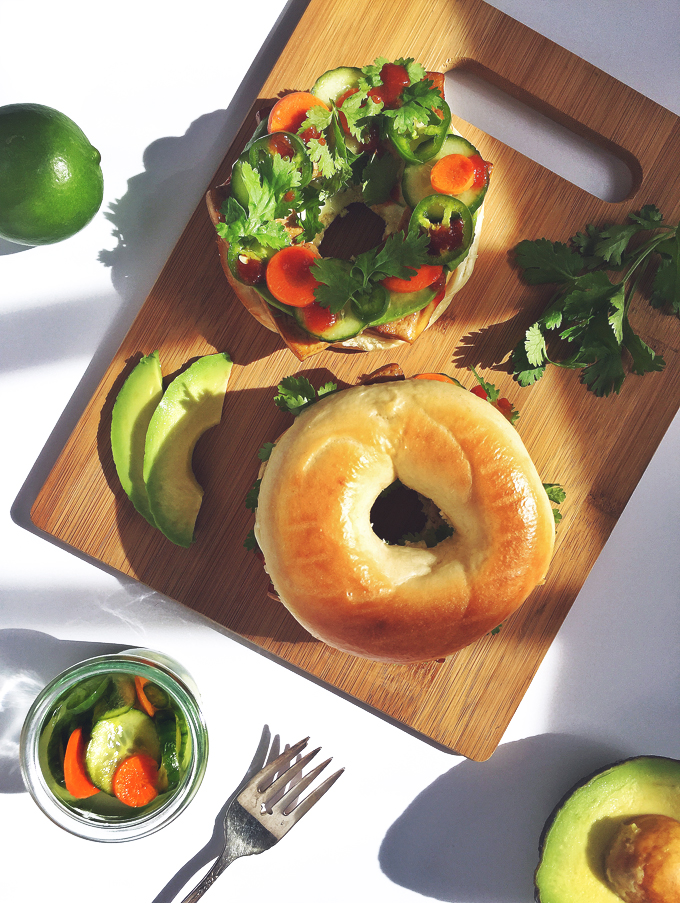 Tofu Banh Mi Breakfast Sandwiches
Unbelievably simple vegan banh mi sandwiches made with tofu and quick, homemade pickles. These sandwiches hit all the right marks in the texture and flavor departments: crispy, doughy, tangy, spicy, garlicky and extra creamy from some sliced avocado. One bite in and you'll wonder why every restaurant isn't adding avocados to their banh mi sandwiches.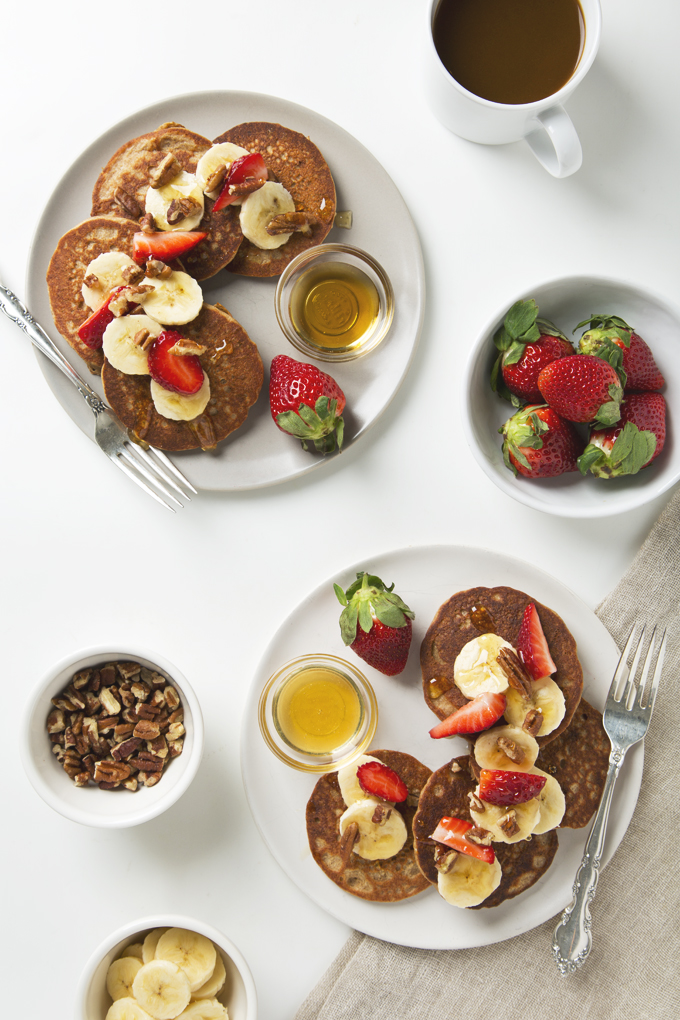 Gluten-Free Banana Protein Pancakes
These 7 ingredient pancakes take just 5 minutes to prep and 2-3 minutes to cook. They're light, fluffy, slightly sweet, and pack in the protein thanks to chickpea flour. If you're looking for a gluten-free, higher protein breakfast option, these banana pancakes are for you.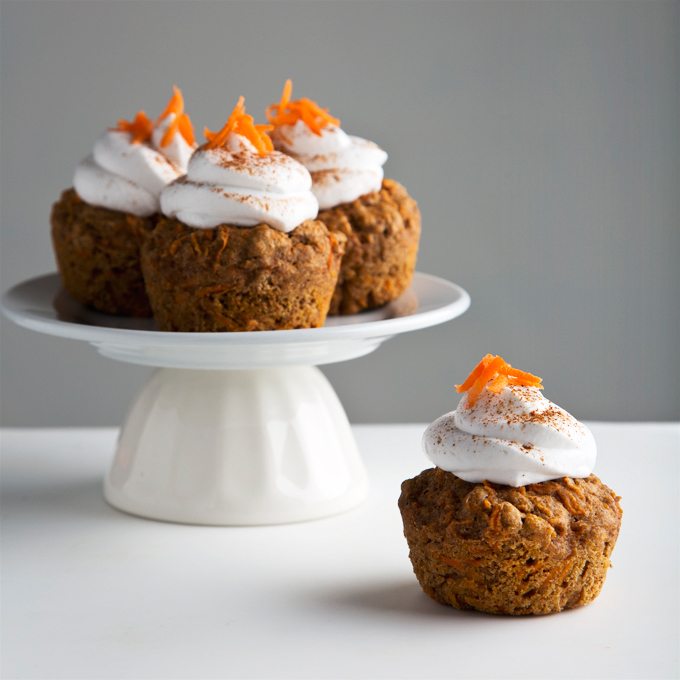 Hippie Carrot Muffins
These muffins aren't like most in that they aren't cupcakes masquerading as breakfast. They look a little like cupcakes thanks to that dreamy coconut whipped cream, but the ingredients are actually very wholesome. If you've been craving carrot cake but want a healthier, less sugar-bomb option to enjoy, give these a try! You might even have all 10 simple ingredients on hand already, plus they only take 30 minutes to make.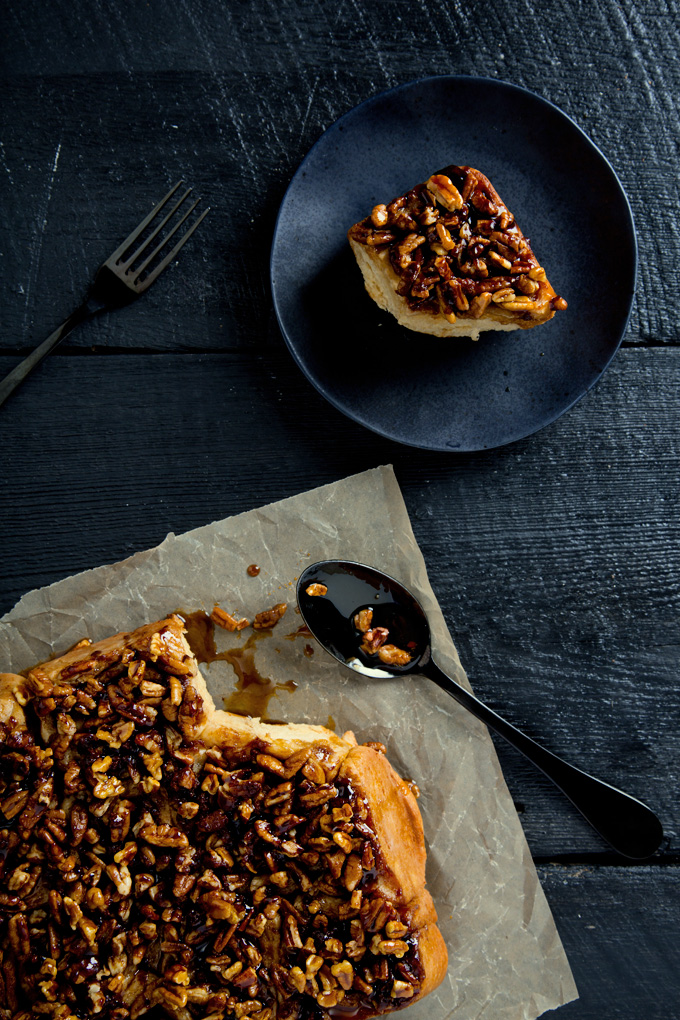 Simplified Sticky Buns
Bakery-quality vegan sticky buns that are totally doable even for the more novice baker. Whole grain, lower glycemic, and so satisfying to make and enjoy.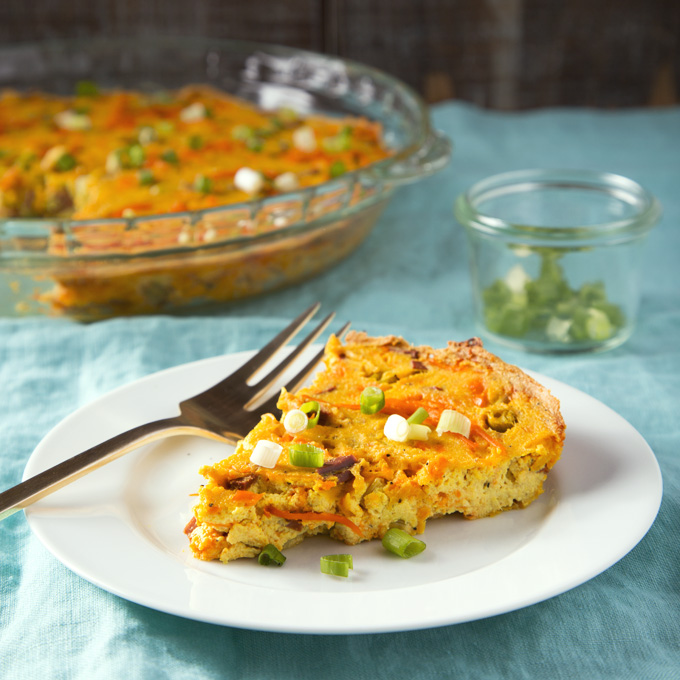 Crustless Quiche Lorraine
This vegan take on quiche lorraine requires just over 10 ingredients and takes only a few minutes to come together. Firm sprouted tofu makes an ideal base because when blended until smooth, it bakes up to be very eggy in texture. It's perfect for an easy breakfast or brunch!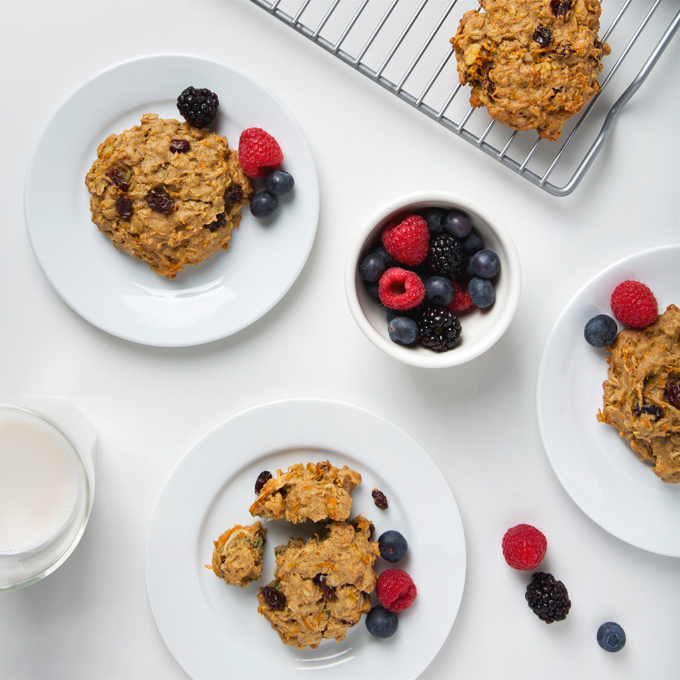 Gluten-Free Carrot Cake Breakfast Cookies
These carrot cake breakfast cookies are vegan, gluten-free, and packed with wholesome ingredients. They're crispy around the edges, but soft and muffin-like in the center. We like these best straight out of the oven or lightly warmed, and always with a big glass of almond milk for dipping.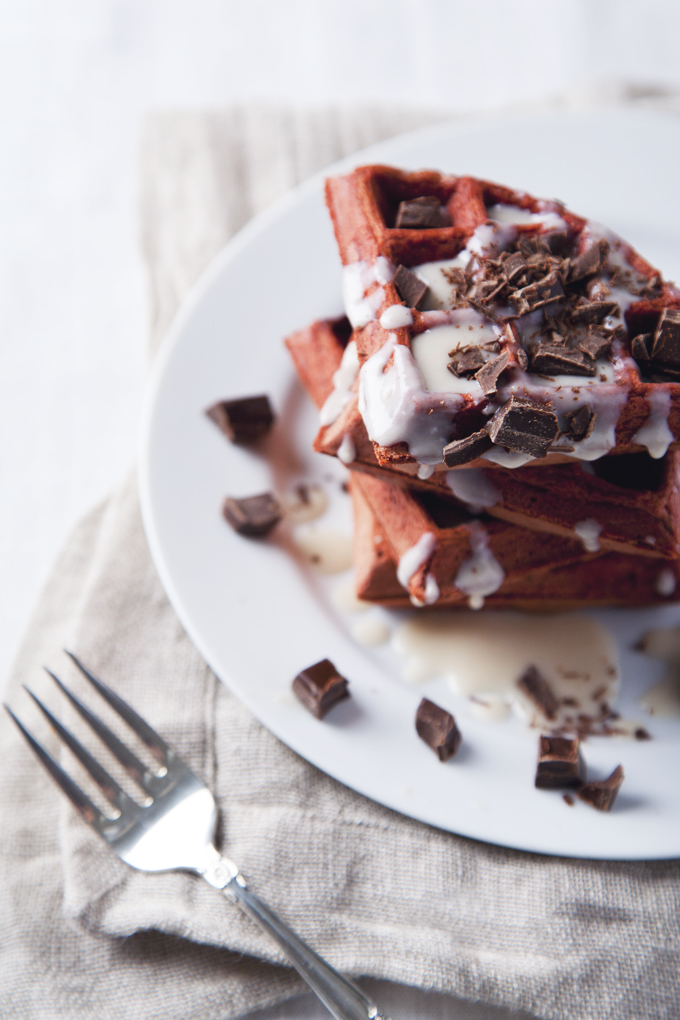 Red Velvet Waffles with Cream Cheese Icing
Naturally colored red velvet waffles with a pourable vegan cream cheese icing. Top your waffles with some chopped dark chocolate to make a brunch you won't soon forget!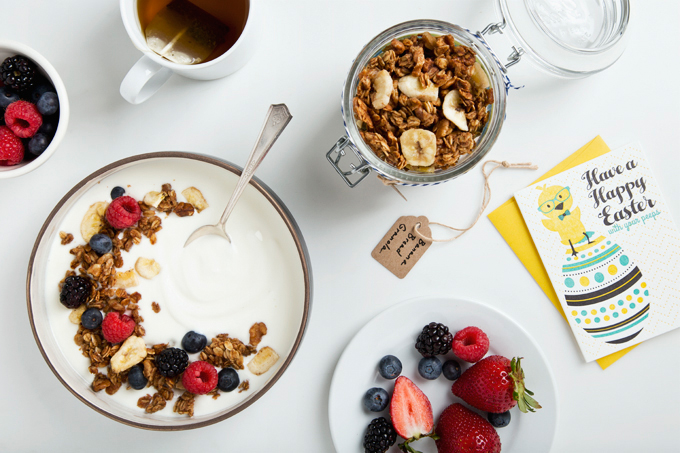 Gluten-Free Banana Bread Granola
A quintessentially clumpy vegan banana bread granola, that also happens to be gluten-free! This granola is a lot lower in oil and sugar than store-bought varieties, and made entirely from whole foods to boot.
---
We'd love for you to follow us on Instagram!
Tag photos you post of our recipes with #picklesnhoney so we can see.