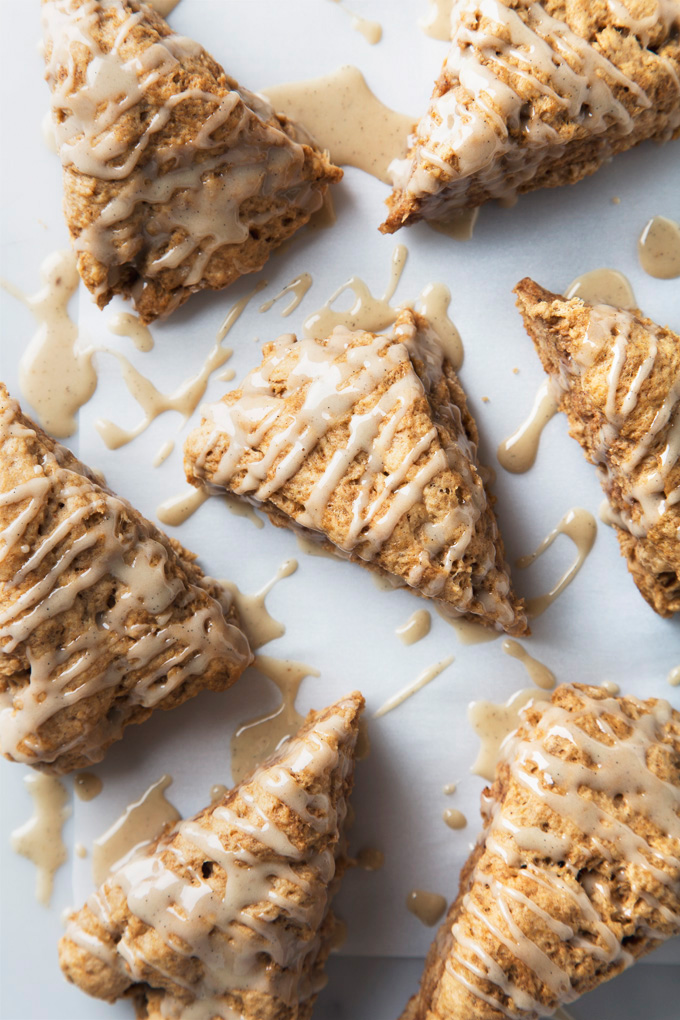 Spring officially started last week (Boston still hasn't received that memo) and Easter is this coming Sunday, which means…brunch! Aaron's family always hosts an Easter brunch, but even if you're not celebrating the holiday, brunch is always a good thing, right? It's Aaron's favorite meal, second only to breakfast. 😉 French toast, cinnamon rolls, good coffee (currently this matcha for me), maybe some mimosas, and lots of fresh fruit to balance it all out.
Here are a few of our favorite (easy!) vegan brunch recipes, in case you'd like to treat yourself to a leisurely brunch this weekend…
(Click on the recipe name below the photos to go to each recipe)
Pictured above: Vanilla Spice Scones
These simple vegan vanilla scones are spiced with cinnamon and cardamom, then drizzled in a sweet, 3 ingredient vanilla bean glaze. They're lower fat, higher protein, and lightly sweetened. Plus, they're a great recipe if you've ever felt intimidated about baking your own scones at home.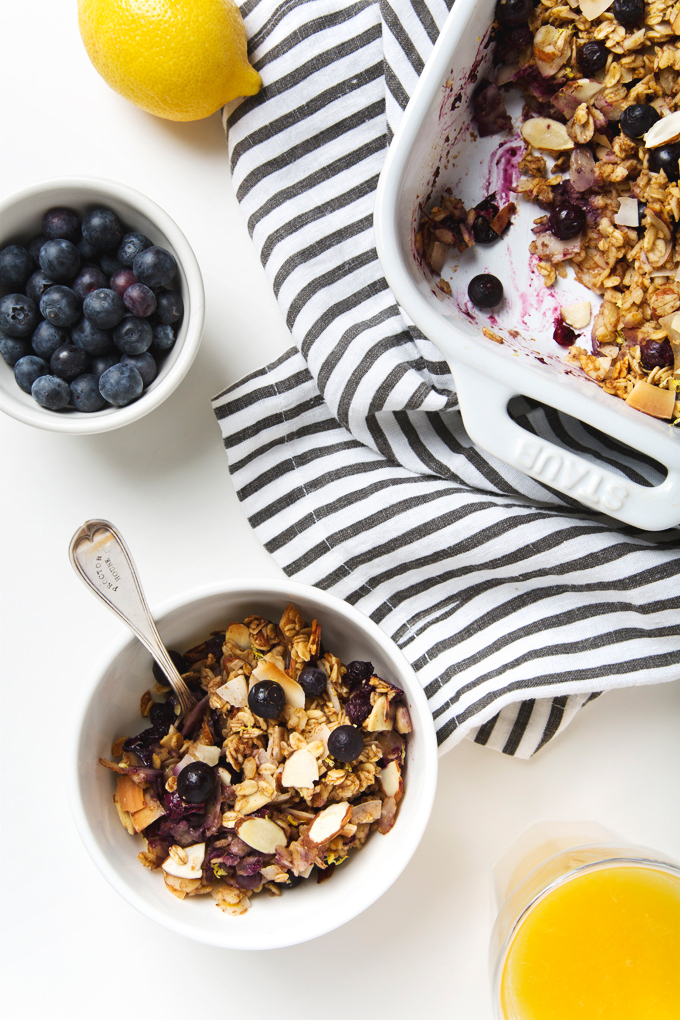 Coconut, Lemon & Blueberry Baked Oatmeal
If you're craving an extra warm and cozy brunch recipe, this baked oatmeal is the way to go. The bright lemon and fresh blueberries are a lighter juxtaposition to the hearty baked oats, and I adore the large, crunchy coconut flakes. I also like to add some sliced almonds for more crunch/healthy fats/protein, plus cinnamon, ginger, and a couple of flax "eggs" to bind everything together. The baked blueberries do a lot of the heavy lifting in terms of sweetness, which is why you only need a small amount of maple syrup for this entire 8-serving dish. Bonus: it takes just 10 minutes to prep!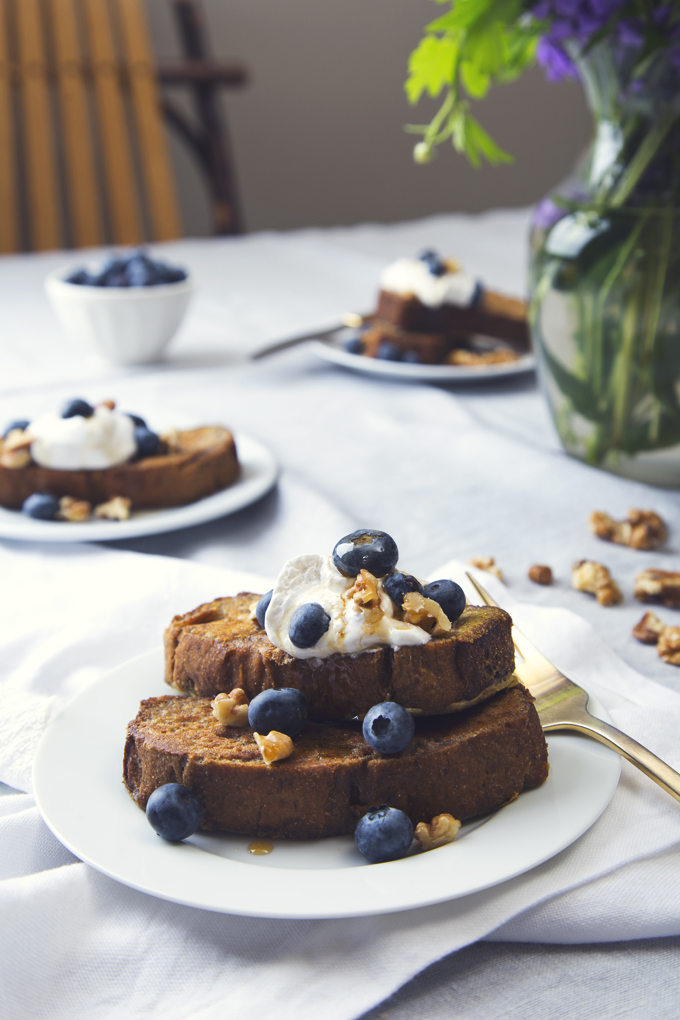 Gluten-Free Banana Bread French Toast
This recipe combines two of my favorite things: banana bread and French toast! I wanted a vegan version that would be low-glycemic and naturally sweetened, lower in oil than traditional banana breads, and gluten-free but not dry or crumbly. This is that banana bread, and it's made even more delicious in French toast form using chickpea flour for a subtle egg-y flavor. Top it with coconut whipped cream, walnuts, berries, and a pour of real maple syrup for a brunch that feels fancy while still being effortlessly simple to make.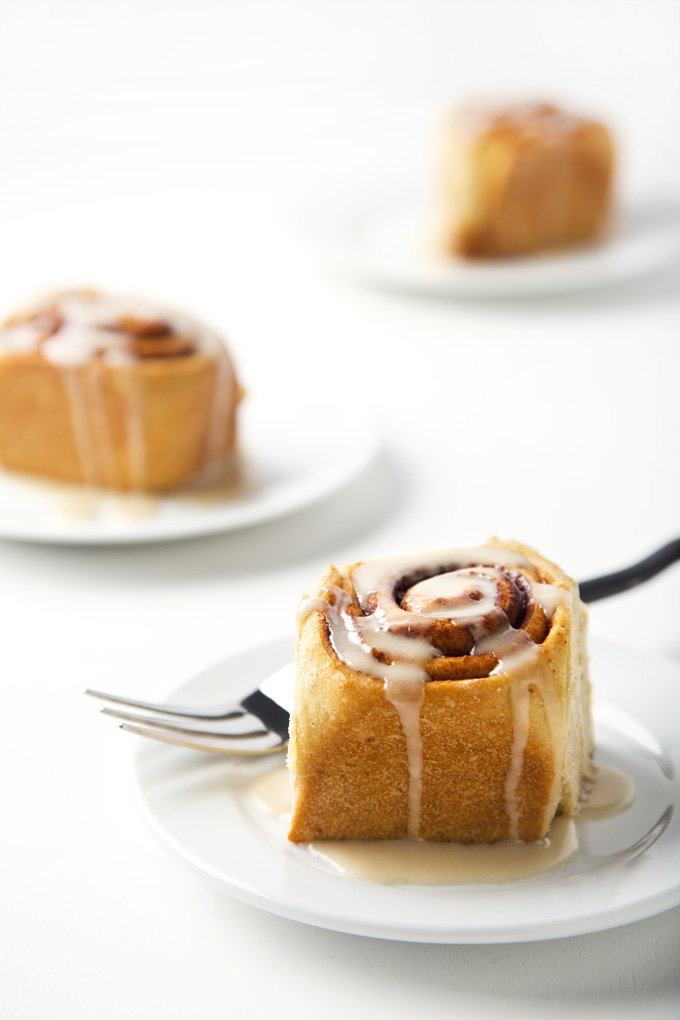 Easy Cinnamon Rolls
I always had it in my head that homemade cinnamon rolls were tricky. There's the whole yeast/dough rising component, and the filling, plus rolling out the dough, and making the icing. Add the vegan requirement to that and it just sounds like too much work. This is why I set out to create a vegan cinnamon roll recipe that's SIMPLE. Only the essential ingredients (9 total!), easy techniques, and less sugar, because no one likes a sugar hangover, especially first thing in the morning. P.S. You might also check out my new Vegan Cinnamon Roll Loaf!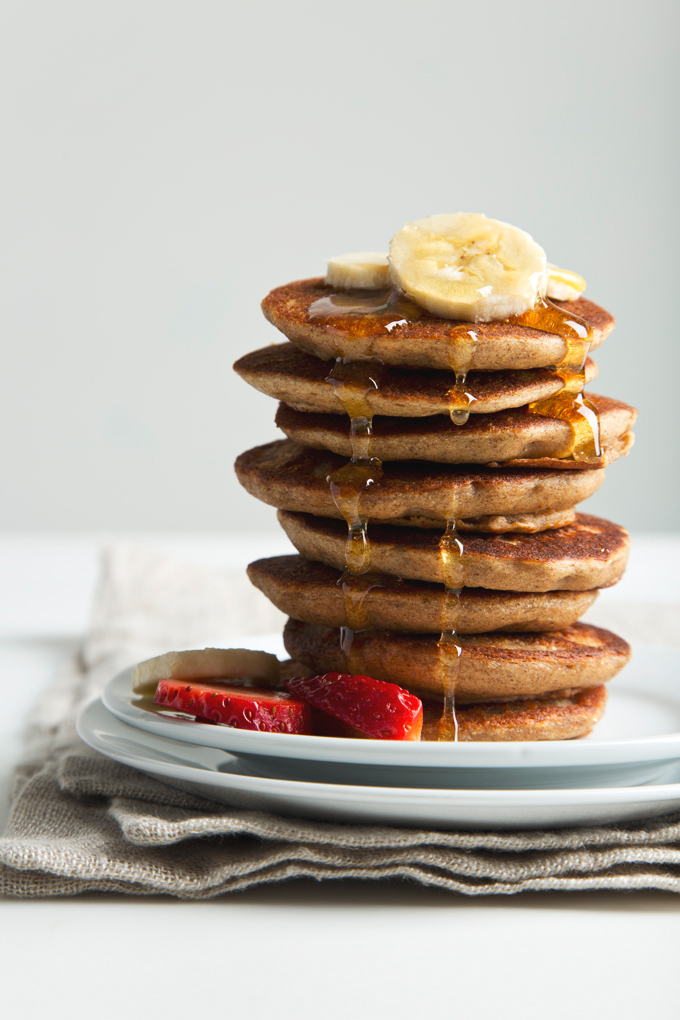 Gluten-Free Banana Protein Pancakes
These 7 ingredient pancakes take just 5 minutes to prep and 2-3 minutes to cook. They're light, fluffy, slightly sweet, and pack in the protein thanks to chickpea flour. If you're looking for a gluten-free, higher protein breakfast option, these banana pancakes are for you!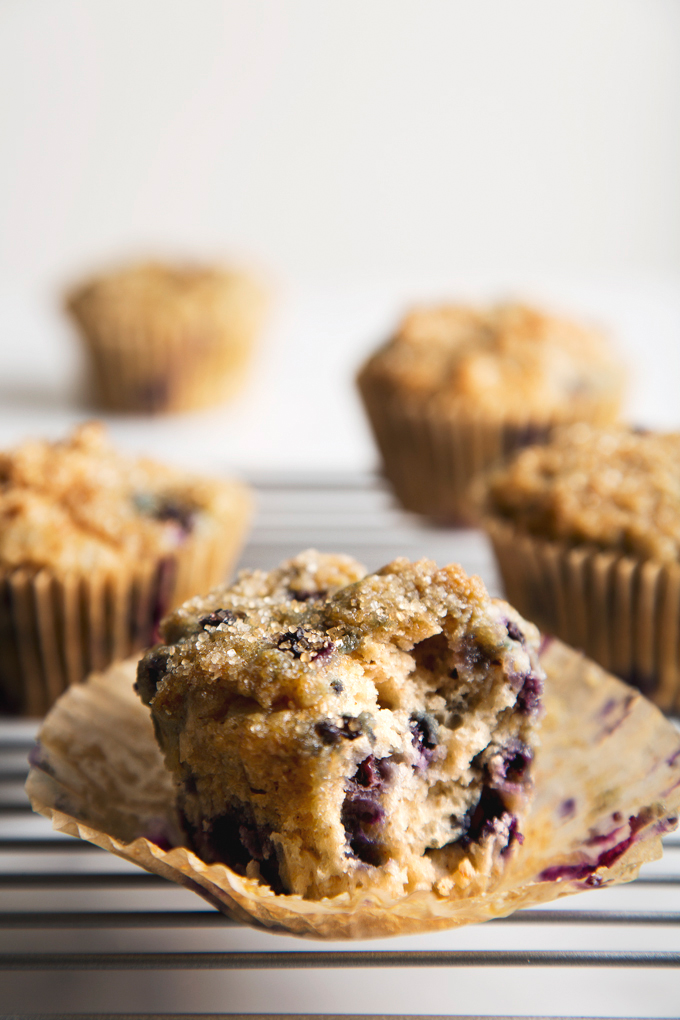 Healthy Blueberry Muffins
Snack-sized, lightly sweet, no-worries-if-you-eat-two (or three) sorts of muffins. They're lower-fat, studded with juicy blueberries, and topped with a sprinkle of crunchy raw turbinado sugar—perfection.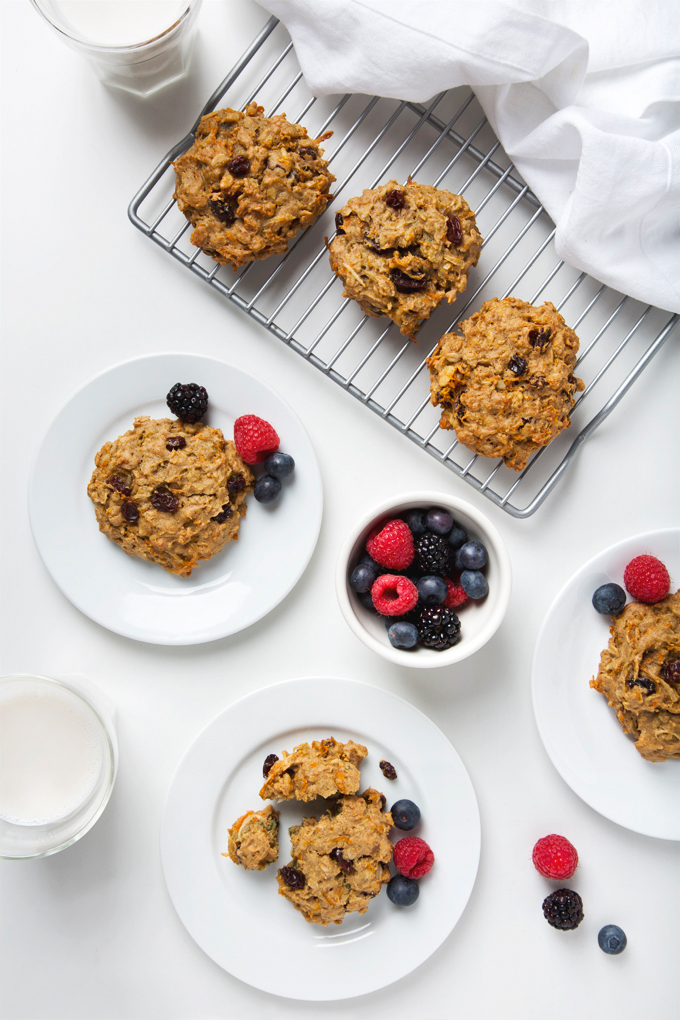 Gluten-Free Carrot Cake Breakfast Cookies
These carrot cake breakfast cookies are vegan, gluten-free, and packed with wholesome ingredients. They're crispy around the edges, but soft and muffin-like in the center. We like these best straight out of the oven or lightly warmed, and always with a big glass of almond milk for dipping.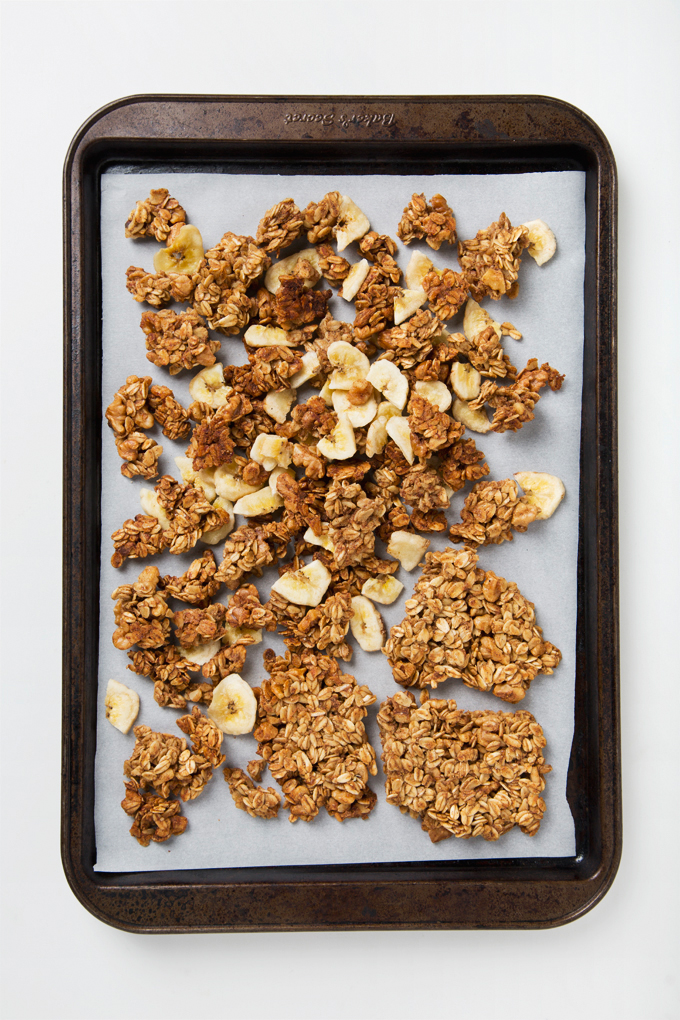 Gluten-Free Banana Bread Granola
A quintessentially clumpy vegan banana bread granola, that also happens to be gluten-free! This granola is a lot lower in oil and sugar than store-bought varieties, and made entirely from whole foods to boot.
---
We'd love for you to follow us on Instagram!
Tag photos you post of our recipes with #picklesnhoney so we can see.