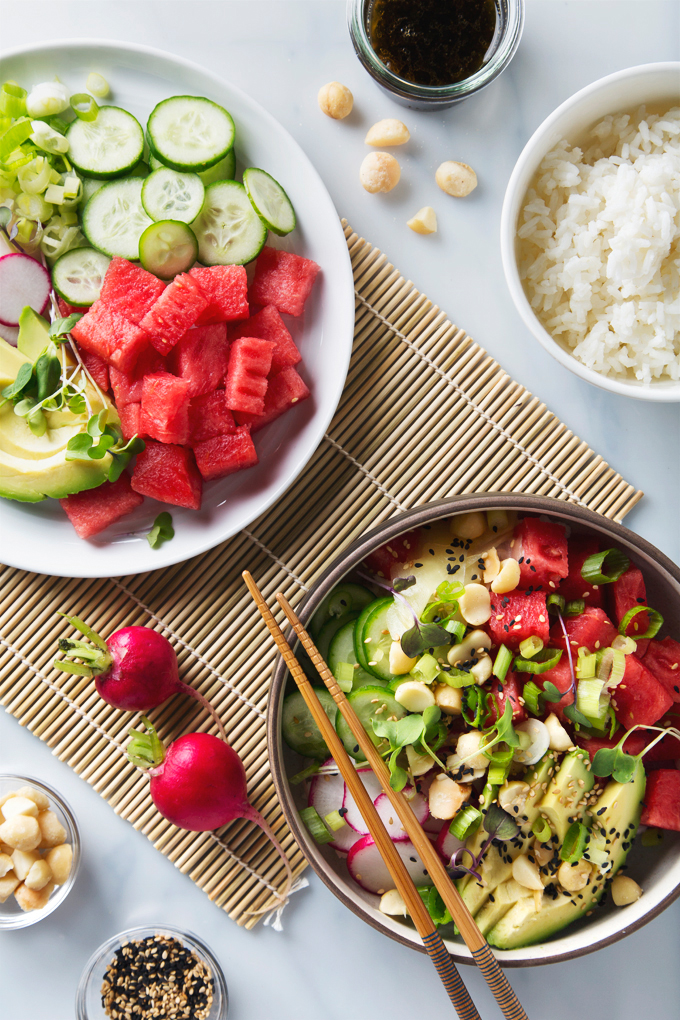 Watermelon Poke Bowls. Have you heard of them before? They are indeed a thing, even though Aaron thought for sure I was trying to pull a fast one on him by adding watermelon to our dinner the other night. "Watermelon…with a sushi kind of bowl? Amanda, that sounds like something you made up so you could have watermelon for dinner." (HA, he knows my love for watermelon has no bounds!). Watermelon poke has actually existed for a while though, I'm just a little late jumping on the (vegan) poke trend.
If you're not familiar with poke, let's first tackle how to pronounce it:  "po-kay" (not "po-kee" or "poke"). It's a Hawaiian dish traditionally made with cubed raw fish that's either eaten on its own or served over a bowl of sushi rice. For today's recipe, I'm going with the latter as inspiration, except instead of raw tuna, I'm using watermelon. Weird? Maybe a little, but I promise the texture and flavor combination is surprisingly awesome. Plus, from a distance it almost looks like tuna.
To save time and avoid prepping an entire watermelon, I ordered some pre-sliced watermelon from Terra's Kitchen. I love having the option to add this with our weekly meal kit delivery. The fruit and veggies they send are always super fresh, and it makes eating wholesome lunches, dinners, and snacks that much easier. I'm significantly less likely to reach for the bag of chocolate chips when we have washed and sliced fruit ready to go.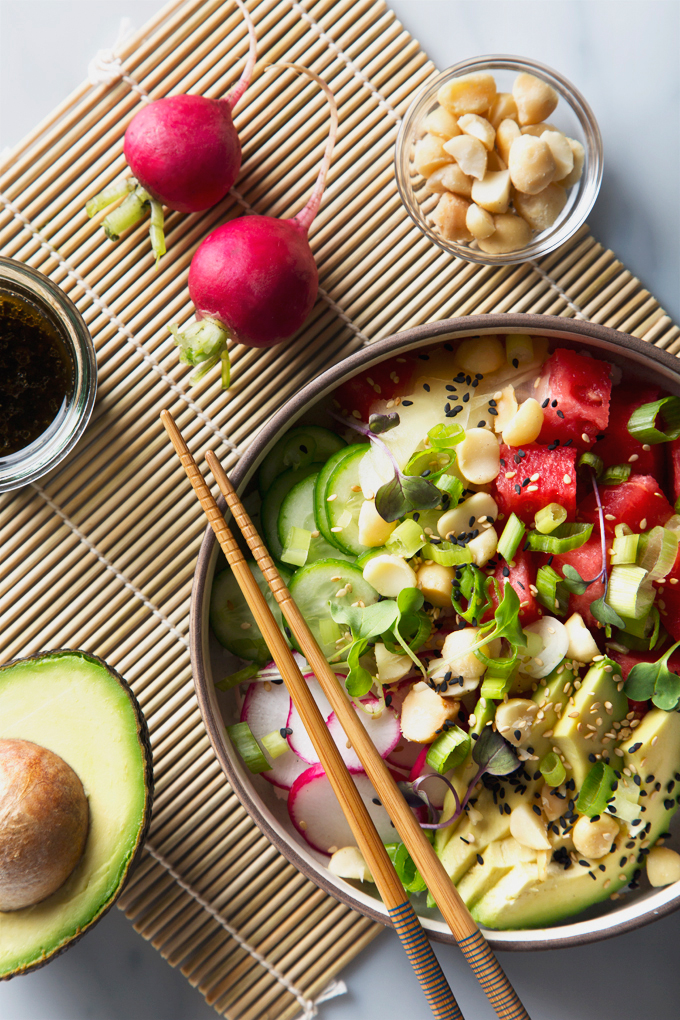 While admittedly this watermelon poke rendition doesn't taste anything like tuna, the watermelon lends a refreshing, juicy sweetness that pairs really well with the salty soy, sesame, and lime dressing. There are seaweed flakes for a subtle "fishy" flavor, thinly sliced cucumbers, radishes, scallions, lots of creamy avocado, pickled ginger, micro greens, macadamia nuts, and sesame seeds for garnish. Basically, this meal includes all of your favorite poke toppings and it will give you a good excuse to eat watermelon for dinner.
So, just to quickly recap: Watermelon Poke Bowls. Not something I made up (although I wish I had!). Pronounced "po-kay." Under 30 minutes to make. No oven needed. Super minimal prep. Will totally hit the spot on a hot summer day.
P.S. In the end, Aaron could not stop gushing over this meal.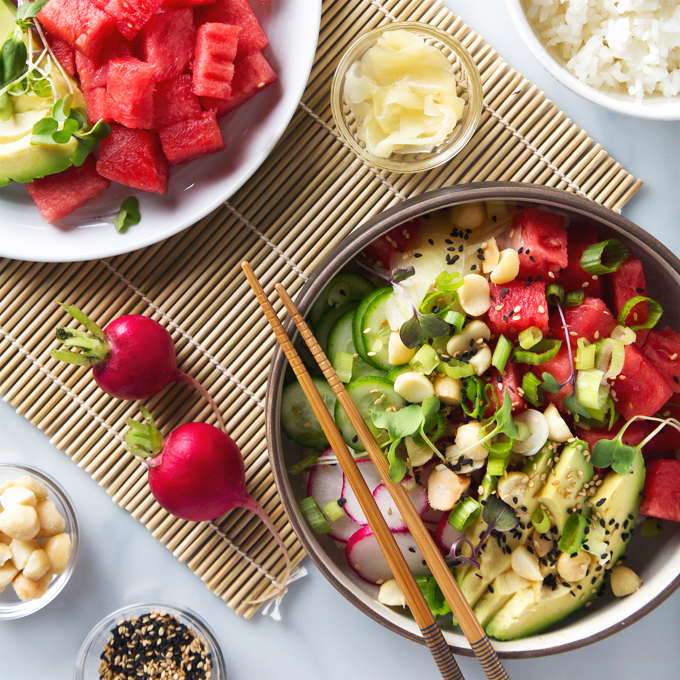 ---
Thank you to Terra's Kitchen for sponsoring this post! We love their wholesome, 30 minute (or less!), plant-based meal kits, plus their new option to add salads, smoothies, and pre-prepped fruit and vegetable sides to your order. You can read our full review of their meal-kit delivery service here, and enter PICKLES at checkout to take $35 off your first order!